A hold has been placed on California State Senate legislation that would extend the compliance date for school districts to install a "Child Safety Alert System" on all school buses, which would prompt school bus drivers to walk the length of the school bus at the end of routes to look for students.
SB 1269 would delay the implementation of California Vehicle Code section 28160, which is called for by the state's Paul Lee School Bus Safety Bill, until the start of the 2019-2020 school year. Currently, the law requires schools to have the systems that require drivers to scan each seating position for sleeping or left behind students on buses by the start of the coming school year.
The California Highway Patrol approved the technical specification at the end of 2017, which gave school districts and bus companies essentially six months to install brand new or updated systems across their entire fleets. The CHP approved a system that added features that are not available on existing child reminder systems.
Related: CHP Talks Paul Lee School Bus Bill
SB 1269 would instantly delay the deadline for installation of the child safety alert systems on an estimated 25,000 California school buses statewide (out of roughly 480,000 school buses nationwide), so that school districts and vendors would receive additional time to install the new equipment. However, the latest news is that the legislative staff says the "bill was actually placed in the inactive file at the request of … the trade associations (that) signed on as sponsors of the bill"—the California Association of School Transportation Officials (CASTO) and California Association of School Board Officials.
Several attempts to reach a legislative representative for CASTO have been unsuccessful as of this writing. But the delay is thought to revolve around new language in the bill regarding installing the technology on special needs route buses before installing the systems on regular route buses. A California student transporter familiar with the bill told School Transportation News that the language insertion caused concern, because many districts operate routes with both special and regular education students on the same bus.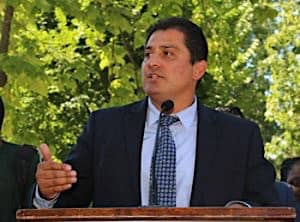 State Sen. Ben Hueso's fast-tracked school bus safety legislation would require that child safety alert systems be installed in all school buses. "This bill is related to compliance with Section 28160 of the Vehicle Code, which states that every school bus must be equipped with an operational Child Safety Alert Device located in the interior rear of the vehicle." It must also automatically meet certain performance specs, it notes.
Earlier this year, Zonar announced an agreement with Child Check-Mate System, to "sell the company's technology and integrate it with Zonar's fleet management solutions. School district fleets may leverage this technology to be compliant with the Paul Lee School Bus Safety Law. … As part of the agreement, Zonar will offer an option to integrate the Child Check-Mate System into its ZAlerts and Electronic Verified Inspection Reporting (EVIR®) software, providing an extra layer of safety by creating digital recordings of missed inspections and sending real-time alerts to notify dispatch of issues."
Zonar stressed that the digital alerts are very important, "because there are incidents where an alarm sounds in a large bus yard or (when) parked at a driver's home or a satellite terminal/parkout, without supervisory personnel present to hear the alarm. A ZAlert ensures a notification is sent to dispatch when an alarm goes off, identifying exactly which bus was not properly checked and showing its current location. The digital recording of incidents can also be used by school bus fleet managers to track how often incidents occur, identify trends and coach drivers towards better safety practices."
Former state Sen. Tony Mendoza was the original author of the Paul Lee Law, which was named after the 300-pound, 19-year-old, nonverbal, autistic student who perished on Sept. 11, 2015, after riding in a scorching-hot school bus. His driver did not notice him and left the teenager alone on the bus for an estimated eight hours. The driver later pleaded guilty to reduced charges in the student's death and is currently serving a two-year prison sentence.
As previously reported in School Transportation News, Sen. Mendoza filed the emergency bill, so as to delay the child-check requirements until the 2019-2020 school year. However, the legislation fell into limbo when Mendoza resigned his senate seat in Feb. 2018, following public allegations of his involvement in a sex scandal. By Feb. 18, Hueso picked up the bill and refiled it as SB 1269, which provided school districts and school bus companies with one additional year to comply with Section 28160 of the state's vehicle code.
Further complicating matters, Sen. Hueso's spokeswoman pointed out to STN that many school districts provide year-round, home-to-school transportation service, which would require that installations be completed by July 1, 2018.