For the past 10 years, Michael Nagler has built plenty of goodwill with the transportation department at Mineola Public Schools on New York's Long Island.

"Over my tenure here," Nagler said, "our school bus drivers and aides have proven over and over again that they are worth their weight in gold. There is great value in having our own drivers; they do so much more than drive the bus. I appreciate them and our community appreciates them."
The respect Nagler has for his transportation team is reciprocated. When the announcement came that he had been named New York Superintendent of the Year, many of his drivers made congratulatory signs and put them in the windows of the buses.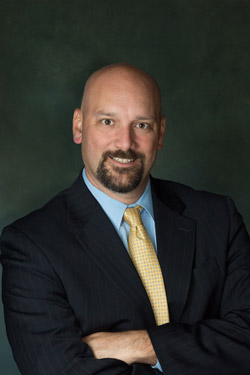 "I received at least five texts from people outside of Mineola's district, with photos of the signs. The reach that those little signs had was remarkable," shared Nagler. "I'm proud that I get more compliments than complaints about our drivers, too. I'm glad that all of those years ago, when outsourcing was a possibility, that we doubled-down and went the other direction to keep our own school bus fleet. All-around, it's been good for everyone."
Nagler has led the Mineola district to many accomplishments, such as being the first and one of the only districts in the nation to be awarded as an "Apple Distinguished School"' for all five campuses. The community could soon have more reasons to celebrate.
Nagler is one of four finalists for the National Superintendent of the Year Award, which is co-sponsored by the American Association of School Administrators, First Student and AIG Retirement Services. The winner will be announced at the National Conference on Education in San Diego on Feb. 13.
Nagler's district is compact, about three square miles, and situated just outside of New York City in Nassau County. Growing up in nearby Brooklyn, Nagler recalled that he took two city buses to high school, which is quite different from the transportation needs of the almost 3,000 students in the Mineola district. Beginning his career as a teacher, Nagler moved up to working as a middle school assistant principal until taking the reins as superintendent 11 years ago. Since then, Nagler has shown his commitment to supporting Mineola's transportation department in many ways.
One example is investing in the transportation department infrastructure.
"One of my first tasks was closing two buildings and reconfiguring the entire district," Nagler said. "Before the reconfiguration, there was talk of outsourcing our buses, but I believed having our own buses and drivers are an integral part of our school system. Our mechanics couldn't keep up with a fleet of 50 buses, all high-mileage and a hodge-podge of manufacturers."
---
View more Mineola Public School accomplishments under Michael Nagler's leadership
---
Today, Mineola has a new fleet of Thomas Built Buses, and the garage has been updated, including the installation of a fueling station. "The return on that diesel pump was well worth it," Nagler said. "We're able to buy at the best price, and we've done away with fuel cards for drivers to use at local stations."
The district's five-year plan consists of a proposal to add a regular gasoline pump for an increasing fleet of small school buses. Large buses outnumbered small by a margin of two to one just a few years ago. Today, Nagler shared, the ratio is 50-50. "With a gas pump, our fleet of maintenance vans could also get fuel at transportation," he added.
With warranties and lower mileage on the newer fleet, the mechanics have fewer problems. Today, the inventory and stocking of parts for buses that are all the same brand have proven to be more efficient.
With the new configuration of buildings, Nagler also implemented a his own version of the "Princeton Plan," or grouping students by grade rather than by neighborhood, to maximize resources for the elementary schools. Mineola's plan begins in the third grade, with students from the entire district being bused to a central location for that grade. Pre-K through second-grade students attend school in two centralized locations.
"Transporting kids from all over the district to central locations poses more of a challenge for routing than taking them to neighborhood schools," Nagler said. "Bill Gilberg, our transportation supervisor, was brilliant in figuring all of that out."
Realizing the need to be competitive and not lose drivers to neighboring districts, Mineola also has a new driver's contract. With 60 drivers, the transportation workforce is the second largest, right behind the number of teachers. Nagler admitted, "It's hard to hire and keep good drivers. Many of our drivers are retired police officers or firefighters. They get a waiver from the state so they can earn more than the minimum and still collect their full retirement. Our community takes great pride in having our own buses, since many neighboring districts have outsourced their transportation."
---
Related: Finalists Named for AASA's 2020 National Superintendent of the Year
Related: Virginia Superintendent Relies on Transportation to Achieve District Education, Outreach Goals
---
Nagler is also keeping up with current technology trends. "Recently, we had a ransomware problem that knocked our computers out," he reported. "The only complaint that I received was from parents was that the Here Comes the Bus app wasn't working. I'd been working on getting phones and computers up first, so I had to shift my priorities. Our parents embraced that technology very quickly."
The drivers also appreciate the app, since it lessens stress for them and parents regarding the bus arrival time. Plus, the GPS backs drivers up if there is a false complaint. Nagler said that he's begun the conversation about stop-arm cameras. In August, Gov. Andrew Cuomo signed legislation into law which allows school districts in New York State to install stop-arm cameras on school buses.