School bus contractor companies come in sizes big and small, and everywhere in between. Some small private operators that operate as few as a couple of buses, and then there are the behemoth fleets of tens of thousands of vehicles running out of locations nationwide. Then there are outfits like CYO Transportation.
Based in the San Francisco suburb of Daly City, Calif., CYO Transportation is a good example of a small contractor, running 31 buses out of two terminals. The program serves both sides of the San Francisco Bay area that features literally hundreds of companies that can potentially provide charter services to local schools.
But this program differs greatly from the rest. In 2004, the area's local Catholic Youth Organization merged with the local Catholic Charities agency. Today the $39 million agency functions as Catholic Charities CYO serving San Francisco, San Mateo and Marin Counties, which has grown the CYO Transportation outfit to a $3 million a year operation. That's a long way from its humble beginnings.
CYO Transportation started in 1977 with only one school bus to provide transportation for inter-agency charters for weekend retreats and summer camp. In fact, CYO Transportation took kids (and still does) to one of the largest youth camps west of the Mississippi, located along the Russian River that runs through California's fertile Wine Country. Brothers Mike and Marty Rea were part of the early years of the program. Today, Marty remains at Catholic Charities CYO while Mike moved on to the West County Transportation Agency, a school district co-op located in Santa Rosa, Calif., where he is now the executive director.
Shortly after Catholic Charities CYO launched CYO Transportation, the Rea brothers saw an opportunity to serve the greater community by providing transportation to a variety of public, private and parochial schools. Since then, CYO Transportation has grown to include 55 home-to-school routes serving 18 schools and over 100 charters per month serving a client base of 350 schools and organizations.
"Basically people are happy with our service. We take a lot pride in how our buses look, how our drivers look, customer service, giving people what they pay for." — Marty Rea, President of CYO Transportation
Today, CYO Transportation has approximately 31 buses and 29 employees and runs regular home to school routes each day. CYO also has its own in-house maintenance program as well as a consulting service to assist schools in the purchase and maintenance of buses and bus driver training.
"We're not trying to compete with First Student and Durham and all the other big contractors," said Marty Rea. "People look at us as a contractor, but we're not really. We're part of a private organization."
The program's niche is transportation for private schools scattered all over the Bay Area, as some local parents are willing to pay upwards of $25,000 a year to send their children to higher-performing programs. As part of Catholic Charities CYO – the social services arm of the Catholic Church in the Archdiocese of San Francisco – CYO Transportation collaborates with other programs throughout the agency, including CYO Camp, Outdoor Environmental Education, Canal Family Support and 10th & Mission Support Services. These programs each focus on providing healthy growth and development opportunities for children and youth.
CYO Transportation engages in what the agency's Executive Director Jeff Bialik, calls "social entrepreneurship," as, it is a non-profit. CYO Transportation's funding is made possible through fee-for-service model. Revenue in excess of expenses provides vital financial resources for the Catholic Charities CYO agency at about 13 to 14 percent. And much like the private schools they send their children to, the parents are willing to pay for the enhanced customer service, which Rea said is a hallmark of CYO Transportation.
"Basically people are happy with our service," Rea said. "We take a lot pride in how our buses look, how our drivers look, customer service, giving people what they pay for."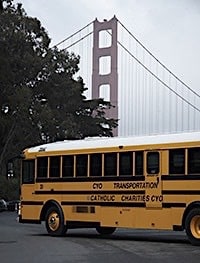 The company doesn't advertise, instead relying on positive word of mouth. Four years ago, the program finally got a Web site. Still, operations at the bus division are not easy. New bus purchase costs have especially made a big impact on the operating budget.
"The biggest thing for us that maybe isn't a problem for a big contractor is we used to buy new buses every year to replace the aging fleet," Rea added. "When we bought our first bus it was a Crown. It cost $50,000."
The agency purchased a new school bus in April for $152,000. Averaging 40,000 to 50,000 miles per bus per year, and some buses have odometer readings of 450,000 to 500,000 miles, the replacement cycle can be much shorter certainly than that at school districts and shorter than some comparable private operations.
"We're having a harder time buying buses because it's a huge cost. My buses are on highway like charter buses going non-stop up and down the freeway," he continued. "We continue to work toward obtaining public grants."
The economy has actually helped CYO Transportation retain drivers. While larger contractors can offer higher hourly wages, Rea said CYO Transportation is able to offer more hours per day behind the wheel in an atmosphere that stresses family and community. And often there is weekend work, too.
"Where we're successful is, in a down-turn economy, it's easier for us to find drivers," he added.