Following the on-field cardiac arrest of Buffalo Bills professional football player Damar Hamlin earlier this month, Dr. Stephen Sroka, a health educator and recent keynote speaker at TSD Conference in November, is advising student transporters to heed the importance of automated external defibrillators, or AEDs.
Sroka, too, suffered a sudden cardiac arrest event in 2016 and knows the lifesaving benefits of the technology.
All states have legislation governing AEDs, and many require the equipment in school buildings, for athletic events, and training of high school students and certain school staff on how to use it. But the equipment is largely not available on school buses, though more school districts are asking bus contractors about availability, according to the American Bus Association.
Sroka makes the case for AED training to supplement required CPR and first aid training of school bus drivers and other transportation staff, if not for the students and for their department peers:
"My prayers are with Damar Hamlin.
Both of us are still alive because of persons trained with CPR and AEDs.
Here is my story: I should be dead.
I was presenting a school safety program and had a cardiac arrest in front of 800 folks for the Medina City Schools (Ohio), including several bus drivers. (See picture of card sent to me in my recovery by Karen Chalmers, Bus 43, a driver for the Medina City Schools).
Ironically, I went to deliver life-saving messages and the audience saved me.
I collapsed and fell over the stage and people started clapping. They thought it was part of the presentation.
But two school resource officers, Mike Wesner and Al Roland, knew I was not playing. They were on me in a minute with CPR.
Andy Brenner, the associate principal, was trained with an AED two weeks before, and the AED was just outside the door.
I was life flighted to the Cleveland Clinic, where I received a defibrillator and five stents.
Tips for Student Transporter Professionals:
Time is of the essence.
Be prepared, not scared.
Ninety percent of cardiac arrest victims die within three minutes without immediate care with CPR and AEDs.
AEDs should be next to fire extinguishers and fire alarms
Are you trained? Think about it. You may save a student's or staff member's life. You may save someone you love.
CPR and AEDs work. I can attest to that with my still beating heart."
---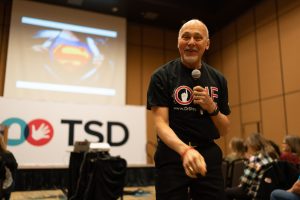 Sroka has used what he refers to as the "gifts" of ADHD and dyslexia to overcome being labeled as retarded by a teacher on his third-grade report card to be inducted into the National Teacher Hall of Fame. Sroka has made a name for himself with his powerful messages of "Power of One" and "Power of Many" delivered to organizations worldwide. He is an adjunct professor at the Case Western Reserve University School of Medicine and received the first-ever school health leader award from the American Public Health Association.