What were the surprising findings of a sprawling electric school bus (ESB) pilot in West Virginia? Which Alabama district is going 100 percent electric in one fell swoop? And why am I worried that vehicle-to-grid (V2G) technology may end up helping electric utilities more than it may help low-income districts needing new revenue? Last month, the  Green Bus Summit at STN EXPO Reno was full of learning opportunities.
ESB pilot projects have been running in the U.S. as early as 2016, but most haven't been large or analytic enough to draw many conclusions about viability across terrain, drivers, activity trips, and temperature ranges. So, I paid close attention to the GreenPower Motor Company session that summarized findings from a nine-month series of pilots of its Type D and Type A buses (they don't make Type C). GreenPower has a new manufacturing plant in West Virginia. The panel was composed of four West Virginians, none employed by GreenPower, with a stated goal of pushing the parameters of what the buses could do in real-world conditions.
West Virginia ESB Pilot
By the Numbers

32,000: ESB miles driven

100: drivers that tested the ESBs

18: WV counties involved (also the number of training sessions)

20: school board meetings that addressed ESBs

18: driver roundtable debriefing sessions

10 below to mid 80's: temperature range of deployments

9%: grades climbed by some ESBs

18: press conferences

$200: monthly fuel bill for one ESB route versus its $900 monthly diesel bill

Zero: cherry-picking of routes for the ESB pilots
Dr. Barry Miller of Calhoun County School District told the packed room, "Anyone who wants to drive the roads of almost heaven . . . I can promise you a job." I smiled with great pleasure, remembering the live band that played an astounding version of a John Denver song the prior night in the Peppermill Casino lounge, with a wailing fiddle player that made the 52-year-old tune sound wild, new, raucous, even electrifying.
(You should have been there! Wait, some of you were there. Do you remember?)
High school sports teams used the Type D BEAST for activity trips, taking advantage of its storage compartments, which some ESB brands don't offer. The driver roundtable debriefing sessions found that even drivers who were initially resistant ended up endorsing the electric vehicles. The comments included: "You have to change with the times . . . we're doing that." "Students loved it." "Reporting software was critical."
Level 2 charging proved adequate except in the coldest weather situations, when 35 percent range reduction did suggest a need for some DC fast chargers (which cost a lot more than Level two chargers). Interestingly, mountainous terrain and grades had no overall impact on range due to regenerative braking, i.e., what goes uphill and uses up your battery eventually goes downhill and regenerates your battery. "You can still be cool at 60 years old if you've got an electric school bus," Miller reported (this is so good for some of us to hear). "The bus did its job. Our job was to properly charge the bus."
One special education student known for violent behavior became significantly calmer when he rode electric (quiet, zero-emissions) instead of diesel (noisy, emits exhaust), Miller added. Which makes me think about newness and transformation.
Newness is part of every conference, and I enjoyed meeting first-time STN attendee Richard Fuah, assistant transportation director at Fairfield City Schools in Alabama. Fuah seems to embrace newness. He reported that Fairfield's nine-bus fleet plans to go electric all at once, due to landing a Clean School Bus Program rebate grant for nine ESBs and chargers.
Fuah, a 20-year veteran at Fairfield, expects their chargers and nine Lion ESBs to all arrive at about the same time in November.
Fuah said he found his first STN conference "amazing and valuable," adding he especially liked hearing from colleagues who are already using ESB chargers.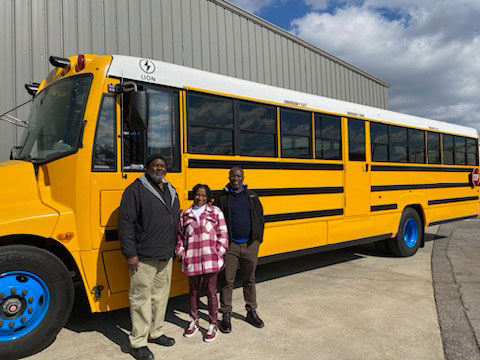 For a not-so-new perspective, I spoke with a 16-year veteran of STN conferences, who suggested that many Green Bus Summit sessions were presented by companies focused on selling their products and services. They told me they would have preferred more speakers from bus fleets with experience-based content that would be more directly helpful to their peers, some of whom use scarce district funds to attend the conference, and none of whom can afford to sponsor sessions.
Keynote speaker Justina Morosin, vice president and general manager of IC Bus, spoke of zero emissions buses as a paradigm shift, and noted that "school buses deliver more than children . . . they deliver change." She spoke of the transformative power of school transportation, including the fact that school buses played a key role in the desegregation of our nation years ago.
"Future generations have the opportunity to become the best versions of themselves," she said.
At the same time, she recommended that the audience "pack your patience" while moving into the new technology, one example being districts that start their journey by getting a single charger. This brings us to charging and vehicle-to-grid (V2G) technology.
Alex Cook, chief engineer of FirstGroup America (school bus division First Student has logged more than 2 million ESB miles) spoke to the big picture of how the fields of energy and transportation are merging.
He reported that the North American Electric Reliability Corporation (NERC) has warned the 3,732 utilities in the U.S. that two-thirds of them are nearing an inability to meet demand. As the climate changes and temperatures rise, increased air conditioning needs and other events are leading to more brownouts and blackouts. Our nation's electricity infrastructure, mostly built in the 1960s and 1970s, has aged out and is increasingly failing during peak use periods.
Cook said he envisions, as do many others in the clean energy space, virtual power plants that are created largely by ESB fleets, to strengthen electric grids by discharging energy into them during high-demand periods (V2G), then recharging during low-demand periods, typically overnight.
---
Related: IC Bus' Morosin Highlights School Bus Industry Needs to Realize Zero
Related:  Emissions Infrastructure Key to Successful Electric School Bus Experience, Panelists Say
Related: Green Bus Fleet Awards Announced at STN EXPO Reno
Related: Roundup: Green Bus Summit Sessions at STN EXPO Reno
---
I respect Cook's work and his vision. I'll note that "virtual power plant," "ideal use case" and "batteries on wheels" are terms I generally hear used for ESBs by companies, not yet by educators (let's remember that all of us in the school bus space are educators). Just thinking out loud, I'd like for the educator/school bus side of the V2G equation to be as empowered in the ESB space as utilities, maybe even creating its own vocabulary that would reflect how the utility industry can serve the goals of education and school transportation.
I see V2G technology as being a benefit, even transformative over time, for some well-resourced utilities, and by extension to the communities they serve. I'm not yet convinced V2G will play out as a benefit, i.e., a revenue producer, for many of the nation's thousands of underfunded school districts. Many utilities serving low-income districts are not yet interested in V2G, and may never be, even after the early adopter utilities work out the technology kinks. Change carries risks, and institutions, including utilities, tend to be risk-averse.
You all know by now that I'm a fan of certain kinds of change and of ESBs in particular. I'm not suggesting, though, that we'll find almost heaven via learnings from West Virginia's statewide ESB pilot (though it is truly good), or even through electrifying our fleets (though that is truly good, too). Change is hard and messy, whatever role you play in it. It takes dedicated time, way beyond the existing workload to effect change, and it also takes openness, an almost personal tilt of will, such as the staff at Fairfield City Schools seem to have. I admire all the people I've mentioned in this article who are working on the change toward ESBs, and also a great many I haven't.
---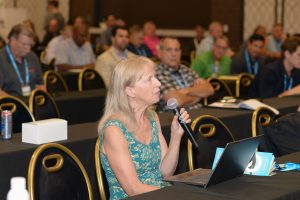 Alison Wiley is an electric school bus consultant and the founder of the Electric School Bus Newsletter.