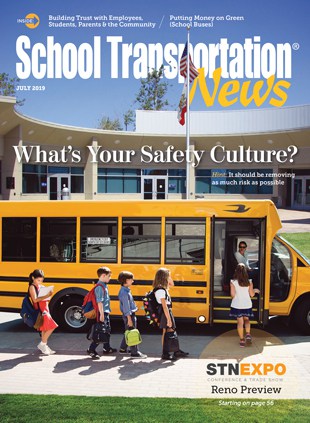 Developing trust, a safety culture, driver appreciation and more.
Read the full July 2019 Issue here. 
Cover Story
Retention Starts with Appreciation
Cultivating a positive environment can lead to higher retention rates. Drivers will stay longer if their workplace is a safe and welcoming atmosphere, but also if their bosses have their back.
Features
The Safety Charge
A true safety culture is not simply a mantra, but an evolving strategy that encourages change and results in employee buy-in. And it all starts with leadership.
A Greener Fleet
Electric school buses come with higher up-front costs, but have lower maintenance costs and zero emissions. Propane, though, still leads when it comes to new green choices.
STN EXPO Reno Preview
Browse the full agenda, meet the speakers and see what companies are exhibiting at the Reno, Nevada conference and trade show.
Special Reports
Trust in the Transportation Department
Trust is the foundation of building strong and solid relationships. School districts and bus companies that foster trust will in return, have better driver retention and a stronger culture.
Route Optimization
Are you asking the right questions when it comes to fully maximizing your routes? School district transportation officials share their secrets to optimizing their routes for enhanced operational efficiency.
STN EXPO Indy in Photos
Catch up on the action during last month's "Unique Experiences" training sessions, two dozen workshops, empowering keynote presentations and the trade show.
Columns
Thought Leader by Robert T. Pudlewski
Fuel Choice Impact Will be Felt Soon
Thought Leader by Phil Horlock
Why Invest in 'Green' School Buses?
Editor's Take by Ryan Gray
A Valuable Lesson from a Hall of Fame Teacher
Publisher's Corner By Tony Corpin
Everyone on Your Team is a Leader
Sections