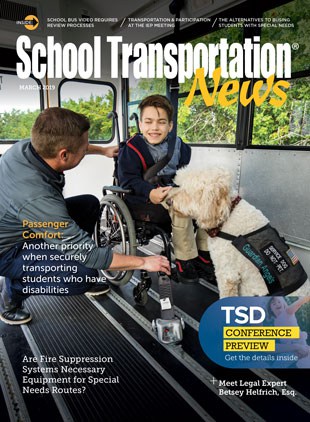 Proper securement of students with special needs, fire evacuation drills and video surveillance on the school bus.
Read the full March 2019 Issue
Cover Story
Proper Securement & Training Benefit Students
There is no substitute for hands-on experience and training on the proper use of child safety restraint systems, to make the bus ride smoother for students who have special needs.
Features
Suppressing an Evacuation Challenge
School bus fires are occurring too frequently. The stakes rise when students with disabilities are on board. When seconds matter, could fire suppression systems assist with emergency evacuations?
2019 TSD Conference Preview
The Great Communicator
Meet legal expert Betsey Helfrich, Esq. who uses lessons learned from her mother's battle with Alzheimer's, plus the epidemic of bullying in schools, to share the power of communication with TSD attendees.
Browse the Full TSD Conference Agenda
This Month's Advertisers Exhibiting at the TSD Trade Show
Special Reports
The Use of School Bus Video Surveillance
Onboard video is an ideal way to record the every-day bus activities and issues. But frequent and proper review of footage is a challenge.
Contracting for Special Education Transportation
School districts are increasingly turning to third-party contractors, including rideshare services, as an alternative to the school bus for students who have disabilities and special needs.
Sections
Feedback
Online
Trends
Ad Index
Product Info
Marketplace
Columns
Thought Leader by Robert T. Publewski
Get the Right Air Conditioning System for Your Bus
Thought Leader by Linda Bluth
The Importance of Transportation, Related Service Staff Participation at IEP Meetings
Editor's Take by Ryan Gray
The (Lack of) Data Problem
Publisher's Corner by Tony Corpin
Safety Can be an Optical Illusion