HIGH POINT, N.C. — Thomas Built Buses, Inc., the leading manufacturer of school buses, has named Jed Routh as the vice president of sales, service and marketing, replacing the retiring long-time Thomas Built veteran, Ken Hedgecock. In addition to overseeing all sales, service and marketing initiatives, Routh will manage the vast Thomas Built dealer network, along with training and education for dealers and customers.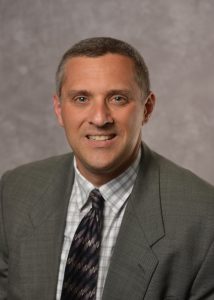 "Thomas Built Buses has flourished under Ken Hedgecock's leadership and support over the past 44 years. While Ken will be greatly missed following his retirement later this year, we are fortunate to have Jed stepping into this role," said Caley Edgerly, president and CEO of Thomas Built Buses. "Jed has been with Thomas Built Buses for 23 years and has been deeply involved in many areas of the business. He is a natural fit for this position, and the sales, marketing and service teams of Thomas Built Buses will continue to thrive under his guidance."
Routh grew up in Randolph County and began his career as a teacher for Randolph County Schools. Routh later joined Thomas Built Buses in 1996. During his tenure, he has served as regional sales manager, corporate sales training manager, direct sales account manager, Type D product manager, Daimler Trucks North America's Business Excellence manager, product planning manager, and most recently, as the logistics manager for the Thomas Built Buses operations team.
Routh has a bachelor of arts degree from Appalachian State University, an MBA from the University of North Carolina-Greensboro, and will soon complete a master of science degree in engineering management from Arizona State University.
About Thomas Built Buses
Founded in 1916, Thomas Built Buses is a leading manufacturer of school buses in North America. Since the first Thomas Built bus rolled off the assembly line, the company has been committed to delivering the smartest and most innovative buses in North America. Learn more at ThomasBuiltBuses.com or at https://www.facebook.com/thomasbuiltbuses.
Thomas Built Buses, Inc., which is headquartered in High Point, N.C., is a subsidiary of Daimler Trucks North America, LLC, the largest heavy-duty truck manufacturer in North America and a leading manufacturer of class 4-8 vehicles. Daimler Trucks North America produces and markets commercial vehicles under the Freightliner, Western Star and Thomas Built Buses nameplates. Daimler Trucks North America is a Daimler company.