School bus contractor Cook-Illinois Corp., based in Chicagoland,  focuses on its employee's health by giving them healthy options, even during the summer months.
"School bus drivers have an increased risk for lots of different health concerns, like diabetes, heart disease, obesity—all kinds of things," said Raquita Shupe, health and wellness manager for Cook-Illinois. "We believe with some basic health interventions, where we are educating people on how to improve their health and giving them a chance to access fruits and vegetables at a cheaper price, anything will help."
The company achieves this goal of healthier employees through its "Bus-a-Move" program. With that program, Cook-Illinois provides free services to its employees, such as nurse practitioners, wellness walks, Zumba classes and "Vegetation Transportation."
"Those are the three benefits [to the Bus-a-Move program]: we keep them happy, keep them healthy, and we keep them employed, because as soon as you lose your CDL, you can't work," Shupe noted.
Shupe said these options can help employees meet the health status that is required to hold a CDL in Illinois. The "Bus-a-Move" program also provides a sense of family and a positive environment.
Vegetation Transportation
The "Vegetation Transportation" started three years ago, and this year is the largest it has ever been. The past two years, the program ran during the summer season, but this year it was extended for an eight-month-long season, in response to the positive feedback.
The purpose of "Vegetation Transportation" is to give employees a healthier option at a reduced cost. The company purchases the fruits and vegetables from local farms and sells the products back to employees at almost half the price.
This year the bus will also contain other healthy snacks and will be traveling to over 20 sites. Shupe said she makes sample recipes available to taste-test, which helps teach how to use the onboard fruits and vegetables. She also hands out her recipes as people shop.
"We are trying to make gaining access to fresh fruits and vegetables cheaper," Shupe said. "Most people think that eating healthy is expensive, and unfortunately it kind of is. With Vegetation Transportation we are trying to eliminate that barrier to good health."
The company runs one school bus that was refurbished and repainted to meet the needs of the "mini-farmers market." The seats were removed and then replaced with trays, which hold the fruits and vegetables.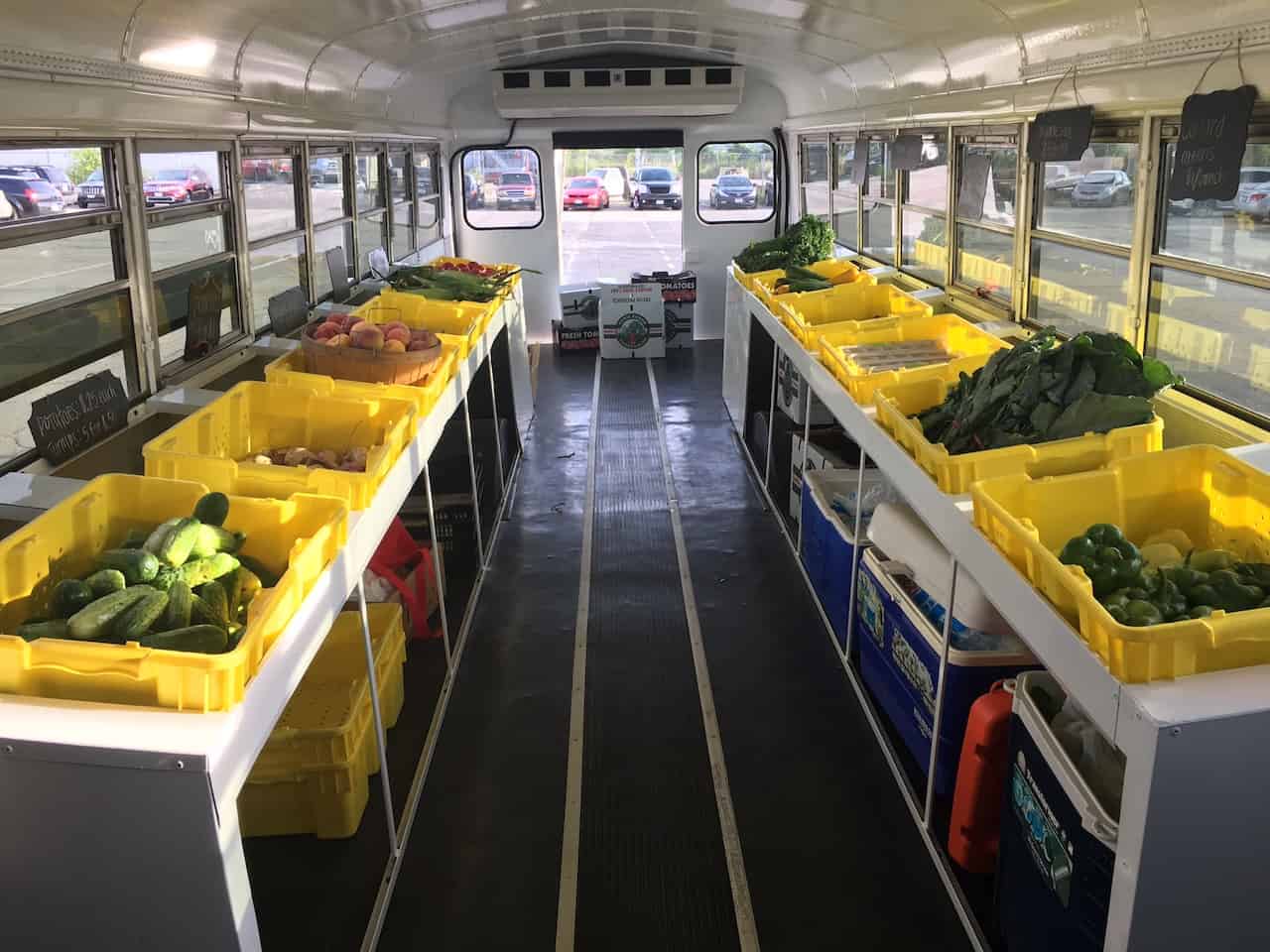 The outside painting of the bus was designed by one of their school bus drivers. One of Cook-Illinois' drivers had created a children's book for his student riders. The book focused on a school bus and the various things the bus would do. The driver was a "great artist," and he was chosen to design the outside of the Vegetation Transportation school bus.
"That was actually designed by one of our school bus drivers, he drew the whole thing," Shupe said. "It's really cool. We were able to make it come to life. So we just gutted the inside and turned it into what I like to call a traveling farmers market."
Shupe is also the bus' driver, and she sometimes has helpers, but sometimes not. Since everyone at Cook-Illinois has to have a CDL, Shupe is able to drive the school bus and take it to all locations.
The Vegetation Transportation is "something that is unique, I don't know of any other company that does something like this, at least to the extent that we do it," Shupe said. "Health and Wellness is the top priority for Cook-Illinois."
The Vegetation Transportation program started on June 7 and the bus has already gone on two routes. The bus will run until Dec. 6 and restart service in spring 2020.