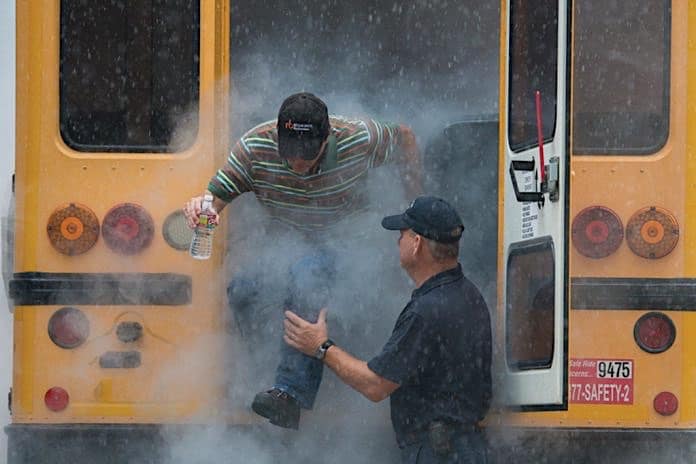 Just as it takes a village to raise children, it also takes an entire school district to be able to evacuate students from their school bus safely and effectively. So says Kathy Furneaux, executive director of the Pupil Transportation Safety Institute, who has guided countless student transporters on the importance of drafting an evacuation plan, as well as practicing it and adjusting it, well in advance of the school year.
She told STN if transportation managers are just now discussing bus evacuation plans with other administrators, they are too late.
"You should never put a child on a bus unless you know how to get that child off the bus," cautioned Furneaux, who led an STN EXPO workshop on writing an effective evacuation plan in July. "It's imperative that you know how to get children off in an emergency."
She stressed that building strong relationships with administrators, including principals, nurses and special education directors, is crucial so that information on student riders is "flowing both ways." For example, a child may have a latex allergy that the teacher and nurse know about, but not the bus driver.
"Special-ed and transportation definitely have to work together as far as physical limitations — looking not just at children's disabilities but abilities as well. What strengths do they have? What can they do in a crisis that would be useful, that would give us an extra set of hands? Then drivers and attendants can focus on children without those abilities," she explained.
Evacuating a busload of kids is "very, very demanding," she said, so bus drivers and attendants must also consider their own physical limitations.
"You have to be honest with each other about just how much you can do and can't do," Furneaux said, providing the example of how to expedite the removal of students in car seats. "You must assess your muscle strength in your arms, legs and back. I had several people on my staff with bad backs. We had to talk very openly. If you blow your back out with the first child you take off that bus, the rest of the kids are done — and at that point, you need to be evacuated."
She added that it may be easy to write out an evacuation plan and figure out who will do what, but it's not so easy to perform it.
"You have to be aware of these limitations when you're staffing the bus and then write your plan accordingly," she continued. "Practicing the plan gives you the chance to fine-tune it. You want to practice it as much as possible with kids, but it's not always possible with the special-ed population. So do it with others, your coworkers, and test your mechanical ability."
'PRACTICE, PRACTICE, PRACTICE'
Two minutes is the goal when timing an evacuation, even with students who have special needs, according to Furneaux and other safety trainers who spoke to STN. "The reality is that the bus will fill up with thick black smoke in under a minute … When looking at a busload of kids, ask yourself: How many can be moved simultaneously to maximize the number you get out in that one-minute span?" she suggested. 
Carolyn Garcia, transportation and facilities coordinator for the Migrant Seasonal Head Start (MSHS) program in San Antonio, is one such training expert. She also recommends not just bus drivers and aides, as teachers and others may chaperone field trips. MSHS provides service to children from 6 weeks to 5 years of age in eight states.
"The migrant mobility team moves from state to state … (and) training is ongoing. We practice every month because new children enroll every month," said Garcia.
Serving infants, preschoolers and special needs populations means every bus has child safety restraint systems (CSRS), from the STAR System to integrated and regular car seats, to regular seats with lap belts. Garcia explained that bus drivers and attendants are trained to cut the CSRS straps to release children, and every bus carries two seat-belt cutters. 
Staff members are also trained to operate the wheelchair lift for evacuating immobile students, who remain in their chair and exit the bus last, she said. All infants have to be removed in their car seats, while toddlers and preschoolers walk off the bus. Garcia noted that MSHS teachers train young students in the classroom to prepare them for drills and instruct them to follow directions, exit quickly and walk 100 feet away from the bus.
"If you have an emergency while on the road, you have to get the students off the bus quickly — in three minutes," she said. "You can recruit help from bystanders. We ask (staff) to be very vigilant so no one can walk away with one of our babies. And dial 911."
Staff members are trained to check off student names on a roster to account for every child at least twice and to conduct a final walk-through on the bus to ensure no one is left behind.
Garcia's training mantra is: Practice, practice, practice! "And when you have an accident, stay calm and in control," she added.
ADDING SPARK TO DRILLS
B.J. Henderson, a trainer at the Alabama Council on Human Relations (ACHR), echoed that the first rule in any emergency is to remain calm, because if you do, the kids will be calm. ACHR is a Head Start Program serving 300 children from 1 to 4 years old and operates 20 buses.
In September Henderson decided to liven up his regular fire evacuation training by using simulated smoke inside the school bus. He borrowed a smoke machine from one of the local fire departments to fill the bus with fumes. About 40 bus drivers and aides participated in the drill and they practiced it until they mastered it, he said.
"We learned how to get everybody from the front out through the back door first, and then from back of the bus out the front door. The people closest to the hazard were the first to evacuate,"
Henderson recounted. "We have some older ladies who are over 60 and hopping out the back door isn't as easy for them. We got our evacuation times down real well — under two minutes."
Richard Mussey, who is a volunteer firefighter as well as transportation director at Comanche Independent School District in Texas, plans to make his evacuation drills more engaging for children, parents and staff by creating a mock accident scene. He is in the process of cutting up an old retired bus for them to use later this month during School Bus Safety Week.
"This year, rather than having them jump out of the back of the bus, we're going to show them what happens when a school bus flips on its side and have them use emergency hatches," Mussey shared. "I want to get students more involved this time."
As a volunteer firefighter, he has experienced some "pretty wild predicaments," he said, which made him aware of different scenarios a school bus could face. This is why he wants the training session to be unscripted.
"I want especially for our first responders to use their heads on this deal and think quickly. While you do it over and over, no scenario is ever the same, so we don't really want to script it," he remarked.
Rich Gallagher, transportation coordinator at Bay Shore (N.Y.) Schools, said contractor Suffolk Transportation Services (STS) conducted a mass casualty drill for bus drivers with the local fire department and EMS, complete with a script and student actors. The kids were assigned various injuries, such as head wounds and broken arms, and wore cards listing their vital signs.
"They set up triage areas and coordinated transportation to various hospitals," he recalled. "It was interesting to see the command and control in operation. The drill took over four hours and then we did a critique over at the (EMS) building.
"John Corrado, founder and president of STS, noted that another local district, Longwood Central in Middle Island, has plans to conduct similar training this year. His company serves 16 school districts and employs about 1,200 bus drivers and aides.
"Training is a big part of what we do here," said Corrado.
Garry Puetz, transportation director at Forsyth County (Ga.) Schools, said the district trained 19,000 elementary students in the first 23 days of school. Bus drivers visited each school and trained kids at six different stations, including one on bus
evacuation.
"It's our third year doing this, and the kids and drivers do a great job," Puetz shared. "Students spend about 30 minutes with us, and they learn how to help protect themselves on and off the school bus."
One school bus trainer, Cathy Sykes, told CNN last month about Forsyth's "20 in 20" bus safety training as she led training at Big Creek Elementary School. "What we're doing is going to every grammar school in our system. We're bringing every student present that day through the campus, and they're able to come out and have fun with us," she said.
Two pint-sized participants agreed the training was fun as well as educational. Fourth-grader Zach Brown said he learned that there are eight "escape holes" in the bus. And fifth-grader Sophie Ralph said, "I liked sliding out the evacuation thing since I've never done that before. It was a little scary at first, but it was really fun."
Added Sykes: "They receive emergency evacuation procedures, and exits are pointed out to them so they know about things like roof hatches. In the grand scheme of things, pieces of paper, pencils, book bags and favorite toys can all be replaced — but a student cannot be replaced."