First Student has recognized a member of its safety team for her dedication to workplace safety, naming Suzanne Caldeira a 2016 Rising Star of Safety.
Presented by the National Safety Council, the Rising Stars of Safety program honors future leaders like Caldeira for promoting a culture of continuous safety improvement within their companies and creating safety initiatives that are focused on measurable outcomes.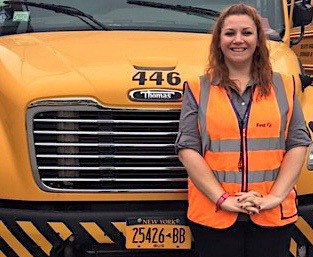 Caldeira is one of 43 safety advocates under the age of 40 to be recognized by this award.
"Suzanne is passionate about improving the safety of her colleagues and the students we transport every school day," said Gary Catapano, senior vice president of safety for FirstGroup America, which includes the company's First Student division.
Originally from Hicksville, New York, a hamlet on Long Island, Caldeira began her career in 2006 as a driver with First Student. She currently serves as a multi-site safety coordinator responsible for overseeing safety operations at 19 First Student locations in southern New York.
She recently helped implement a company-wide safety initiative that has reduced the number of preventable collisions and workplace injuries at her locations.
"Her efforts to further engage others in this core value have helped us build upon our industry-leading safety processes," Catapano said.
Caldeira and other awardees will be recognized at the NSC Congress and Expo that will be held in Anaheim, California, on Oct. 15-21.