The Florida State Board of Education announced on July 17 an amendment to rules 6A-3.0121 and 6A-3.0141 that will make it a requirement to include cardiopulmonary resuscitation (CPR) and first aid training for all public school bus operators and attendants.
The rules do not state that each bus staff member must become certified, but instead, that each of them must receive documented training from a certified CPR/first aid instructor at least every other year.
Prior to this amendment, the bus staff was required to receive written instructions on care for special needs students. The change now requires CPR and first aid training, in addition to the written instructions.
Drivers have until November 2020 to complete the training. While transportation directors are happy to have additional safety, General Manager of Transportation James Beekman at Hillsborough County Public Schools said it is another hurdle for drivers who have such high expectations but low pay.
The rules go into effect starting next Tuesday. Drivers and attendants who are hired on or after that date must receive the training prior to transporting children. Drivers who are employed before Aug. 20, 2019, must receive the training before Nov. 1, 2020, in order to be in compliance.
For drivers who are employed post-Aug. 20, 2019, the training may be included in the 40-hour pre-service training, or the annual eight-hour in-service training that is required of bus staff, according to rule 6A-3.0141.
Beekman said he sent his six trainers to become certified instructors, and developed a schedule for training all district bus drivers and attendants by October 2020. The district then faces the challenge of training 1,400 people with classes that can only accommodate a maximum of 12 people.
CPR and first aid credentials may be obtained through the American Red Cross, EMS Safety or American Safety and Health Institute, the Florida Department of Education communications office told School Transportation News.
Rule 6A-3.0141 states that because the CPR and first aid training can be incorporated into the already required 40 hours of training that bus staff must receive, the additional expense is reported to be minimal and will not require legislative ratification.
William Wen, senior director of transportation services for Orange County Public Schools in Florida, believes costs will only be minimal for school districts, because all drivers will only need to be trained and not certified.
However, Beekman pointed out that Hillsborough had to purchase $10,000 in training materials for the classes, and the cost in training hours will be $90,000. Beekman feels it is difficult to find the necessary time to train larger districts, because they do not have the summer months available to include in the training schedule.
Beckmen stressed that "We disagree with using four of the eight hours that the state said we could, simply because it won't work for a large district. We cannot get [bus drivers/attendants] through the training within 10 months. By law, those drivers that we could not get through it would lose their license, because of the noncompliance of the annual eight hours of in-service," Beekman explained. "Districts were not at the table for those discussions, and the people who made those decisions have never worked in a school district."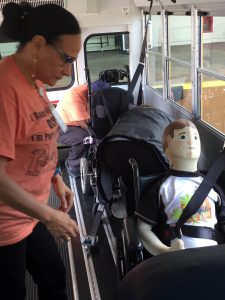 Wen noted that Orange County will be adding the training into its new bus driver and monitor training. Wen will also require that his senior administrator of safety renew her certification to teach CPR and basic first-aid for the district.
Wen said that districts need to decide if it is going to hire a trainer to teach this course or to certify a current training staff. However, Wen hopes this new rule does not impact his ability to hire and pass new employees.
Wen told School Transportation News that he started his back-to-school training and refresher course a week prior to the first day of school, which is Aug. 12. He said approximately 1,400 employees received two full days of training before conducting their dry runs. Topics covered included bullying, student management, distracted, and district policies and procedures.
While any measure to improve student safety and possibly save a life is a positive accomplishment, Beekman said that while working in transportation, he can only think of one incident in which CPR was used on a bus at his district. He said it was when a piece of candy became stuck in a student's throat.
When asked how the CPR training will impact his fleet, Beekman cited issues dealing with the driver's union, plus the ramifications of noncompliance and pay for training. "It will be a difficult task to implement with the same amount of trainers on staff, but we will figure it out as always," he continued.
Wen told School Transportation News that Flagler Schools, which are located about 75 miles northeast of Orlando in Bunnell, Florida, have already implemented the requirement for its drivers and monitors. STN invited the transportation department at Flagler Schools to comment, but the message had not been returned at the time of this report.