In constant pursuit of safety, National Express (parent company of several school bus service providers including Durham School Services) became the exclusive partner of Fogmaker North America (FMNA) in 2016. The same year, a study by the John A. Volpe National Transportation Systems Center, titled "Motorcoach and School Bus Fire Safety Analysis," shared shocking data revealing that 380 school bus fires are reported annually over a 10‐year period, with this trend not declining.
A Partnership for Safety 
"We are proud to partner with National Express to enhance the safety of student transportation." Fogmaker's Executive Vice President Kent Tyler shared. "National Express is a true industry leader when it comes to safety. Their commitment to the safety of the students they transport and to their employees continues to be evidenced by their investment in safety technology, such as Fogmaker."
Gary Waits, CEO of National Express — North American School Bus, is equally proud of the partnership between the two industry‐leading companies. "We greatly value our partnership with Fogmaker. For the past three years, we have installed Fogmaker on every new bus we have put on the road. Currently, we have 2,000 buses fitted with the fire suppression system, the largest fleet of any transportation provider equipped with this life‐saving technology. Moreover, we are the only student transportation provider committed to having this state‐of‐art system installed on all of our new buses."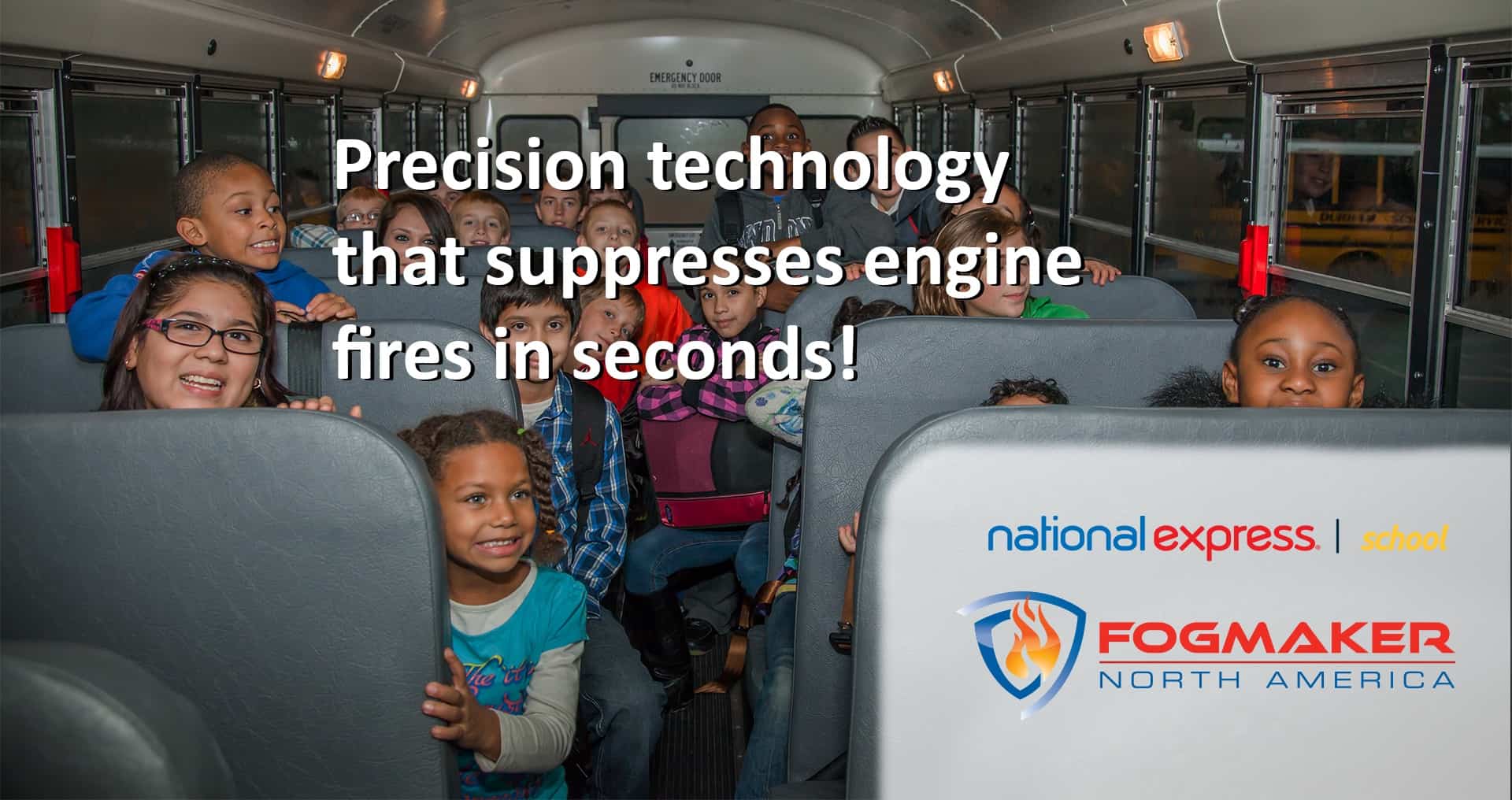 How Fogmaker's School Bus Fire Suppression System Works
A wide variety of causes can start engine fires, therefore it is paramount to have a system in place that can work independently and suppress the fire, regardless of the cause. The Fogmaker water‐mist fire protection system cools, chokes, and suppresses a school bus engine fire in seconds, without hazardous chemicals, by using a water‐based, high‐pressure mist. The mist can reduce the temperature by 1,321° F in less than 10 seconds, this reduction in heat and a foam component prevents the fire from starting again.
The Fogmaker system also works mechanically and will fully activate regardless of the position of the bus. This means the school buses are protected 24 hours a day and will provide full suppression even after a rollover type accident. National Express chose to partner with Fogmaker for these reasons.
"Fogmaker provides the safest form of engine fire suppression on the market thanks to the way we scientifically attack the most dangerous aspects of the fire, while preventing a chance of a fire restarting," Tyler detailed. "The combination of the mist system and biodegradable, non‐toxic foam allows for quick temperature reduction and non‐hazardous cleanup."
In essence, the system accomplishes two things:
1. It suppresses the fire automatically, limiting or ultimately preventing the inhalation of dangerous smoke and harmful carcinogens.
2. By suppressing the fire and dropping the engine temperature, Fogmaker provides extended time to get the children and bus driver off the bus and out of harm's way. (Article continues after video.)
NTSB Recommends Fire Suppression Systems on All School Buses 
In June 2019, the National Transportation Safety Board (NTSB) set forth a new recommendation to the National Highway Traffic Safety Administration (NHTSA) to require that all new school buses be equipped with fire suppression systems and to all school bus OEMs to have fire suppression systems as standard equipment. The NTSB final report also highlighted that National Express has been incorporating systems since 2017.
"This technology truly allows us to be at the forefront of addressing a critical safety issue using the latest technology," National Express Chief Safety Officer Bob Ramsdell explained. "Long before the recommendation from the NTSB, we knew the difference such a system could make in our buses and committed to installing Fogmaker fire suppression on every new bus we put on the road to enhance the safety of our students and our drivers."
"We will continue to set the industry standard for school bus safety technology including fire suppression," Ramsdell concluded.
Learn more about National Express and Fogmaker.