RENO, Nev. — A total of 923 years of experience sat in on the "So, You Want to Be a Transportation Supervisor?" session at STN EXPO Reno.
The half-day seminar on July 15 was facilitated by industry veterans Alexandra Robinson, a former executive director of transportation and current industry consultant; Chris Ellison, director of transportation and fleet services for Reynolds School District in Oregon; Pam McDonald, the retired director of transportation for Orange Unified School District in California; and Rosalyn Vann-Jackson, chief support services officer for Broken Arrow Public Schools in Oklahoma.
The class was a combination of new supervisors with one to two years of experience, established supervisors logging more than three years in their position, and those holding various positions in transportation who aspire to become a supervisor. The facilitators explained that while many in the room may have started driving a school bus at a young age and then worked their way up through the department, others tend to find themselves in student transportation by happenstance.
The seminar, which is taught every year at STN EXPO Reno, allows student transporters to evaluate themselves and how they can improve their operations. One of those was Ernest Epley, the transportation director for Fremont Unified School District in California with 15 years in the industry. He said he attended the conference last year solo, but he brought eight other staff members (seven of which also attended the supervisor session) with him.
He admitted that despite being the district's director, he does not know everything. He said he was inspired by the amount of knowledge in the room. One of those people in attendance with the most years in the industry is on his staff, Martha Esparza, Fremont's vehicle maintenance coordinator. She has 40 years of experience in student transportation.
Experience in the Industry
(Out of 57 class participants)

Total Years of Experience: 923
Average Years of Experience: 16

Most Common Years : 20, 10 & 6

Fewest Years: of Experience 0.5

Most Years of Experience: 40
Esparza, said when she was first looking for a job four decades ago, she witnessed a school bus crash. That prompted her to apply to be a driver. "I thought, I could do that [better]," she recalled.
She continued to work as a driver for various school districts in California until she "retired." However, she said she was getting calls from districts wanting her to drive. She went back to school bus driving, within two years. After school bus driving for more school districts throughout the state, she found her current home at Fremont Unified. She started as a school bus driver for two years at Fremont, then was a dispatcher for six years, until being transitioning to the vehicle maintenance coordinator about five months ago.
"I never expected to be in this kind of business for this long," she shared. "The years just went by, and I love driving big buses."
When asked what has kept her in the industry for so long, she shared that she loves working with the students. "It feels so good to be behind the wheel. I wanted to feel it from different parts of the industry," she continued.
While she still drives as needed, she shared that the vehicle maintenance perspective is all about taking care of the buses and making sure they're safe to drive. She said she is happy with her current position but added she would be interested in taking on a supervisory role in a couple of years. "I need more experience," she shared, hoping to get some of the experience from the supervisor session. "I just love this business."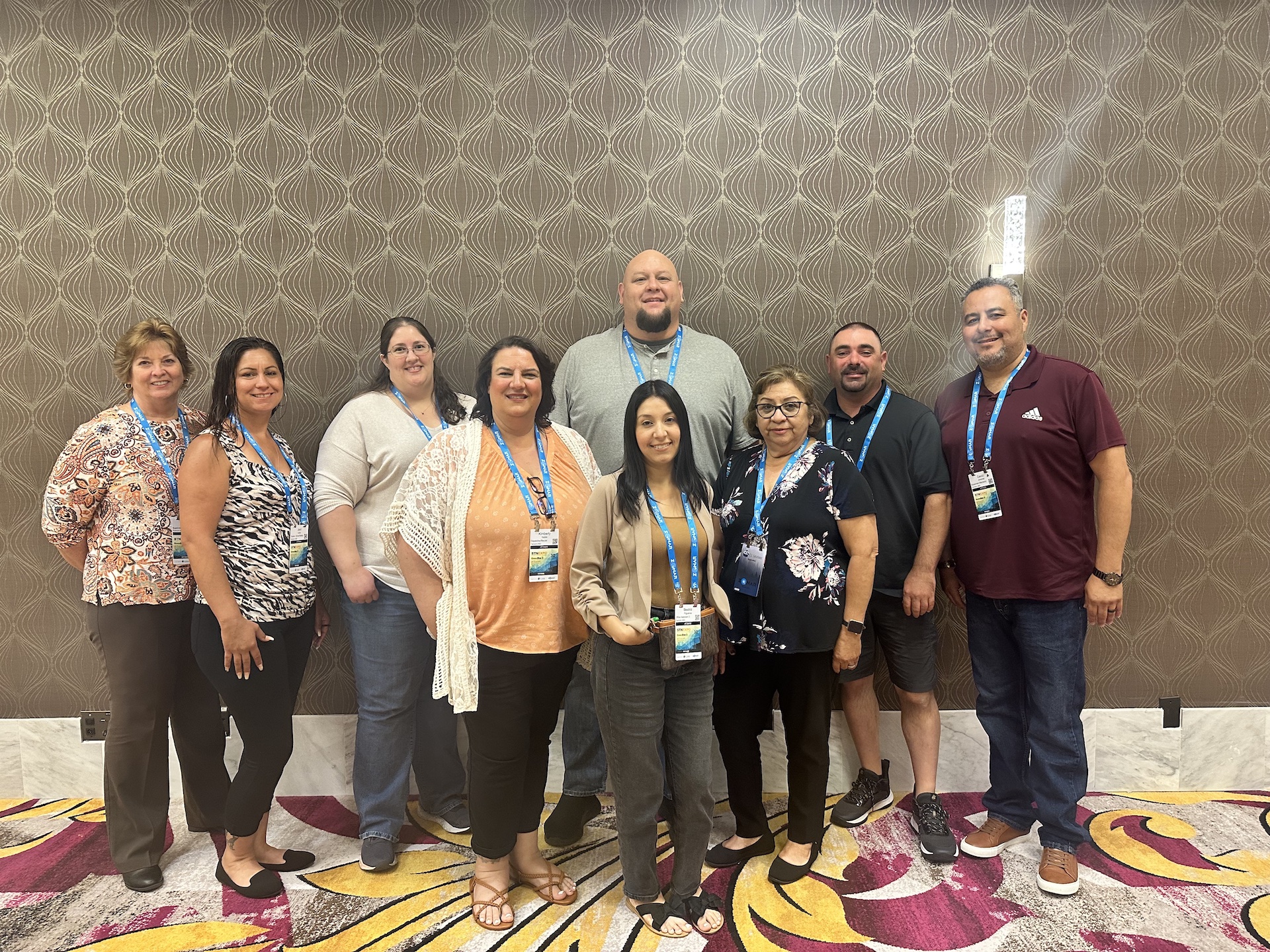 Denise Cunningham, a community planner for the Bureau of Indian Education, was the newest to transportation with six months of student transportation under her belt. She shared that her college degree is in urban and regional planning, and she saw an advertisement from the Bureau of Indian Education for a transportation planner position, for which she felt her degree was an ideal fit. She said this is her first job in this industry, and she's excited to use her degree. Previously she worked for the Bureau of Labor Statistics.
The Bureau of Indian Education, an agency within the U.S. Department of Interior designed to provide quality education opportunities from early childhood through life in accordance with a tribal government's needs for cultural and economic well-being, works with 183 schools across 23 states. She shared that the Bureau of Indian Education has put together webinars with various agencies, manufacturers, and grant awardee winners, to promote electric school buses.
"We've been putting together information to build a database of contacts for our schools, of transportation outreach," she said, adding that a current priority is training schools on how to input their mileage to get funding, a program that was put on hold during the pandemic.
She added that her favorite part of her job, is that she performs various tasks throughout the day. "I'm getting to do outreach to schools, to make those connections and build relationships," she said. "And I get to reach out to manufacturers and learn about the world of EV and school buses."
She noted that while the specifics of the supervisor seminar don't directly apply to her, the general principles of how to thrive in a team environment do. Plus, she said, eventually she'd like to be in a leadership position.
---
Related: Identifying Risk Factors, Prevention Strategies Discussed at STN EXPO Reno
Related: Body Language Expert Provides Tell-Tale Signs of Deceptive Behavior at STN EXPO
Related: The Secrets of Six Top Transportation Teams
Related: Texas Transportation Director Receives 2023 Grandolfo Award
Related: IC Bus' Morosin Highlights School Bus Industry Needs to Realize Zero Emissions
---
Of the 57 class participants, the average years of experience was 16. That is how many years Kristy Flick, operations supervisor of Poway Unified School District in California, has logged. Flick noted that she got started in pupil transportation after becoming a mother and she wanted a part-time job.
"I wanted to be able to be a mom, and still work and have that great balance," she explained, adding that a family friend informed her of an open driving position at Poway in April 1991. "And I've been there ever since."
Flick said she started as a sub-school bus driver for both general and special education. However, she soon became a permanent driver as the position provides benefits. She drove for several years, until becoming a behind-the-wheel trainer in 2005.
"That is where I really thought my passion lived, because I loved it," she said of being a trainer. "I loved every minute of it."
She noted that she encourages other student transporters to become a trainer as the experience is good for their career trajectory.
Five years ago, she was asked to transition to dispatch and scheduling. For the past year and a half she's been the operations supervisor. "I just moved up in the ranks there," she said, adding that her favorite part of the job is the drivers.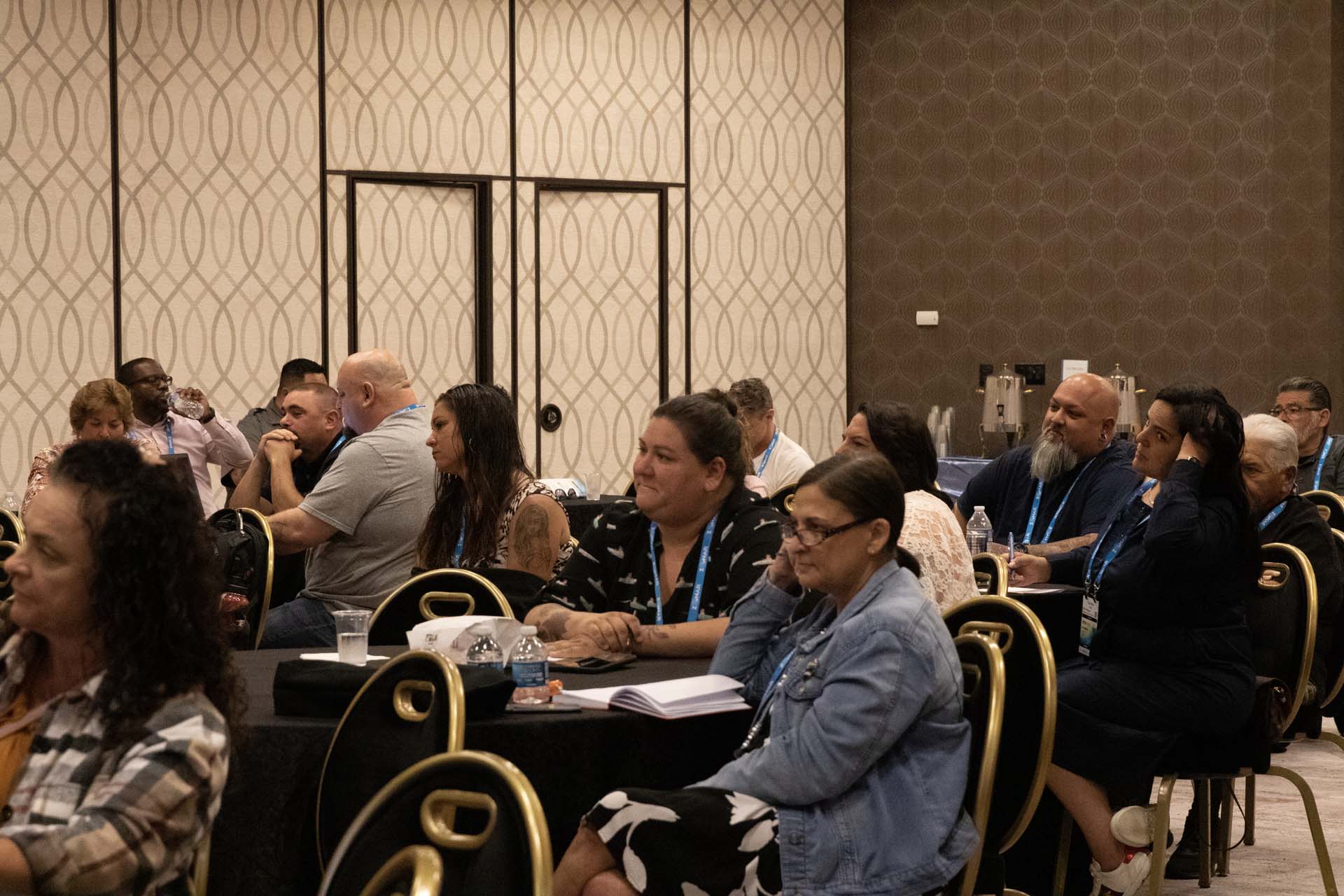 "I love working with the drivers," she continued. "I have a pretty good relationship with them. Most of them I trained as a BTW trainer. So, I have that rapport with them. And I think because I was a driver, I get how they feel at times. I understand their frustration, I understand the parent issues, the dispone issues with the kids on the bus."
Plus, she said it's a good job. And with three kids, while being a school bus driver, she was able to take them on field trips and to appointments in between her routes. "There were so many advantages to that," she said.
Flick noted that something that really stood out to her during the seminar was the concept of building a winning team, and how a certain job function may not be the right fit for a certain person. She noted this is something that hit home, as she is currently facing that at Poway.