Anaheim Elementary School District (AESD) Superintendent Christopher Downing said that by next June the district anticipates 25 percent of its fleet to be electric school buses.
Currently operating 90 mostly diesel school buses, AESD saw the delivery of its first four electric buses from Canadian-based manufacturer Lion Electric Company earlier this summer. The vehicles were made possible through a $2.5 million grant by the California Energy Commission. Another four electric vehicles, Magellan by Collins Bus from dealer Creative Bus Sales, are expected to be delivered by the end of September. Transportation Director Donna Wittenberg noted delivery delays due to COVID-19.
"It is our goal to one day have a totally electric fleet," Downing told School Transportation News during a July 16 event to unveil the Lion buses. He added AESD will continue to apply for grants and replace diesel buses.
"For our district, we have a theme of e²STEAM-D, (equitable, engaging, science, technology, engineering, arts math, dual language immersion) which focuses on engagement, equity, steam opportunities, [and] dual language," Downing continued, speaking of how the electric buses fit in with the districts' overall goal. "This is STEAM so it's a reflection of the path that we've prioritized along with our stakeholders. It sends a positive message to the community that we care, and that we're trying to make a difference. We're really focused on reducing our carbon footprint."
He added that for each bus, AESD reduces its greenhouse gas emission by approximately 23 tones per year. "So, you can imagine the impact of an entire fleet," Downing noted. "It's just something that we're proud of as a district."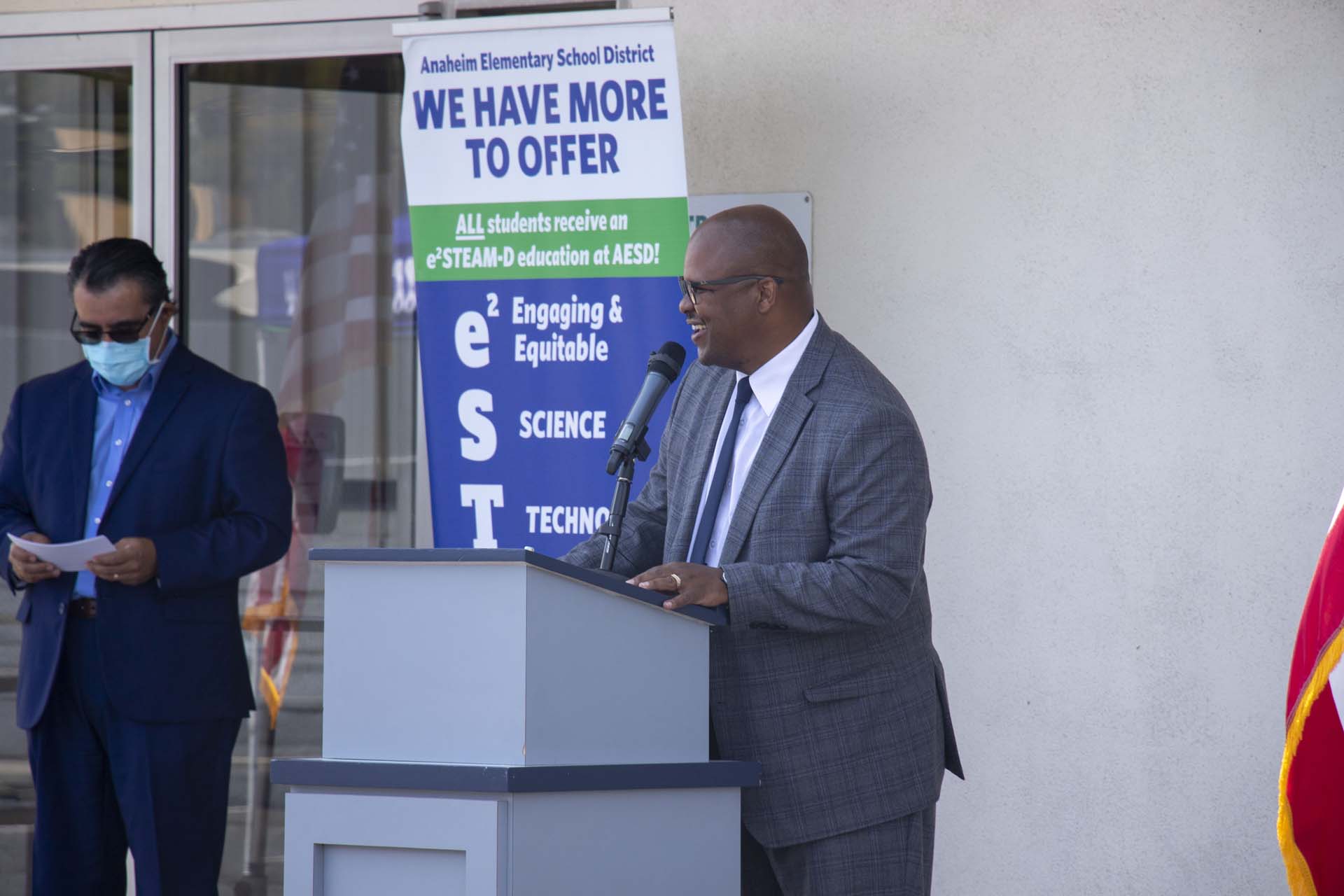 AESD also thought ahead and through the grant was able to install charging infrastructure on site. Downing explained that as the district receives more grant funding, it has the capacity to grow its on-site charging infrastructure, while also receiving more electric vehicles.
Downing added that AESD has partnered with the Anaheim Public Utilities Commission. The goal is to one day utilize vehicle-to-grid capabilities. "As a district, we're really focused on making as many changes to processes and policies as possible that are going to ultimately impact the community and benefit our stakeholders," he said.
Training for Electric Vehicles
As with anything new, drivers and mechanics have to get used to electric vehicles. John Paul Jones, the school bus driving instructor for the district, said the best advice he can give is to keep it simple. He noted that while the driver must understand the bus itself, the equipment is the same.
One difference he said, is the sound that is being emitted from the bus when it is traveling at speeds of 10 mph or less. Because electric buses don't make noise as they operate, a song was added to Lion buses to warn students and community members that the bus is in the area.
Jones added another change is that the bus doesn't start right away. Instead, the vehicle takes a couple of seconds as it runs through its own vehicle diagnostic.
Esther Martinez, a dispatcher and scheduler for the district as well as on-call driver, said she already feels comfortable driving the bus, commending its turning radius and quietness. Plus, on a hot Southern California day, she said the air conditioning unit that comes standard on every Lion bus is a huge plus.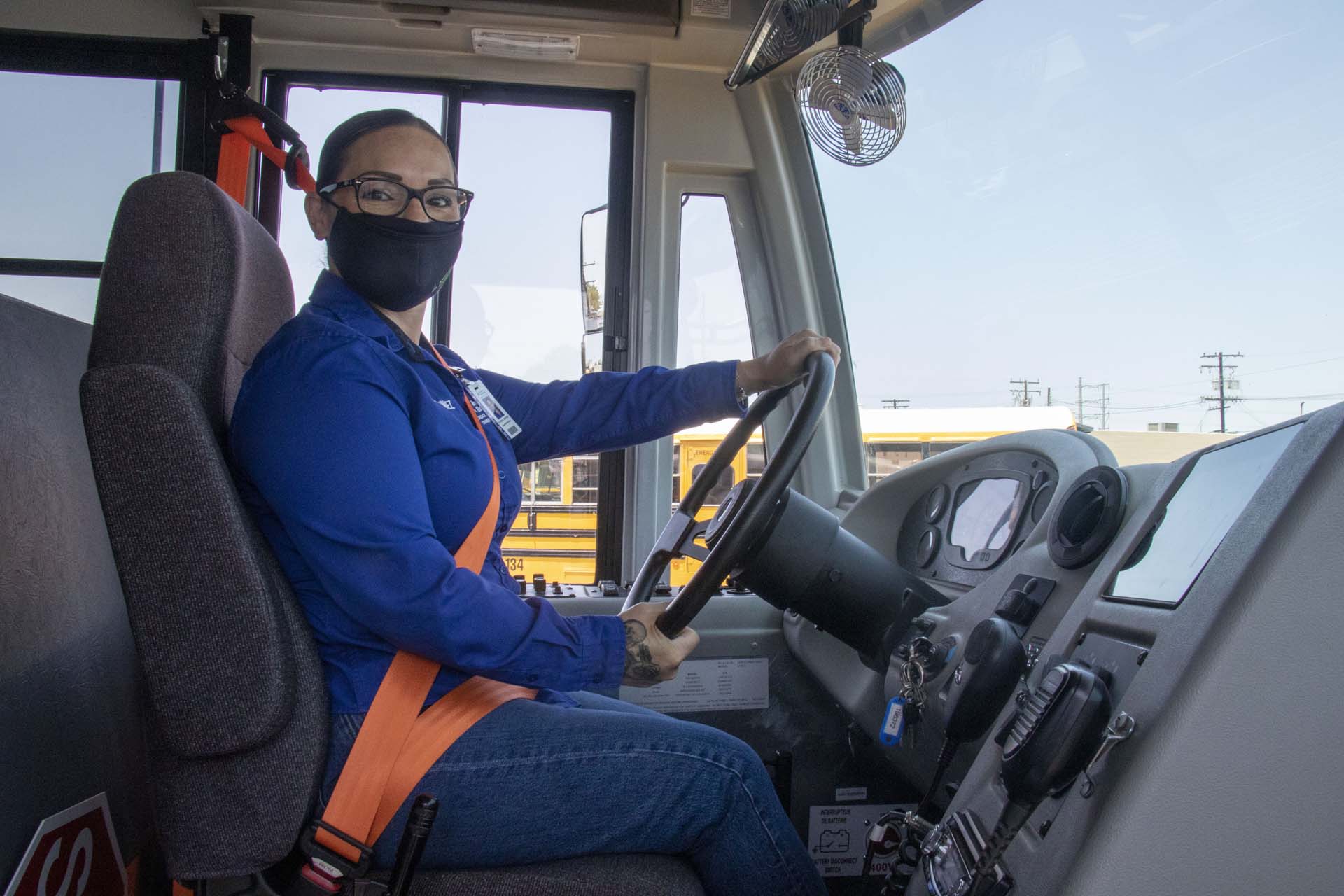 Wittenberg noted that the drivers with the most seniority will be given the electric vehicles for their routes.
"There is training that is taking place because obviously, it's a heavy investment by the state," Downing said, speaking of training for the mechanics. "It's our obligation to make sure that our staff is fully trained and [we] are able to support them."
During a test drive of the new Lion Electric bus, Edwardo Caamaño, the Southern California sales manager for the company, answered questions regarding the bus itself. For instance, electric bus range always seems to dominate concerns, however, Caamaño said AESD electric buses can travel about 100 miles per charge, though he recommended the district give a 10- to 15-mile buffer.
Caamaño added the buses can be charged every day when the bus is not on the road and no degradation of the battery will occur. In addition, the battery should last around 15 years.
Media Gallery