Smart-fleet management company Zonar announced the winners of its inaugural All-Star Awards program in three levels: gold, silver and bronze.
The program was established to celebrate and recognize "exemplary and unique fleet management programs and projects from customers that led to increased safety, compliance with federal and state regulations, and financial savings and business insights resulting in overall efficiencies," Zonar officials announced.
The winners were announced on Thursday and were determined by a panel of industry experts. Organizations nominated programs or projects using Zonar solutions that helped solve a business challenge and resulted in a positive outcome. The projects were reviewed in six categories; efficiency, cost savings, safety, compliance, green initiative, and a write-in category.
Editor's Note: Judges were Ryan Gray, editor-in-chief of School Transportation News, along with Neil Abt, editorial director at Fleet Owner, and Susan Beardslee, lead analyst at ABI Research.
The gold All-Star winners were said to showcase the most distinctive Zonar-driven fleet management efforts. The winners included North Port Solid Waste division, First Student of Western New York, Anne Arundel County Public Schools in Maryland and Shelby Eastern Schools in Indiana.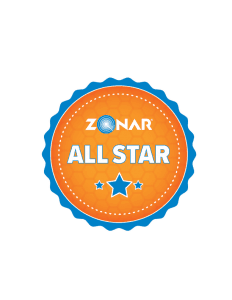 "Capturing the value from technology—whether measured in improved safety, organization performance or happier clients and customers—helps leading transportation organizations meet any challenge that comes down the road," stated Ian McKerlich, president and CEO of Zonar. "We applaud our customers who are leading the way in applying transportation technology to improve their results and their competitive position in their respective industries."
First Student won gold with its project WNY First Student Safety Team in the safety category. The company uses Zonar to check that safety teams are deployed to bus locations, and to monitor pre-trip, post-trip, student check and speed compliances.
Zonar said it helped solve First Student's issues of buses leaving without pre-trip inspections, drivers not conducting proper student checks and drivers speeding. While using Zonar products, Group Traffic Control and Electronic Verified Inspection Reporting (EVIR), the company has raised its pre-trip compliance to 94 percent, managing a fleet of over 1,000 buses. Its speeding events have been reduced, and it is monitoring student checks to reduce the risk of leaving a child unattended on the bus.
Another gold winner was Shelby Eastern Schools near Indianapolis. The district won in the Efficiency category for its project, Telematics and Efficiency for the Small School District.
Shelby Eastern Schools had a two-fold problem. It had no means of watching routes unfold in real-time while using the routing software of Transfidner; meaning there was no method to prove efficiency. The transportation department had to rely on drivers to inform transportation officials of extra miles driven. District officials reported they didn't have a check and balance system, and it had to rely solely on what was reported by the drivers.
After using a Zonar V4 Telematics Control Unit, the district was able to compare actual driving paths against the historic date of Transfinder. The technology allowed for the restructuring of half of its bus routes for the coming school year.
Using Zonar also allowed for bus stop monitoring, reporting whether a stop was missed, then document the second the stop-arm was released and the red lights were activated.
Using Zonar Ground Traffic Control, Shelby Eastern Schools was able to overhaul one-half of the county's bus routes. It restored exiting routes, and more efficient routes, based on actual data. The district report it had saved $40,000 for one school year after eliminating one route.
Anne Arundel County Public Schools in Maryland also won gold in the Efficiency category for its project, Zonar AVL Integration with School Bus Routing. The problem the school district was having was its bus stop times produced with bus routing software, utilizing ArcGIS road networks were too optimistic/fast due to the calculations based on the posted speed limits.
The road network did not take real-world issues into effect, like traffic, stop lights/signs, speed humps, and the time it takes to accelerate and decelerate. Most of the road times available to the public were incorrect and required manual manipulation to fix, they reported.
The district said one of the worst cases was a bus running 27 minutes behind its reported bus schedule, the total length of the reported run was 49 minutes.
Using Zonar Group Traffic Control gave the district accuracy and confidence. The district's transportation department can now report accurate bus stop times to parents with the confidence that the times are correct. Currently, Zonar is only on a portion of the district's fleet, but after the success of the program, the district is requiring AVL/GPS to be on every contracted bus moving forward.
"Our gold winners, which span across different industries, all demonstrated a willingness to approach challenges with a fearless and boundless attitude," said Gareth Wade, chief revenue officer at Zonar. "Not only did they enhance their organizations' safety and productivity using Zonar solutions, but they also showed how the benefits they experienced helped their communities thrive."
Additional Zonar All-Stars winners included; silver winners: Cypress-Fairbanks Independent School District in Houston, Dee Bus Service, Inc. in Massachusettes, Houston Independent School District and Seman Tov, Inc. in New Jersey. The bronze winners include Sheppard Bus Service in New Jersey, Santee School District in California, South Putnam Community Schools in Indiana, Southland Transportation, Zuni Public-School District 89 in New Mexico, and Chicago contractor Cook-Illinois Corp.