STEVENSVILLE, Md. — Stertil-Koni, an industry leader in heavy-duty vehicle lifts, announced this week that Tim Kerr has joined the company as a product manager.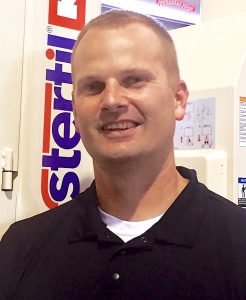 Kerr will spearhead initiatives that will include Stertil-Koni's new product concepts, advancing customer satisfaction and the training of Stertil-Koni's North American distributor network.
In making the announcement, Stertil-Koni Technical Sales Manager, Peter Bowers, noted, "Tim brings a unique combination of technical experience and customer service depth to this new position at Stertil-Koni. He also will be assisting with product development and building digital pathways for feedback."
Kerr has a proven track record with complex electromechanical systems, from concept and design, to installation and commissioning of industrial equipment. He has extensive expertise in after-sales support, onsite training and system enhancements.
Kerr graduated from Rowan University in Glassboro, N.J. with a BA in mechanical engineering.
About Stertil-Koni
Stertil-Koni is the market leader in heavy-duty vehicle lifts, notably bus lifts and truck lifts, serving municipalities, state agencies, school bus fleets, major corporations, the U.S. military and more. Stertil-Koni's products meet all ranges of lifting needs, including: portable lifts such as mobile column lifts, 2-post, 4-post, inground piston lifts, platform lifts, and its axle-engaging, inground, scissor lift configuration, ECOLIFT. The company's innovative, inground telescopic piston DIAMONDLIFT is now available with an optional continuous recess system, which is ideal for low clearance vehicles. Stertil-Koni USA is headquartered in Stevensville, Md., with production facilities in Europe, The Netherlands and in Streator, Ill. www.Stertil-Koni.com