Download a free guide that contains 11 tips to transform an antiquated school transportation system into a modernized, tactical operation.
School transportation departments face daily changes in ridership, fleet functionality, and route scheduling, all while responding to outside funding pressures and legislative mandates. This can make it difficult to determine the best ways to run safe and cost-effective transportation, as well as measure, report and improve performance. School districts are often focused on how federal, state, and local district taxpayer dollars are applied to the classroom, leaving transportation departments on their own to manage their resources.
But across the country, many school districts have begun to embrace new fleet technology, including apps such as SafeStop, GPS systems, student tracking with RFID technology, EVIR systems and improved routing software. Transportation directors who implement these technologies can automate essential aspects of their operations, to easily adjust activities in real-time, based on the data.
"When I recommend SafeStop to others, I emphasize the one-on-one help that you get from customer service. They all are truly invested in making the app work for your school and work properly."

— Roxy Piaskowski, Transportation Mgr., Chaminade College Preparatory (West Hills, Calif.)
To help organizations modernize and improve the efficiencies of their fleet, the team at SafeStop has outlined 11 district-tested tips and tricks. We have detailed what you need to know about your fleet's capacity and performance data; how integrating technology can save time through reduced manual efforts, as well as improving fuel savings and reducing accidents; and how to improve the overall transportation experience that your operation delivers to its stakeholders. That includes your bus drivers, your passengers, and the community in which you are operating. You can learn more about these tips for transforming your own transportation operation here.
"SafeStop provides students and parents with peace of mind and the confidence that they know when and where the bus is as it travels to and from school each day. SafeStop has satisfied our need to keep parents informed."

— Kelly Kloepping, Public Information Officer, Verona Area School District (Verona, Wis.)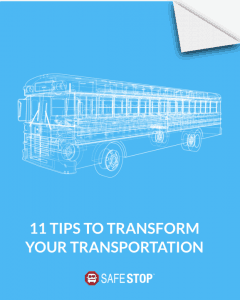 The best action is to take action—and not wait for another school year to pass by without taking stock of what is needed, what the goals are and how to get there. Creating a roadmap for change can help transportation departments lead the way in dictating how to efficiently and effectively use nonclassroom funds to best take care of students at the beginning and end of each day. By implementing these types of solutions, schools can stretch their funds and improve safety, efficiency, and service, for transportation staff, school administrators, parents and students alike.
SafeStop is the industry's leading data and school bus tracking app. To learn more about how the app and the SafeStop Analytics data platform can help you transform your school transportation system into a modernized, tactical operation, learn more online.