Education spending was cut by nearly $4 billion this fiscal year, leaving school districts scrambling to identify areas to streamline. But administrators can't drop classes or instructional time in the face of budgetary restrictions, and delaying dollars for sports or arts programs can get political and face opposition from parents and the community.
According to the Rennie Center Education Research & Policy, support services such as custodial work, food services and school transportation options are often left on the chopping block.
To help transportation departments do more for their operation with less funding, the trusted experts at Transportation Services Company (TSC) offer their services. From school bus driver training via web-based learning management systems, to asset, parts and technology procurement savings, TSC offers customized solutions to reduce costs and improve student transportation operations.
"Our district vision guides us to engage, equip, and empower our learning community today for a limitless tomorrow," said Phil Onofrio, chief operating officer for Mesa County Valley School District 51 in Grand Junction, Colorado. "TSC certainly engaged with us and equipped us with the means to upgrade our fleet of activity vehicles. And they did so in a way that was efficient and effective."
TSC has outlined three key strategies to help school administrators and transportation staff look ahead and better plan for potential further reductions in educational spending that often occurs during the summer months between school years. Read below, then download this free whitepaper to learn more about the three ways to save during summer budget cuts.
KNOW YOUR NUMBERS: Don't shy away from the business tactics used by private sector transportation companies to understand and manage expenses, revenue, capital and assets. The American Association of School Administrators suggests establishing basic annual indicators for measurement, including actual student capacity and student-to-bus ratios, among others. On the supply side, some school districts have opted for centralized fuel management to maximize purchasing options.
INVESTIGATE YOUR ROUTING: A main target for transportation cuts is often route efficiency, and making small changes can dramatically improve routes. For example, some districts have reduced their commute time by no longer allowing bus routes to stop in cul-de-sacs. Fleet management companies such as Transportation Services Company may be able to help with routing and efficiency as well since they often offer expertise and national sources for consulting and bulk purchasing.
CREATE A LONG-TERM FLEET REPLACEMENT PLAN: The parts of a successful fleet replacement plan should include discovery and analysis of the current fleet data; alignment of goals between your team and the fleet management organization, including transparency and communication between all stakeholders; a professional and detailed presentation to the local team and stakeholders; and a clear and concise game plan for the implementation and execution of the agreed upon long-term plan.
Next Steps
Ultimately, the first and more critical step is to take action now, rather than wait for the months between the rush of school year operations, when the fiscal year often shifts from one to the next and further cuts to educational spending are handed down.
A professional fleet management organization such as TSC can help you set and meet your organization's long-term goals and work with you to develop a strategic fleet replacement plan that not only improves the quality and service offering of your fleet but does so in a way that is cost-prohibitive and works with the budget you have before, during or after summer budget cuts.
"TSC gave us straight, honest answers and did exactly what they said they would do. That shouldn't be surprising, but these days it often is," shared Frank Worsham, transportation director for John F. Kennedy Catholic High School in Burien, Washington.
"It's nice to have access to a larger group of people and that corporation feeling," said Erin Borda, president of Los Angeles-based Tumbleweed Transportation. "It's a really nice partnership; they don't work directly with me day-to-day but I know they are there to help me and want the best for my company and me."
"The greatest benefit is the support TSC offers," Worsham added. "They do what they say they will do, deliver buses as promised and stay on top of things on an ongoing basis."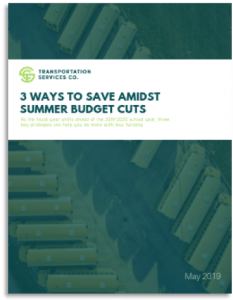 To learn more about the three key strategies and get tips for integrating them into your current operation ahead of looming summer budget cuts, download this free whitepaper.
---
Transportation Services Company, a member of the TransPar Group of Companies, is a full-service fleet management company that helps their clients cut costs and increase efficiencies across the entire spectrum of their fleet. TSC has a robust menu of products and services that support every aspect of a vehicle life cycle from bus specification development and acquisition, funding, fleet maintenance, parts management, risk management, and fueling through replacement planning. For more information, please visit us online.