Modern education practices have progressed with technologies such as digital text books, flipped classrooms (delivering instructional content online), cloud-based tools designed to enhance teaching methods, and the introduction of mobile devices offered to students from schools to access these developing opportunities.
As the global leader in software-defined 4G LTE networking solutions, Cradlepoint delivers secure, cost-effective, business-grade connectivity for education on the road, such as WiFi on school buses, and bookmobiles, addressing the demands for greater bandwidth, higher reliability and easier management.
WiFi on School Buses
Research shows that kids are spending around 45 minutes each way on the school bus. In rural towns the time could exceed an hour, and this doesn't include additional bus time for sports and field trips. Adding internet connectivity on buses becomes an immense asset for students. Students can access the tools they need to be successful in today's tech-savvy education environment, such as completing their homework, or even watching videos of lectures on mobile devices from the road with the use of cloud-based applications. Teachers can post grades, assignments, attendance, messages, and lecture videos online through cloud-based portals—all within the reach of the student while on their commute to school or home.
Coachella Valley Unified School District Adds LTE-Based WiFi to School Buses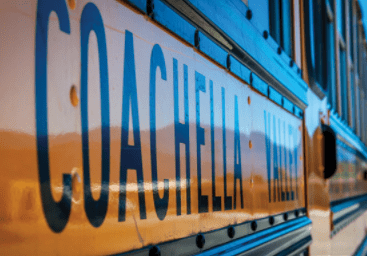 Coachella Valley Unified School District (CVUSD) deployed Cradlepoint's cloud-managed COR Series in-vehicle LTE solutions with WiFi on its 100 bus fleet for the "WiFi on Wheels" initiative to keep students connected during their school commute. Most students in the CVUSD do not have Internet access in their homes, as most families live below the poverty line. To further the benefit of the available WiFi, the buses are parked in the most rural or disadvantaged areas, to provide internet access to students' homes, while covering the school district's 1,250 square miles.
The introduction of WiFi on the bus ride to and from school opens unimagined opportunities for these students. "We have families that are very economically challenged. 100 percent of our students are on free or reduced lunch. Some of them are living at trailer home parks or in abandoned railroad cars. It's just unbelievable some of the challenges they face," said Dr. Darryl Adams, retired superintendent of CVUSD who implemented the solution. With Cradlepoint's solutions on the buses, students became more engaged with their school work and the CVUSD's graduation rate jumped from 70 percent to 80 percent in the first year.
The LTE cloud-managed networking solutions are not only affordable and engineered for the rugged mobile environment, but they are easy to manage. The school district can administer the network for the entire fleet from one location and in real time.
Library Bookmobiles & Kiosks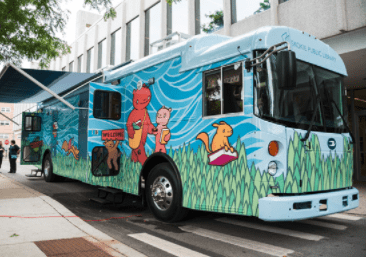 Beyond WiFi on school buses, libraries are taking to the road to reach community members who can't easily access the library. Traveling libraries known as bookmobiles are bringing books, computers and internet access to underserved populations, by deploying mobile wireless networks in vans.
In Skokie, Illinois, the Skokie Public Library Bookmobile serves residents by providing library checkout, requests, reservations and returns. The bookmobile brings books, DVDs and other resources to 28 locations throughout Skokie, five days a week. Patrons can use their library card to check out and return items, just as they would inside the library building. To ensure a reliable network connection and for ease of use, it uses the Cradlepoint COR Series routing platform for in-vehicle connectivity. The COR Series is a compact and ruggedized 4G LTE solution for mobile networking.
"Before Cradlepoint, we sometimes had to write down a request, come back to the library, and process the request there. Now we can immediately place reservations and search the internet to look up what our customers need," said Gale Dunlap, Skokie Public Library Bookmobile Supervisor.
Cradlepoint's 4G LTE Solutions for Mobile Networks
4G LTE with remote cloud-management is a highly flexible and reliable connectivity option. Cloud-managed networks help minimize the amount of time needed to manage and troubleshoot the network, and roll out firmware and security updates, while also keeping IT costs low. Centralized cloud management also helps ensure top-notch security and network performance across vehicles throughout the district or city.
Download the white paper Networks for School Buses, Bookmobiles & Library Kiosks to learn more about mobile networks for education.