With the average school bus life of roughly 15 years, there is more to uptime, reliability, and durability than simply providing a robust product during the initial installation and manufacturing of the school bus. Following the basic maintenance schedule and using compatible parts isn't enough—for true longevity, using Genuine Cummins parts is a must for your engine.
Cummins provides a wholly integrated engine system to meet fuel economy, drivability, and longevity requirements that school districts and fleets expect. Therefore, it only makes sense to continue to use Cummins genuine aftermarket components and Fleetguard when doing maintenance-related events.
School bus powertrains have changed in the past 15 years. A Cummins engine is still likely a 6.7-8.9 liter platform, but with the introduction of higher injection pressures, Diesel Particulate Filters, Selective Catalytic Reduction related technology, and on-board diagnostics, the replacement of maintenance-related components are as critical as ever.
Simply put, filtration, aftertreatment, and core engine component (if needed) maintenance and replacement should use the same or better-quality parts that came on the initial product. And with Cummins genuine parts, there is a comprehensive warranty provided that is backed by Cummins.
Let's Talk Fuel Quality
When it comes to the Cummins difference, look no further than a crucial aspect to engine performance: fuel quality. The first rule of fuel quality is cleanliness. With the use of high-pressure common rail with higher injection pressure and atomized fuel (compared to pre-2010 engines), any fuel contaminated debris can cause downstream issues. Therefore, it is critical that the fuel going to the injectors is as clean as possible, and any debris is trapped and contained over the life of the product.
The first step in providing quality fuel is by capturing potential contaminants. The Fleetguard NanoNet fuel filters from Cummins Filtration provide 10-13 times better protection than competitive media. With 2.5 times the containment holding capacity of conventional filters, and the ability to capture particles as small as 3 microns ( for reference, the diameter of a human hair is 70 microns), the NanoNet filter makes sure that even the smallest contaminants are captured before entering the school bus' fuel system.
However, simply capturing contaminants isn't enough—the filtration media needs to make sure that, during fuel surge and high-vibration events, the debris remains locked in place. In a 400 minute test that was designed to simulate a complete service interval for fuel filters, the Fleetguard NanoNet fuel filters outperformed the closest will-fit competitor in terms of the overall contamination level of particles per milliliter.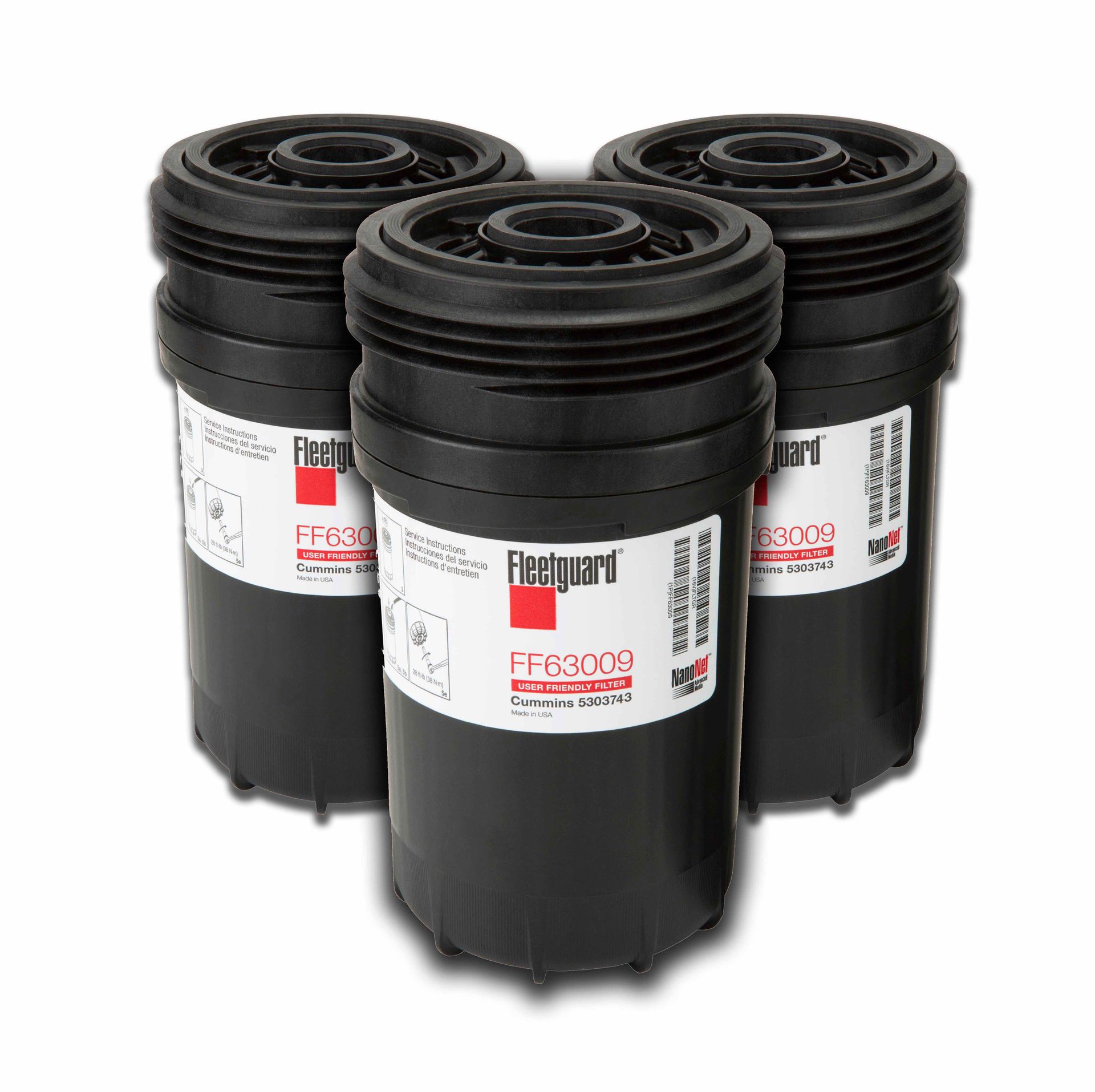 Besides contaminants or debris in fuel, another major concern is water in fuel. The presence of water in diesel fuel systems may cause the following problems:
Water causes rust and corrosion of iron components, forming loose particles of iron oxide which contribute to injector wear and component failure.
At the interface of water and diesel fuel, microbiological growth rapidly occurs under the proper conditions. The microbes form a sludge that can plug filters and hinder injector performance. Additionally, the acid excreted by these microbes causes the corrosion of storage tanks and vehicle tanks, which leads to an increase in particles found in fuel.
Water can overwhelm standard on-engine fuel filtration. Water that makes it past the fuel filtration system to the injector system, since it doesn't have the same lubrication as diesel fuel oil, can cause premature wear and injector failure.
Water in the fuel can also lead to premature wear of fuel pumps and other system components that rely upon the lubricating properties of diesel fuel oil. Water in fuel can lead to costly repair bills, downstream performance issues, as well as hidden corrosion of the fuel system and possible frozen fuel lines in cold weather conditions.
Therefore, using the most efficient water-in-fuel separator filter is critical to protecting equipment. Starting in 2007, all Cummins school bus engines added a water-in-fuel separator and water-in-fuel sensor to provide additional protection. Unlike traditional filtration media, NanoNet media contains no cellulose and is essentially waterproof. With high effectiveness at separating water from fuel, NanoNet provides three times more protection throughout the life of the filter than the next best competitive filter.
When it comes to fuel quality, there is no substitute for using a Fleetguard NanoNet from Cummins Filtration. Simply put, the NanoNet fuel filter is the best at protecting injectors against the release of captured particles and helps maintain the performance of injectors over the course of their life. NanoNet filters can extend service intervals, maintain a high level of efficiency, and reduce downtime and maintenance costs over the life of a school bus. The NanoNet filter came standard on 2013 and newer ISB6.7, ISL9, B6.7, L9 engines, and can be retroactively upgraded on 2010 engines using the FF5812 filter number.
Regarding fuel filter maintenance, Cummins provides a routine maintenance schedule for all of our engines at quickserve.cummins.com. By entering your ESN, you can find the Owner's Manual as well as the Operations and Maintenance Manual in the service tab. The schedule provides miles, hours or time required for a maintenance event, whichever occurs first. For instance, if the average vehicle speed of a school bus in operation is 20 miles per hour, using the hours interval, the fuel filter maintenance should be performed at 10,000 miles (500 hours) instead of the 15,000-mile interval listed under the "miles" section of the table (2017 B6.7 Maintenance Schedule).
Don't Forget About Oil Quality
Oil quality is a critical component of the diesel school bus engine's life and performance. Besides lubricating internal components, oil helps remove excess heat, cleans and seals internal components, and removes debris to the oil filtration media. Engine oil contacts more critical components of the engine than any other fluid.
Modern diesel engines, designed to meet stringent emissions regulations and achieve long service life, utilize precise fits and clearances to accomplish these goals. Since the oil can carry harmful abrasive particles and since the combustion process blows sludge-forming materials into the oil, it is necessary to remove these contaminants. In many engine applications, a standard full-flow oil filter cannot remove all of the harmful contaminants and still provide adequate filter life.
At Cummins Filtration, the Fleetguard StrataPore and Venturi by-pass-stacked disc media remove harmful sludge and allow the lube system to perform more effectively than full-flow only synthetic filters. In fact, the Venturi Combo removes up to three times as many contaminants as full-flow-only synthetic filters.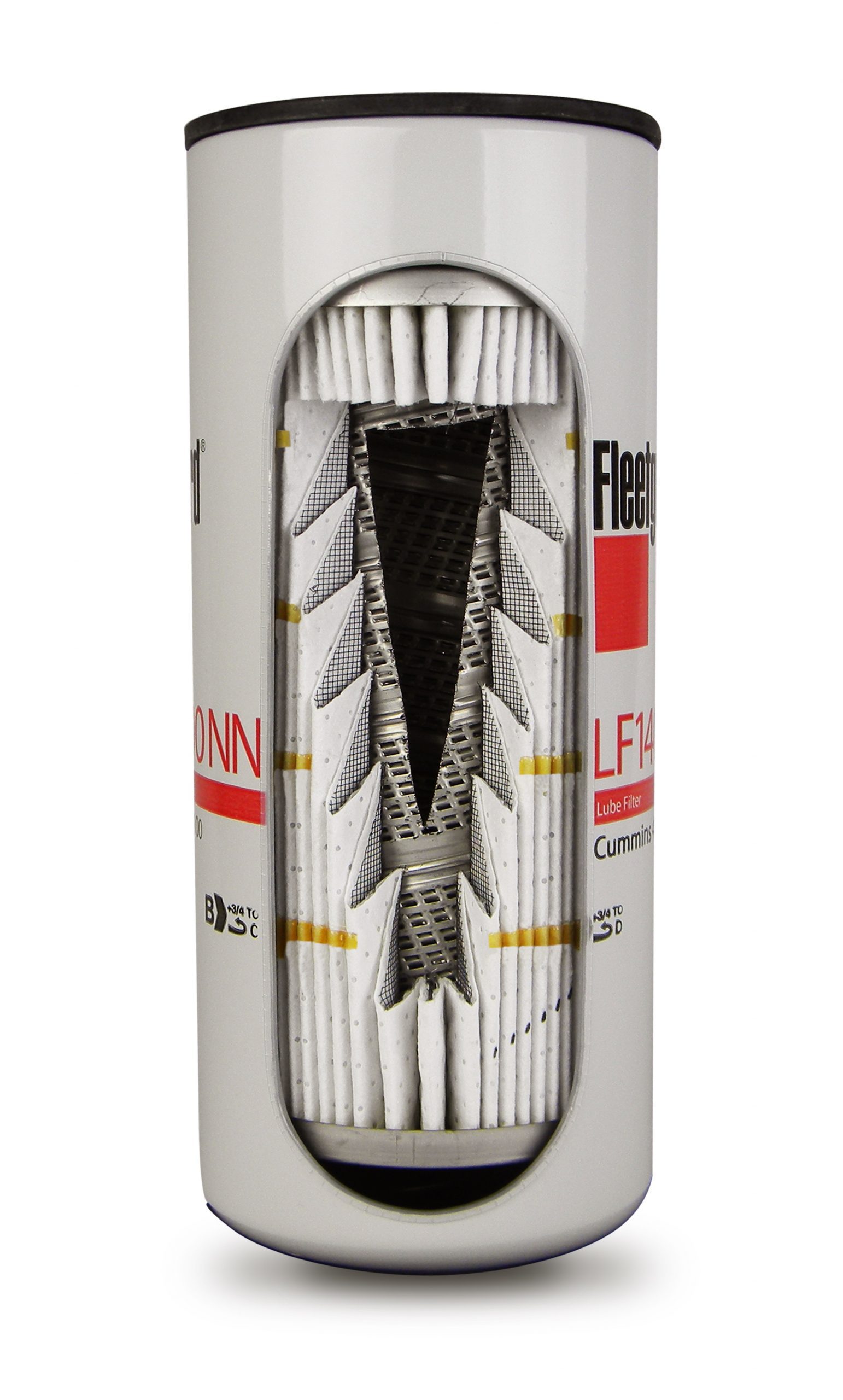 The basic performance premise behind the Venturi Lube Oil Filters is centered around the fact that engine oil contaminants are comprised of both organic (carbon-containing compounds) and inorganic (dust, wear metals, etc.) materials. Engines generate combustion by-products and contaminate the engine oil at different rates throughout the typical oil drain interval. The normally used oil filter will end up with approximately 80 percent organic and 20 percent inorganic make-up of the contaminants trapped in the filter. Managing these two contaminant types is what makes the Fleetguard Venturi Oil Filters unique and able to support the maximum achievable engine oil drain intervals.
The Fleetguard StrataPore and Venturi uses three technologies in one filter to provide enhanced cold-flow ability, improved contaminant removal, as well as the ability to hold and retain contaminants during vibration and surge events:
StrataPore Media – As fluid enters through the stratepore media, smaller particles are captured as the oil flows through the full-flow section. Stratapore media allows for maximal flow during cold starts without compromising engine protection.
Stacked-Disc Bypass Media – Some oil flows through the bypass media where the stacked-disc media super cleans the oil and captures sludge and particles as small as five microns (the size of a red blood cell).
Venturi Nozzle – After passing through the Stacked-Disc Bypass Media, oil is delivered back to the engine through the Venturi Nozzle which is designed to pull more oil through the Stacked-Disc Media than the traditional standard filter.
Maintaining Diesel Particulate Filters
The Diesel Particulate Filter (DPF) is a critical component of the modern diesel engine. Designed to capture and keep diesel particulate matter, nitrogen oxide and hydrocarbons from entering the air we breathe, DPFs play a critical role in meeting EPA standards for diesel engine exhaust quality.
DPFs utilize an oxidizing catalyst to control hydrocarbons and trap them inside the channel walls of the DPF. To keep air flowing through the DPF, the built-up material must be burned off or oxidized through a process called regeneration.
During normal operation of the engine, the DPF will self-regenerate when exhaust gases reach a temperature of 1,000 degrees F (538 degrees C); in the absence of these conditions, the engine systems will create an active regeneration. This regeneration burns the trapped hydrocarbons and leaves ash behind.
Over time and depending on the duty-cycle of the engine, this ash will build up, resulting in decreased performance of the DPF and increased engine back pressure. Too much back pressure will decrease fuel economy and can cause additional wear on engine components.
In February of 2019, we wrote an article on best practices when it comes to maintaining your Diesel Particulate Filters (DPF). However, when it comes time to perform maintenance on the filter (6,500 hours or 200,000 miles, whichever occurs first), Cummins recommends replacing your DPF with a new or ReCon DPF.
The Cummins ReCon DPF follows a 9 step remanufacturing process that removes ash and restores DPF performance to a like-new condition.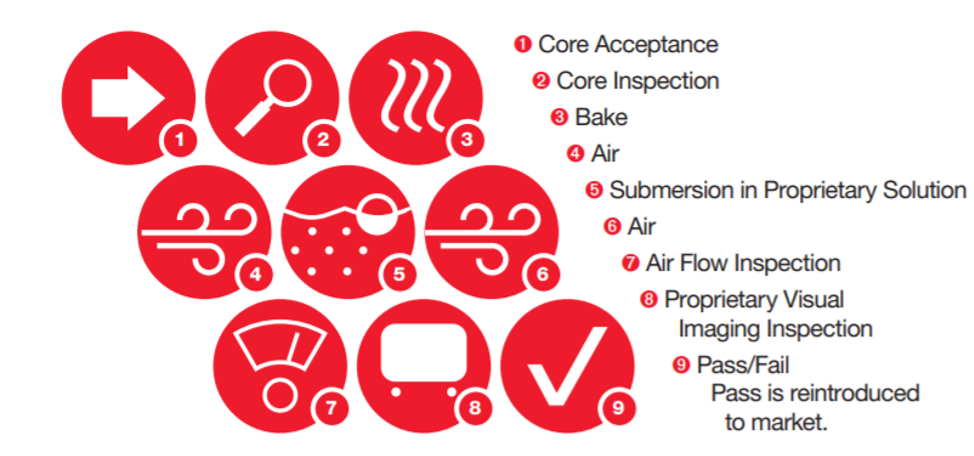 BETTER VALUE: A ReCon DPF is more cost-effective than a non-genuine DPF while maintaining Cummins quality, warranty and access to our world-class service network of over 4,000 locations.
BETTER PERFORMANCE: A Cummins DPF's sole purpose is to trap and eliminate soot as efficiently and effectively as possible; typical non-genuine DPFs may cut corners by using inferior materials containing little-to-no precious metals. These precious metals help accelerate that soot-burning process and maintain overall performance for the whole aftertreatment system while maintaining fuel efficiency for your engine's lifespan.
THE GENUINE DIFFERENCE: ReCon DPFs are proven to show similar performance to new DPFs due to our 95 percent or more ash removal criteria and extensive remanufacturing process. Like new Cummins DPFs, genuine Cummins ReCon DPFs are designed and tuned specifically to your engine's performance levels and controls, ensuring the engine's peak reliability on the road.
Get more information regarding Cummins ReCon DPFs.
For all other filtration, aftertreatment, and internal component questions, contact your local Cummins expert at locator.cummins.com.