The Problem
It's mid-winter, temperatures have taken a nose-dive below freezing and your fleet of school buses is in need of some help to get started. Cold starts, if they start at all, are tough on the engine. So you need to warm up your bus engines without leaving them idling—wasting fuel and polluting the air with diesel exhaust. Additionally, bringing in staff early to start all the buses and ensure they are running is also costly and an expense you don't want. Unpredictable weather can eat up your budget pretty fast.
A Solution… But With More Problems
Over time, utilizing engine block heaters has become standard operating procedure for many bus fleets—reducing wear and tear on bus engines as well as saving on fuel from idling.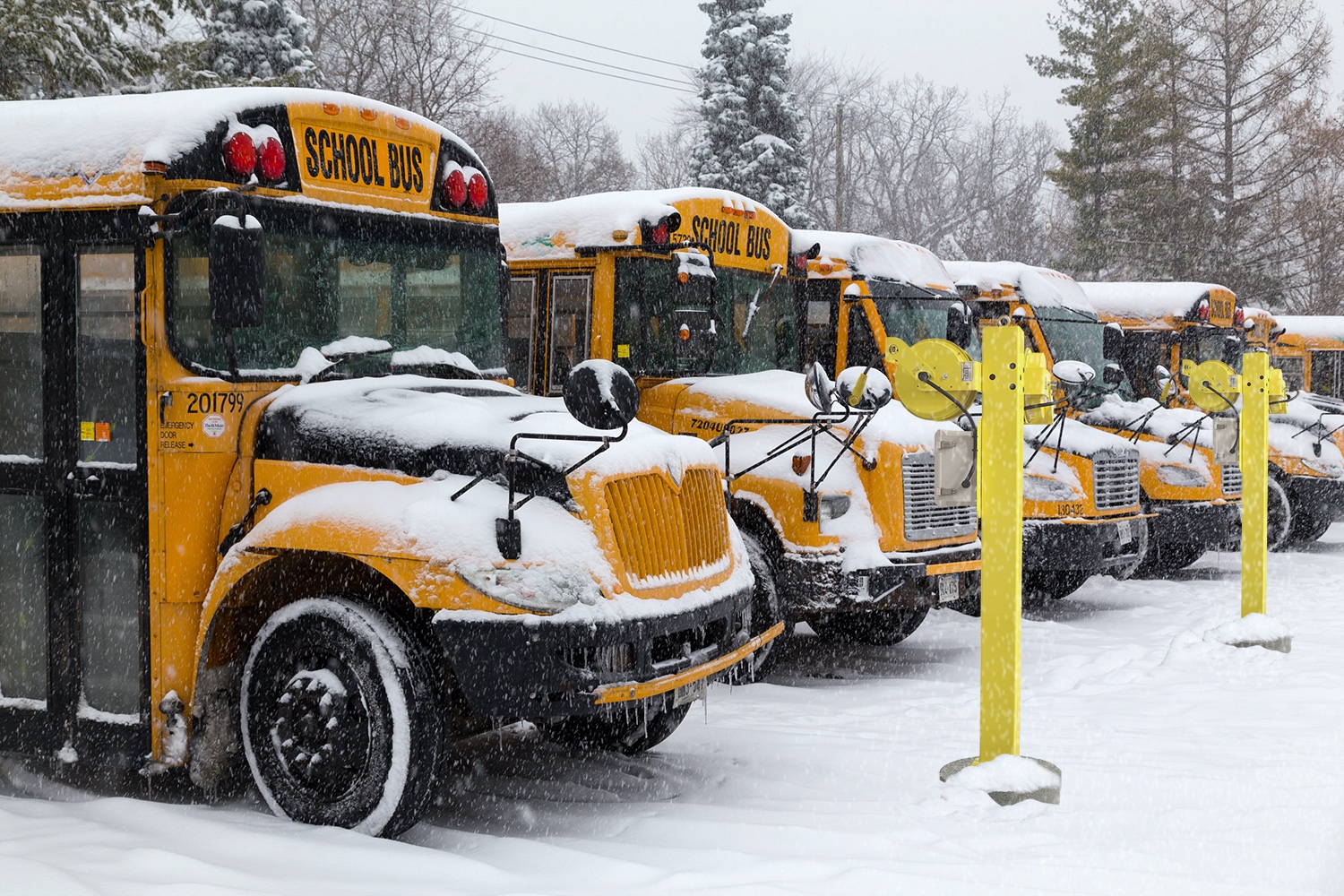 Plugging in the engine block heaters for your buses is essential to operating your fleet. Many bus fleets leave them plugged in all night, others use timers, but this "solution" has created another issue—cords everywhere.
Fleet managers are painfully aware that cords often do not get manually wound up when unplugged, therefore increasing the risk of trip and fall instances as well as wear on the cables themselves. And in less-than-ideal winter conditions, cords are often not visible under slush and snow, making the parking lot or garage dangerous for everyone.
"Speaking with facilities managers at the schools, the primary concern has been getting cords up off the ground."

-Wendy Caparco, Technical Sales Engineer, KH Industries
Not only are there cords and cables on the ground and across the parking lots, causing major tripping hazards and potential OSHA violations, but unsafe or inaccessible power sources complicate matters further. Running extension cords or utilizing power sources not engineered for outdoor conditions also contributes to a hazardous environment.
The Safer Solution—KH Cord Reel Station
Having started as a solution for the utility industry using diesel vehicles, the KH Industries Cord Reel Station has grown into a product that is solving challenges in a number of industries and applications, including school bus fleets.
"The cord reel station was originally designed to provide power to utility fleet trucks in cold-weather states so they could run their engine block heaters. Once it caught on in one industry, customers from others realized the solution could work for them as well," said Craig Hefright, vice president of sales and marketing at KH Industries. "The key for these customers was to provide an on-site, turn-key cord management system with robust retractable cord reels that could tolerate outdoor weather conditions."
The six-foot Cord Reel Station is installed right at the site requiring power, allowing users to safely get power to their vehicles and engine block heaters. It's available in a variety of configurations—two to four cord reels, mounted in a variety of tiered arrangements, and with varying cord lengths.
Customers have the option of either local GFCI protection or GFCI circuit breakers in the UL508A listed junction box. This power station includes power and current indicator lights for quick visual confirmation power is being supplied to the block heater as well as optional breakaway cables to further enhance safety in parking lots or garages. The cord reel power station can be mounted on a 6' or 3' powder-coated steel pole or on a raised foundation/Jersey barrier mount system, depending on each school district's individual needs.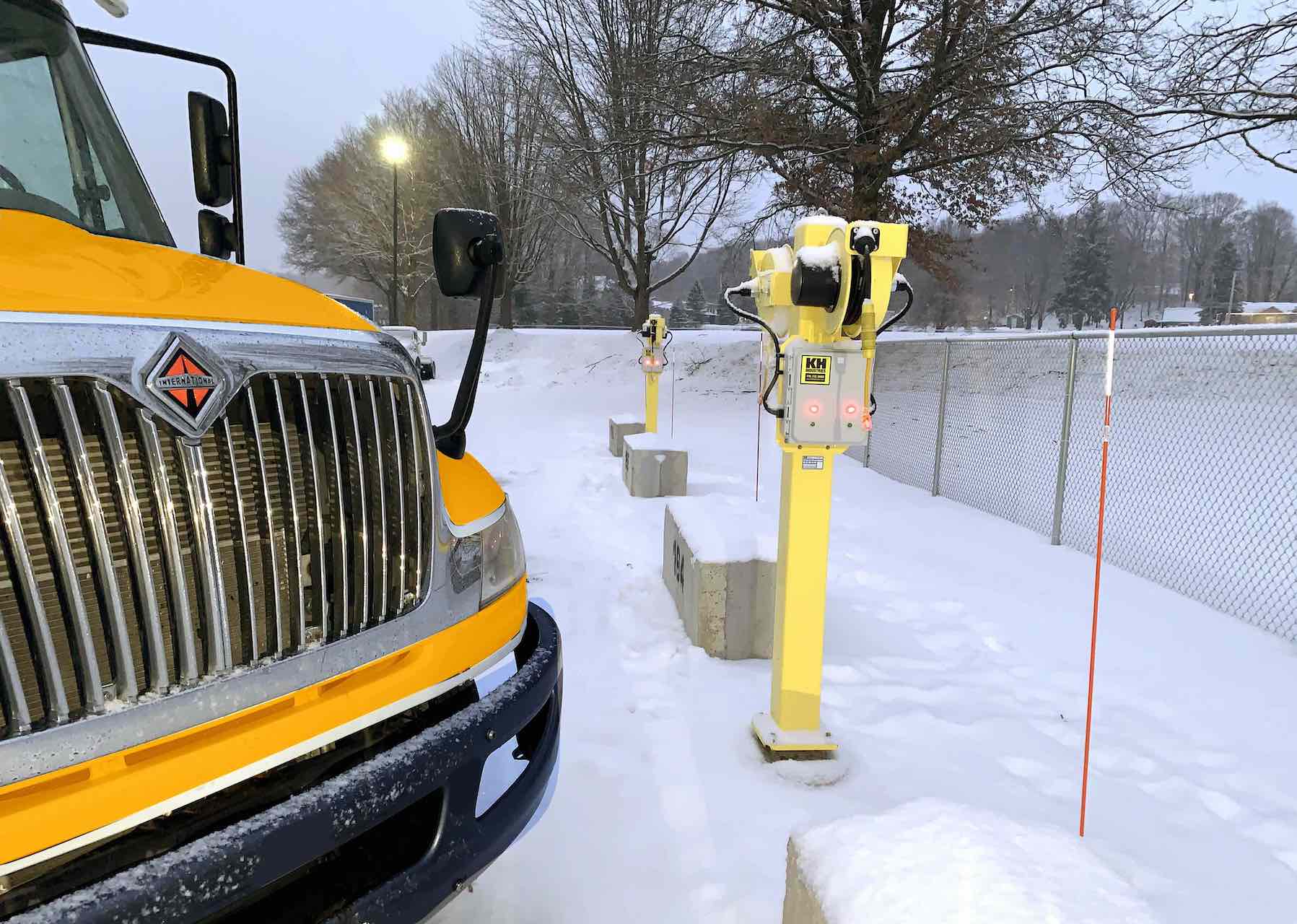 The 20-amp RTF series cord reel provides ample power for most standard engine block heaters and the standard 50' retractable cable extends to reach the school bus and ratchets in place to stay off the ground. By using durable NEMA 4X retractable cord reels, customers are assured that the reels are rated to withstand extreme weather conditions – rain, sleet, snow and more.
The KH Cord Reel Power Station comes fully assembled and delivered to the job site with a lifting hook for easy installation. By working with KH Industries and the expertise they bring, school districts and fleet managers will realize this complete solution allows them to get up and running efficiently.
"Speaking with facilities managers at the schools, the primary concern has been getting cords up off the ground. We are able to work with a project team to ensure the cord reel stations provided will meet not only the school district's configuration requirements, but also any local electrical code requirements," shared Wendy Caparco, technical sales engineer at KH Industries.
The Results
With an increasing number of school districts looking for a safe, turn-key solution for their job site, the team at KH Industries is keeping busy. Whether a fleet manager is looking for a single Cord Reel Station or multiples to outfit their entire parking lot or garage, each order is reviewed by KH Industries' in-house technical sales team and engineering department. Once the specifications of the application are outlined, the right product is chosen—or custom designed—specifically for them to fit their needs.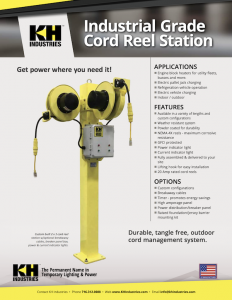 If your school bus operation is looking to improve safety surrounding your power and cord management, contact KH Industries to learn how they can customize a solution for your individual needs. Call 716-312-0088, email sales@khindustries.com or fill out this form. Download a product sheet for the Cord Reel Station.