Sadly, the dangers around school buses remain a newsworthy issue still today. According to NHTSA's Traffic Safety Facts on School Transportation-Related Crashes, "Between 2006 and 2015, there have been 1,313 people killed in school transportation-related crashes—an average of 131 fatalities per year."
The report breaks down for that same time period, the number of school-age pedestrians (18 and younger) who died in school-transportation related crashes. Sixty-one percent were struck by school buses, 3 percent by vehicles functioning as school buses, and 36 percent by other vehicles involved in the crash. This isn't surprising when reports have shown there to be approximately 75,966 red school bus light violations from passenger vehicle pass-bys occurring daily across the United States.
We know these statistics aren't new to those that work in the school bus transportation industry. We know that you recognize the need to reduce the incidence of illegal passing of stopped school buses. The crucial question is…how to get it done?
The solution to this multi-faceted problem involves the cooperation of many groups—municipalities, legislators, school districts, state directors, suppliers and parents—combined with the necessary data. We have the data for the need: As the numbers state, too many children are dying each year. We need to understand the root cause: why are the violations happening?
Most people are not inherently evil, consciously deciding to drive around a stopped bus and risking children's lives. As an industry-leading bus lights supplier for over 25 years, we believe the "why" centers around confusion with lighting signals and driver distraction.
It's clear that motorists are confused by a school bus's eight-light system, not knowing when to slow down and when to stop. More apparent is the combination of distracted drivers and school bus lights that are not at eye level to command their attention. These scenarios could be reduced with a Driver Alert System and the addition of auxiliary lighting placed at eye level of the bus (see image at the top of this article). Yes, this seems like a pretty simple solution, but requires empirical data that it does indeed reduce red light violations. To justify the needed regulatory changes to simplify and identify when a vehicle around a school bus needs to stop, we need more data.
This is where SoundOff Commercial Vehicle Solutions can help. We help conduct traffic study pilots that have unequivocally proven that these lighting solutions reduce violations. These studies, and the resulting data, have been driving changes within school bus lighting legislation and specification improvements that ultimately save lives.
SoundOff CVS works with local school districts around the United States and wants to help more. Fatalities around school buses have decreased over the years, but we can do better. Talk to a SoundOff CVS lighting expert today to see how we can help with your traffic study.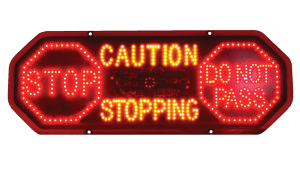 For more information, please contact SoundOff CVS VP/General Manager Bill Wakefield at bwakefield@soundoffcvs.com or 610-662-6199.