Three K-12 professionals discuss the benefits their districts have gained—and the challenges they have overcome—by implementing tablets on their school buses.
All three also participated in an online panel on August 7, hosted by Tyler Technologies. Each panelist discussed why they felt that the Tyler Drive on-board tablet was right for their district, and spoke to the real-world experiences they've had being at the forefront of this technology.
Below we have collected some of their thoughts on this discussion. Watch the on-demand recording of their presentation here.
June Nilles, Director of Student Information, Barrington CUSD, Illinois: "We were interested in tablets because changes to our routes literally occur hourly; we are flexible driving to daycares and other alternative schedules. I was concerned about student safety and route sheets in drivers' hands and wanted to organize bus stops."
Weston Bartlett, Transportation Director, Melissa ISD, Texas: "We're a high growth district, we've almost doubled in four years and will double again. When I took over we were able to manage the old school way with Excel, Google maps, and clear communication, but it wasn't sustainable and didn't serve our parents and students the way I wanted.
"I wanted to provide our community with the level of service that only this technology could bring. I wanted it to be mobile and accommodating to route changes. I wanted to serve our people in the best way I could. The first day of school you're holding your breath hoping your drivers execute the plan and you know what's at stake if they don't. I'm a football coach and I wanted to put my team in the best position to win. Excel sheets didn't do that."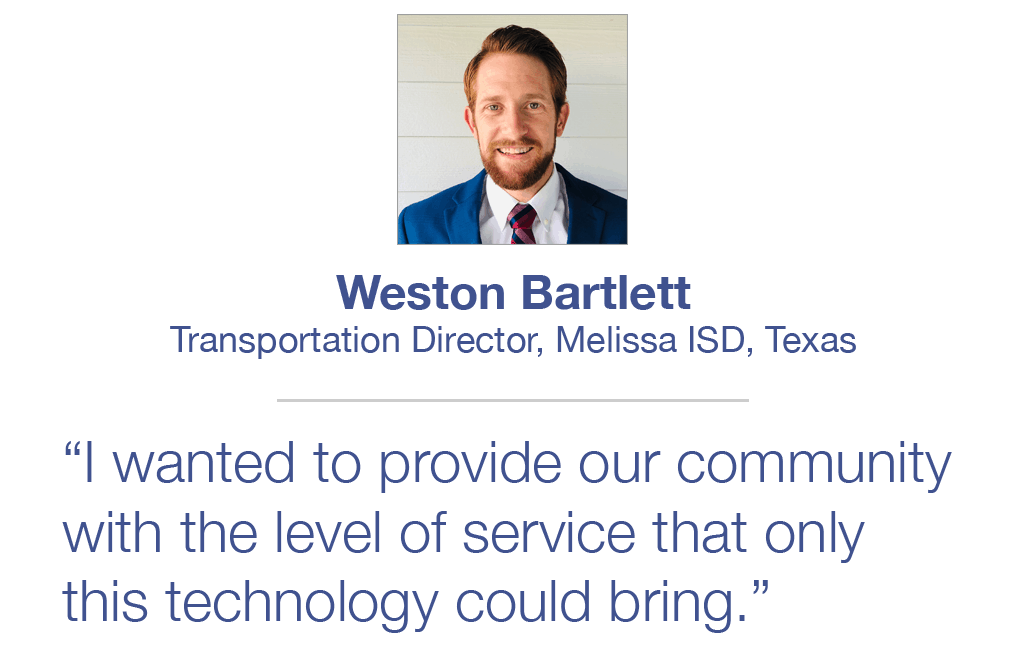 Jeremy Bricks, Transportation Supervisor, Palmyra-Macedon CSD, New York: "We, unfortunately, had an incident that did occur. A kindergarten student was dropped off at a group stop with 35 other students, and no parent to pick them up. They were found and they were ok, but we knew we needed better systems. The superintendent and I sat down and looked for solutions."
June Nilles: "Our community asked for this; the board asked us to go out and find a solution. The big piece was we wanted to also have an app where the parents could see that their student got on the bus, and when the bus was coming."
Jeremy Bricks: "Our biggest hurdle here in New York is working with the Department of Transportation to make sure they understood why this was a safe option. The first thing I did when we decided to go this route is contact our local DOT and say, "This is what we're doing, this is what it looks like." We took a Tyler Drive tablet out to a bus and looked for the best location that didn't interfere with any of the state and federal laws for visibility and distraction.
"My next hurdle was the drivers who thought this was going to be a huge distraction for them. What helped with us with that fear is when we had our training and we showed them how the tablet operates. We used Motion Lock where the screen goes black while you're driving. Even my seasoned drivers are now so positive about the tablet and how it operates and where it is located."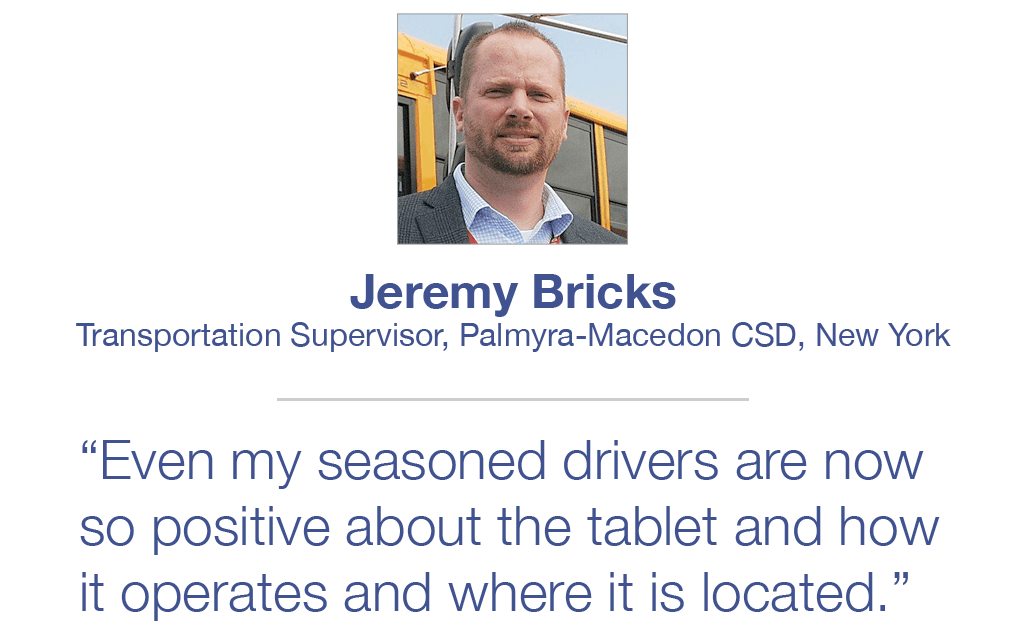 June Nilles: "Our safety director was extremely opposed to the tablets to start with. About 90 days into using the Tyler Drive tablet she came to me and said, "I'm really getting used to this, and it's far safer than a driver reaching for a paper route sheet." It took about 120 days for the drivers to truly be comfortable and trust it, but now they would say it's much safer.
"I don't think our parents were concerned about the tablets at all, they wanted to know what time the bus would come and see that the student was on the bus. They found there was increased safety with the student photo showing on the bus. Now we couldn't go back in time and run without it. We've only had it a year but it's changed everything so much."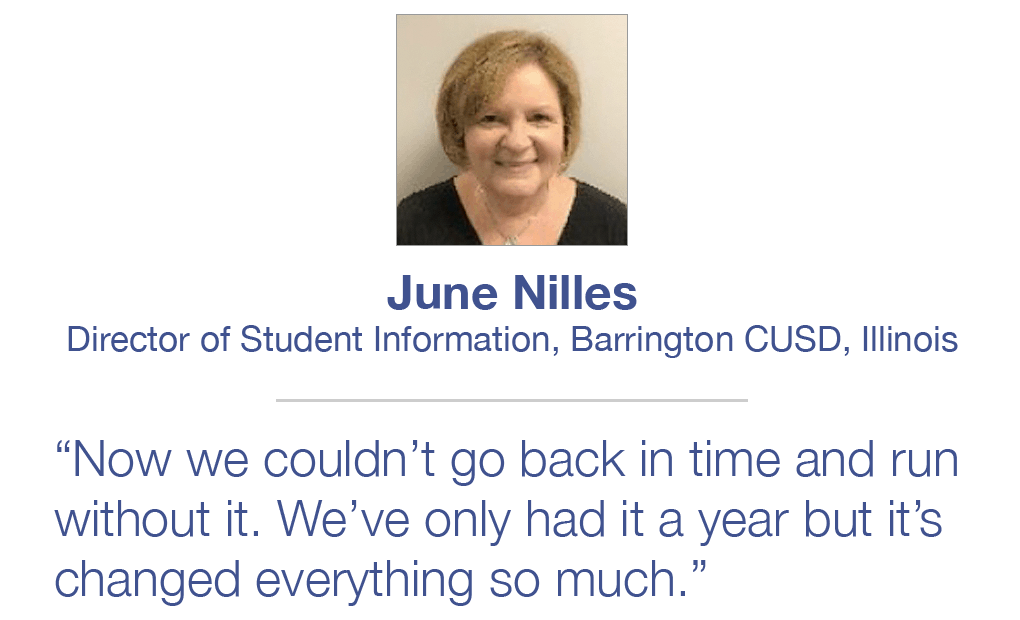 Weston Bartlett: "Being in Texas we don't face nearly the challenges you face in IL and NY. We're the wild west, we're opposed to regulation. We do have the Motion Lock feature in use on the Tyler Drive tablets with some minimal information left on the screen with the next stop and the stop time. That was really the only thing that we faced.
"I will say [something about] the argument that it is more distracting for our drivers. As the director of a small district, I sometimes drive routes. You have the ridership sheet in your left hand and your turn-by-turn in your right hand and then you're trying to drive, and run the stop arm, and watch the kids. The tablet being mounted and out of your line of sight is so much better. The argument that the tablets are distracting — people who'd say that have never been in the bus driver seat."
Hear more from Nilles, Bartlett and Bricks in the recording of their online panel.