Last month, STN kicked off their first-ever STN EXPO East in Indianapolis and made an "impact" when they partnered with IMMI's SafeGuard to create a first-of-its-kind crash test demonstration for attendees. The results of that demonstration will have student transportation experts talking for years to come.
Conducted at 35 mph, SafeGuard's crash event was based on a real-world scenario where a school bus runs off the side of the road and into a steep drop, which can often induce a rollover. A ramp was used to send the bus airborne, while a crash wall stood in for a major obstacle, such as an embankment or large tree, that a bus might slide into in such an accident. Both belted and unbelted test dummies were on the bus to reveal what can happen to children in a similar crash. (Article continues after photo gallery.)
"There is nothing quite like seeing a SafeGuard crash demonstration in person. Everyone immediately understands why it's crucial to provide lap-shoulder belts for our kids," said Julie Cooley, director of IMMI marketing and corporate communications. "It's eye-opening. No one walks away after seeing the aftermath of a crash like this and believes seat belts on school buses can't make a life-saving difference."
"This is one of those scenarios we see all too often where compartmentalization doesn't work," added Dan Veselsky, IMMI's managing director of specialty vehicles and the leader of SafeGuard's bus team. "It's decent protection in frontal and rear impacts, even if it might leave kids with concussions or broken bones when they hit the seat in front of them, but in a side impact or rollover, compartmentalization is useless."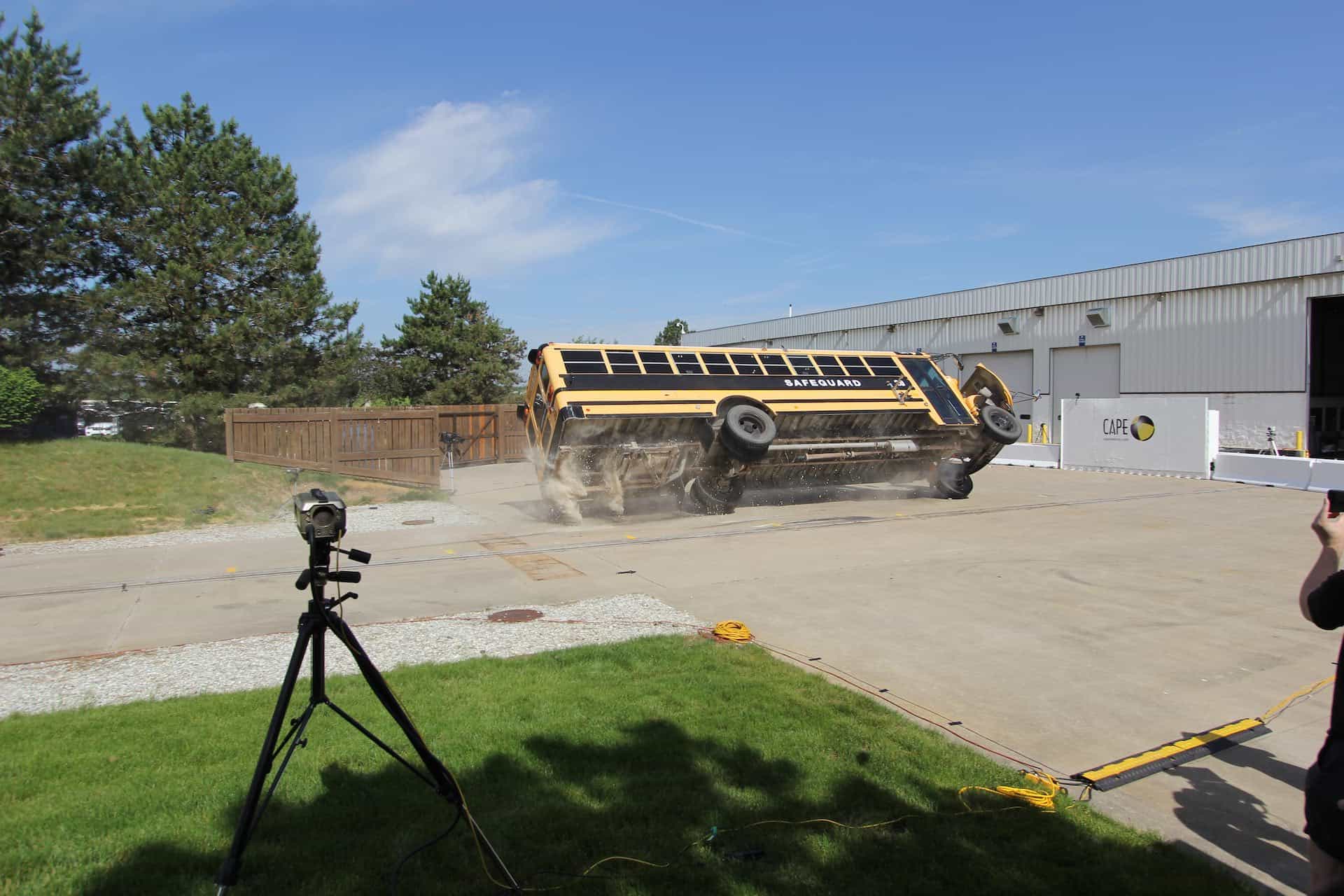 During the crash, all of the unbelted test dummies were thrown from their seats, and many wound up in a pile toward the front of the bus.
Nick Awabdy, IMMI's vice president of engineering, also weighed in. "Unrestrained children fly around the bus in a crash like this. They smash into each other, the windows, the seats, the ceiling, and sometimes they are thrown from the bus, which can obviously result in fatal injuries. This is why seat belts are a must, to keep kids inside the bus and in their seats."
CAPE, the Center for Advanced Product Evaluation, had the expertise needed to conduct such a demonstration. They have crashed more school buses and tested more school bus and child car seats than any other crash test facility in the world. Time after time, and in test after test, the evidence shows seat belts on school buses reduce injuries and save lives. That's why NHTSA, NASDPTS, the American Academy of Pediatrics, and the NTSB all support the addition of lap-shoulder belts on school buses.
And more and more districts are getting onboard, especially after seeing what happens in a crash like this one. One driver at STN EXPO Indy completely changed his mind about lap/shoulder belts on school buses after witnessing the demonstration.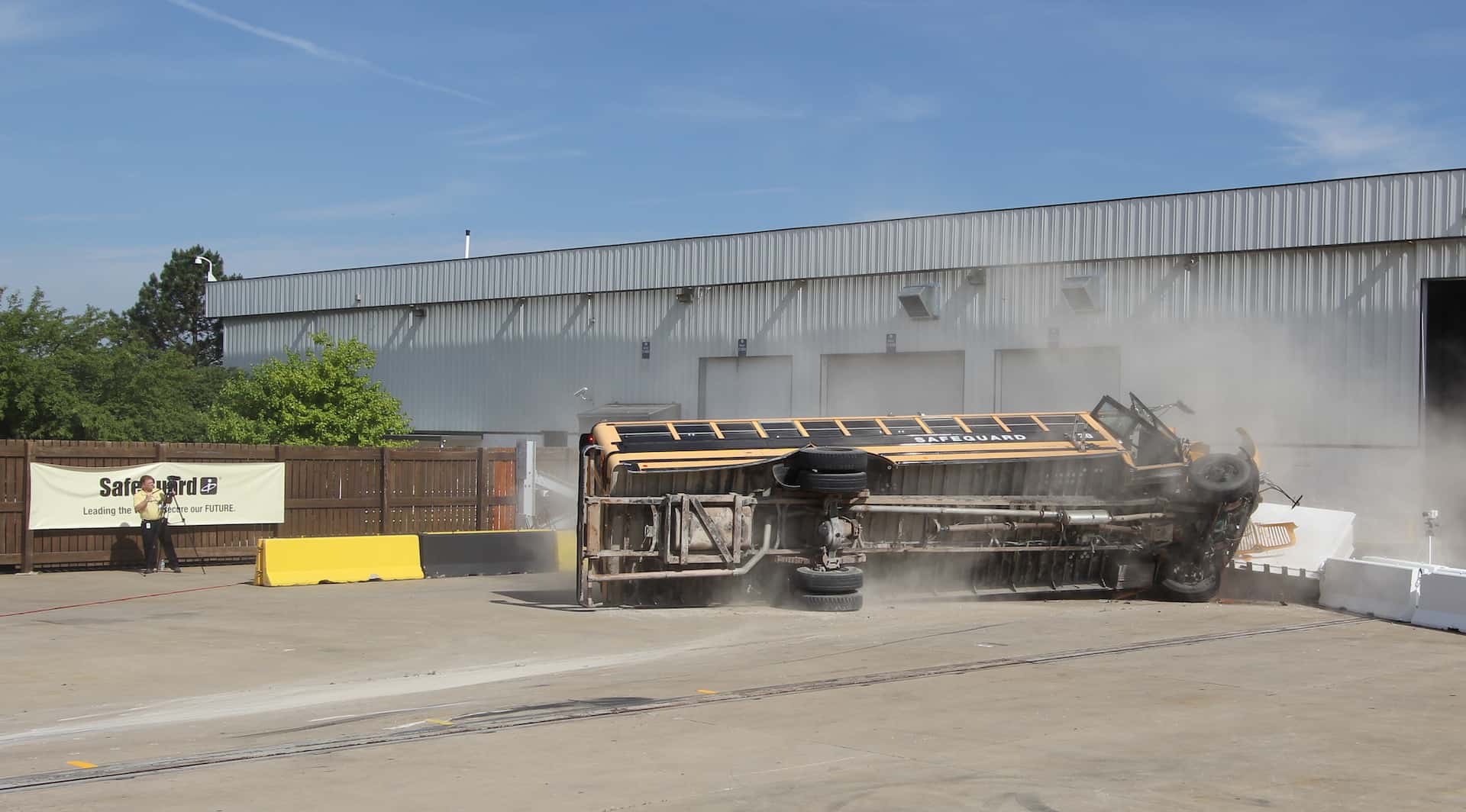 Below, view the video taken at STN EXPO Indy of the crash test. If you'd like to see the results of the crash demonstration for yourself, NBC's The Today Show was on hand to record the event and has exclusive rights to the onboard footage. They'll share that report this fall, just in time for kids heading back to school. To get the specific date their segment will air, follow SafeGuard on Twitter and Facebook for updates.