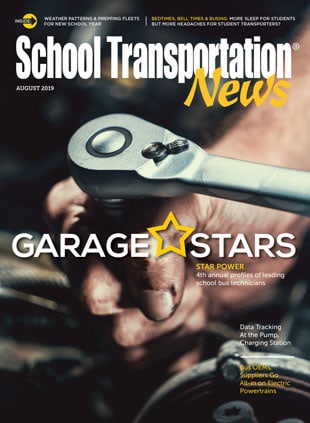 Meet the 2019 Garage Stars, read about bell-times, fueling, updating fleets for the new school year and more.
Read the full August 2019 Issue. 

Cover Story
Garage Stars 2019
STN had a record-breaking number of nominations for this year's Garage Stars profiles. Meet the Top 10 finalists, including New York's David Rickard, and learn what made them stand out.
Features
Bell Times Are A-Changin'
Altering bell times so students can get more sleep also addresses shortages of bus drivers and smaller district budgets. But not everyone is happy about the idea.
No More Grueling Fueling?
Smart fueling controls provide data that help school districts keep track of how many gallons of fuel or electric charge drivers rack up, as well as the hours they are clocking.
Forecasting an Electric Future
Electric school buses are coming in greater numbers. Transmission and drivetrain vendors are preparing for these more efficient and greener school buses by joining forces.
Special Report
New School Year, Changing Mother Nature
Planning for various and unreliable weather events remains a major consideration when prepping fleets for the start of the school year. It also helps to trust your instincts and staff when confronted with sudden changes.
Columns
Editor's Take by Ryan Gray
In Search of People Power
Publisher's Corner by Tony Corpin
Employee Recognition Provides the Key to a Better Organization
Sections