With all the available options and the various state and federal regulations asserting dominance over fuel and energy types, school districts are caught in the maze of making a selection that not only makes sense now but also in the future.
Tim Shannon, the director of facilities planning and efficiency for transportation at Twin Rivers Unified School District in Sacramento, California, said his fleet went electric to help expand and stretch the transportation budget.
When he became the director in 2014, the school buses were old and there was no replacement plan in place. As a result, he explained that school buses were sitting in the shop more and more. "I found that we could expand our money by working with the local air district," he said. "And we started looking at the electric bus and we took that chance, and then the data just made sure that we continue that path."
Twin Rivers was an early adopter of battery-electric school buses and is committed to the  energy going forward. The district is currently running 58 electric school buses, with plans to have another 24 electric buses in the next year and a half. Until recently, it had operated the largest electric fleet in the nation.
"I tell everybody this is cost savings," he said of the district's decision. "It's efficiency, it's cleaner for the kids and community. It's a quiet ride. It's all of those things that make it a more pleasurable experience for the students. It's good for the environment. That's my main goal is [a cleaner ride] for students and the community, and then all the other stuff is just icing on the cake."
He advised districts that are looking to electrify to start planning now. He said with current supply chain constraints, installing infrastructure can take up to 12 to 16 months, and that's if everything goes smoothly.
Meanwhile, Alfred Karam, the director of transportation for Shenendehowa Central Schools in New York, just put in a request for four electric school buses. He noted that Shenendehowa Central Schools has 217 school buses, 70 of which run on gasoline and the rest on diesel. He wants to try electric because of New York state's mandate that new school bus purchases must be zero-emissions by 2035, and he wants to experience the buses for himself.
However, on average, the district replaces about 19 school buses a year. If approved by the board, the four requested Type C electric school buses as well as five Type A buses, all without grant funding, would come to a total cost of $2.3 million. That amount is about the same figure that he has traditionally spent replacing 19 diesel or gasoline buses. And that $2.3 million doesn't include the electric chargers.
"I don't know what the future looks like on the bus replacement plan because if we were to maintain our 19 per year … the district would be spending close to $7.58 million dollars just on electric buses to meet the state mandate," he said, adding that he hopes hydrogen will be available soon, as he believes that where the true future lies for school buses.
Karam said he's not against electric school buses but noted that they might not be the right choice for every district, and certainly not for a fleet to run 100 percent on electricity.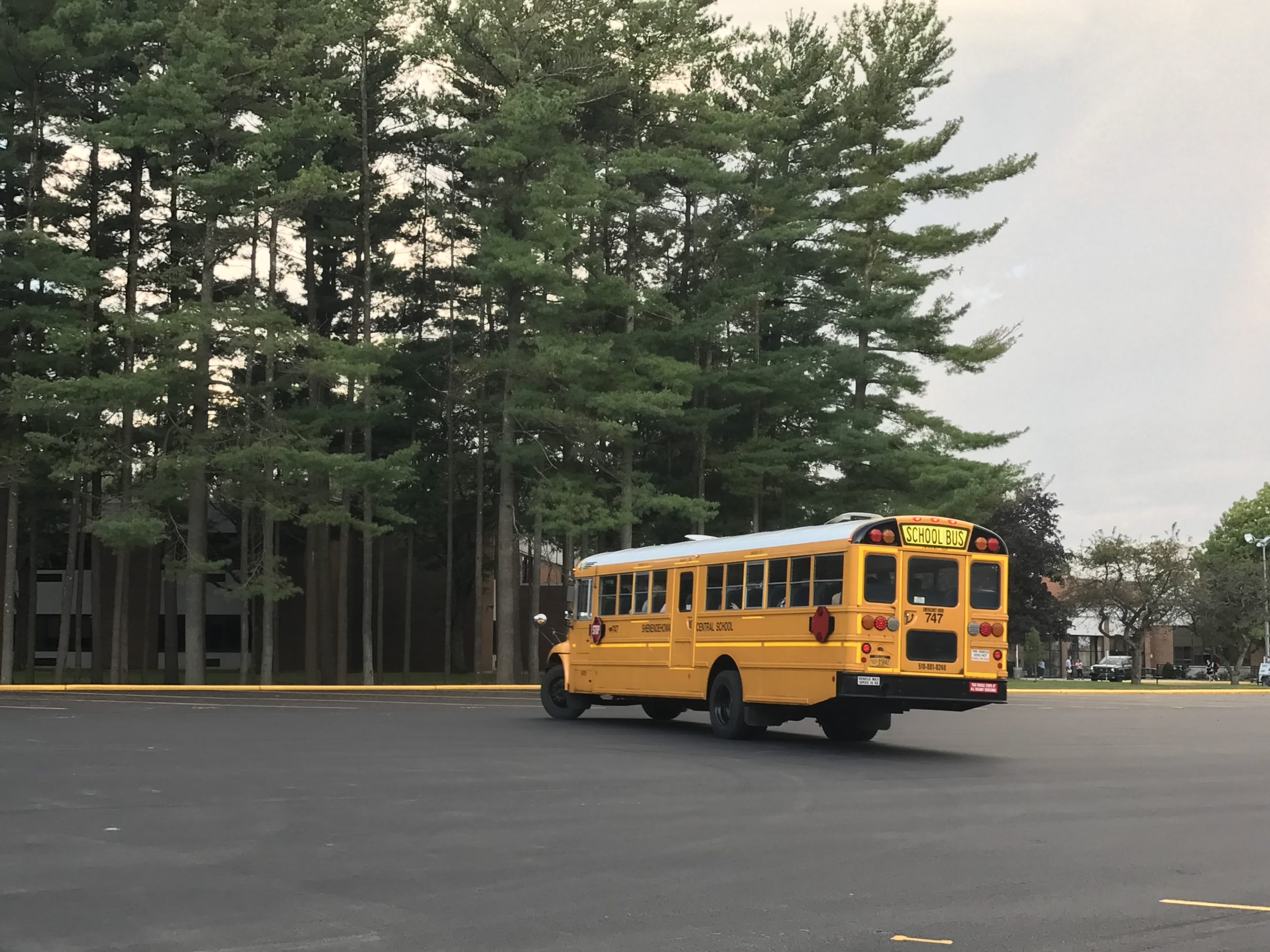 Meanwhile, Cummins Inc. already announced a fuel-agnostic engine platform, which is built with the belief that there is no one-size-fits-all approach to decarbonization. "The school bus market is a great example of this reality," said Francisco Lagunas, general manager of Cummins North America. "It's become an increasingly fragmented market over the past few years, with fleets finding success with a variety of fuel types and powertrains, whether it's diesel, gasoline, [battery-electric vehicles] or propane. These products are critical to Cummins' plan to help fleets reach destination zero while providing products that are economically viable, scalable and deliver the power, performance and durability Cummins is known for."
He added that because the internal combustion engines are built around a common platform, fleets will see other benefits. These could include diesel-like performance, durability and reliability; a lower total cost of ownership and operation; no range anxiety; lower costs associated with upskilling technicians; and re-tooling service location and parts commonality across the engines will mean less proliferation of parts to stock.
---
Related: Cummins Heralds the Advent of Fuel-Agnostic Engines
Related: Cummins Unveils Industry-First Fuel-Agnostic Internal Combustion Powertrain Solutions, Helping Fleets Decarbonize Today With Low-Carbon Fuels
---
"Our mission of powering a more prosperous world through our destination zero strategy guides everything we do," Lagunas continued. "We are focused on making our engines more efficient and leveraging lower carbon fuels to achieve real-world NOx and greenhouse gas reductions. We've designed our product plan to serve our customers' needs and meet those goals as well as regulatory requirements. We'll be talking more about that later this year as we announce future products we have in development right now."
Cummins is also making investments to deliver a more integrated powertrain, through its acquisitions of Meritor and Jacobs Vehicle Systems. The company also launched Cummins Clean Fuel Technologies, a joint venture with Rush Enterprises.
"Integrating the people, products and capabilities of these entities will allow us to deliver integrated and optimized powertrain solutions across internal combustion and electric power applications," Lagunas said. "As demand for decarbonized solutions accelerates, e-powertrains will be a critical integration point within hybrid and electric drivetrains, creating packaging and performance differentiation and the opportunity to provide advanced clean mobility products for customers. Cummins intends to deliver market-leading decarbonized solutions to global customers by accelerating Meritor's investment in electrification and integrating development within its new power business."
Daoud Chaaya, the vice president of sales, aftermarket and marketing at Thomas Built Buses, added that there are many different criteria directors should consider when selecting the best engine type for their fleet.
"Talking with your local dealer and others in the industry are great places to start," he said. "We have schools looking at cost-efficiency, infrastructure upgrades or buildout, route planning, and lowering emissions to hit district sustainability measures. The list goes on. Without a doubt, our overall recommendation is to lean into electric. But in the meantime, we maintain that diesel is the bridge."
It's a Gas
For Scott Speer, the transportation director for Hannibal Public School District #60, the future is a 100-percent propane fleet. He noted that Hannibal is in rural Northeast Missouri, about an hour and a half north of St. Louis on the Mississippi River. It's hilly and towns are built on river bluffs with peaks and valleys all around them. In overall general school size, he said the district is considered medium and runs about 37 school buses.
Currently, Hannibal is running two propane buses that were ordered a little over a year and half ago and arrived in time for the start of the current school year. Hannibal is waiting for another seven propane buses. When they come in, 22 percent of the fleet will be running on propane, with the rest diesel. He said he was able to obtain the buses through the federal Diesel Emission Reduction Act program.
"Our district is always trying to be good stewards of our taxpayer dollars," he explained, as he talked about the decision to go with propane. He added that when looking at the various options available, electricity had a significant upfront cost.
Based on a 13-year replacement cycle, the district aims to purchase three buses a year, which adds up when it's an electric vehicle. Plus, he said in order to get the return on investment for the electric bus, he would need to keep the vehicle for 25 to 30 years, which seems unlikely with the ice, snow and salt on the roads in his area. Plus, he added with the electric grid, if everyone were to jump to electricity immediately, the grid wouldn't be able to support it.
"We think [electric is] part of the long-term solution for our country," he said. "But it's not necessarily right for Hannibal right now. It could be in the future, but just not yet. And so, then we looked at compressed natural gas and propane, both of which are very good, and clean alternatives. And as we examine those, the cost to put in and to retrofit our shop and do everything associated with being able to fuel on-site for compressed natural gas, it was costly."
He said, however, propane provides a lot of clean air benefits and is at a price point the district can afford.
"It's kind of the combination of all that with the price that we locked in on propane," he explained. "We will be able to save our district thousands of dollars each year versus the diesel consumption that those same buses would have used as diesel fuel. And then initially, the first year and a half to two years we'll make up the difference in the cost of the bus. And then after that, it's just savings for our school district in our community which then allows us to reinvest those dollars into various areas of our student's education."
The process of going all propane will be slow, he noted, especially if the district stays on its current replacement plan of three buses a year.
"I think right now that the federal government is really pushing electric, but in order to reduce [emissions] to a point of zero emissions as a country, for school districts and public entities, we're going to have to look at a more balanced approach than just electric buses," he said. "And we think as a community that propane is a piece of that puzzle and a big part of it for us."
He advised other directors who are starting the alternative fuel or energy conversation to talk to their school bus dealers.
"They're going to know what they produce and what they've done a lot of and what they haven't," he said, adding that the next step would be to get involved in state organizations. "[The Missouri Association for Pupil Transportation] is providing information to schools at our annual conference about each of these major types and giving them through vendor shows the opportunity to sit down and talk with different electric vendors, different people who are running propane and doing CNG, to find out what the practical pros and cons are. From an administrative standpoint and district leaders all the way down to shop mechanics."
He added that from there, district leaders can talk to environmental groups like the Clean Cities programs, which can help with a greater vision of what green transportation is.
"There's a lot of opportunities and potential in this that people aren't aware of, until you start digging into the information," he advised, adding that just because the federal government is only pushing electricity doesn't mean it's the only option available. "The intention is to help school districts in different entities begin to seriously consider [electric]. But I feel like we need to do that same thing for all the fields."
He said another big emphasis is the help from state and community partnerships that made their propane fueling possible, such as the Missouri State Propane Association and Big River Oil.
Feeling Renewed
Meanwhile, Kenneth Husband, director of transportation for Corning Union High School District in Tehama County, California, is running 20 of his 21 school buses on renewable diesel. He said the buses are a positive as they don't have to regen as often, compared to traditional diesel buses.
Husband added that the district switched to renewable diesel last month. He added he asked for the fuel type for the past three years, but from what he was told it wasn't in his area just quite yet. "Then, I ended up talking to another director at another school, a couple of cities away, and he said we have renewable diesel," Husband explained, adding that he called up the company and it started delivering it to his district as well.
He said that renewable diesel stood out because it's a drop-in fuel, which means it requires no additional fuel tanks or infrastructure to implement. Cummins also announced in 2017 that its popular B6.7 school bus engine is compatible with renewable diesel.
The other bus in the Corning Union fleet is an electric school bus that was purchased with Volkswagen Mitigation Trust Fund money. That bus has been running for a little over a year.
However, Husband said he ordered another three electric school buses through the Hybrid and Zero-Emission Truck and Bus Voucher Incentive Project in California. Plus, Corning Union Elementary School District, which Husband oversees the transportation for as well, was awarded two electric school buses from the U.S. Environmental Protection Agency Clean School Bus Program rebate.
"I hope to end up with nine to 10 electric buses," he said, noting that he runs 10 home-to-school routes. "So, I can do all my routes with electric buses, and then just use my newest buses that I still have with renewable diesel to do my field trips. Because we do a lot of field trips. If I have an electric bus that'll make it, I would definitely feel comfortable sending it if it's shorter trips."
---
Related: Texas School District Celebrates Technology, Green Energy and Positive Employee Culture
Related: California District Talks Positives, Challenges of Electric School Buses
Related: Mississippi School Districts to Use More Electric Buses on the Road
---
However, he added that with their first electric school bus, the district was promised a range of 120 miles. He explained that when the bus is fully charged, the gauge usually only lists miles as the range and never over 96 miles. He added that he's hoping the OEM will uphold its warranty and offer a new battery; however, he hasn't gotten a clear answer on why the bus dropped in range. The next five buses ordered are with a different OEM, he said.
He clarified that the driver operating the electric bus is going through additional training. The district is also hilly in some areas of the county, as Lassen Volcanic Park extends into the area, with a peak of almost 10,000.
Husband added that if it wasn't for the zero-emission push in the state and the money available for electric buses, he would probably go with propane. "Based on how easy it is to have the infrastructure, you have a tank dropped off and you can be up and running," he said, adding that the bus purchase price is also almost half that of an electric. "And now they make renewable propane that's even cleaner. Renewable natural gas is the same way."
A Natural Fit
For Long Beach School District in Lido Beach, New York, compressed natural gas is the fuel of choice. John Toups, the supervisor of transportation for the district, said the district has been running CNG since 2004, though Toups became the director in December of last year.
"We are a barrier island off the coast of Long Island in New York," Toups said. "As far as climate-wise, it's a lot of cold and rain. It does get very cold during the winter here. The terrain is very flat. Some of our routes do go out of the districts, which is still flat."
Toups added that the district has 36 CNG buses and eight vans that run on diesel and gasoline. He said the district transitioned to CNG because it was looking for a cleaner fuel option and CNG appeared as the winner. "We are participating in a clean air fuel rebate, and we also have our own plant on site," he said. "The amount of rebates that we get exceed the amount of fuel that we actually use. So, we're making money by running natural gas buses."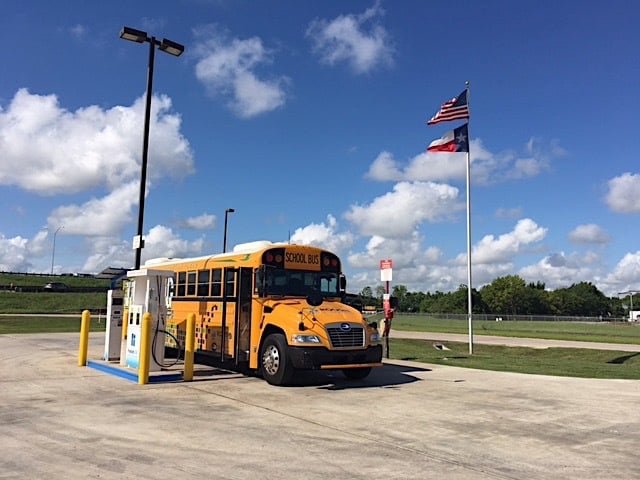 He said that for the foreseeable future, the district will continue to use CNG buses, with another three already on order. Though Toups added that they are looking at electric vehicles, however, due to the purchase price, it doesn't make sense for them right now, unless they get awarded funding.