Prince William County Public Schools in Virginia is experiencing the national school bus driver shortage and location challenges. One of the schools there, Parkside Middle School, turned its attention to teachers to help students arrive at school on time via the yellow bus.
Parkside Middle School is located in the historic Civil War Manassas area of Prince William County, 30 miles northeast of Washington, D.C. It is in a unique location and has no students who walk to school.
All 1,230 of its sixth, seventh and eighth graders take the school bus. Currently, the district has 31 school buses in service, but routes are one hour long, on a good day.
The district developed a program to encourage teachers who were interested in obtaining their commercial driver's license (CDL). The program consists of all the initial training applicants need to obtain their license, but it would be conducted based on the teacher's availability. This provides teachers with an opportunity to drive their route in the morning, teach throughout the day, and then drive their route in the afternoon.
"We are really [too] early into this program to see how much of a benefit it is going to be for us and for them, because it will be exhausting for them—driving in the morning and then teaching all day and driving in the evening. It's a lot," Patricia Vance, administrative coordinator for safety and training at Prince William County said. "But we are excited."
Ryan Wicka, who teaches students with learning disabilities, was the first teacher at the middle school to obtain his CDL and start driving. He began the training program in November and officially started driving routes in February. It took Wicka four months before he was fully trained and able to drive the school bus by himself.
"I like the routine of it. Every day in teaching it is very different. You have to be very specific and very planned. No day looks the same," Wicka said. "But when you drive, every day is the exact same. You take the exact same turns, stop at the exact same places, pick up the exact same kids, and that becomes very routine and fundamental. And I enjoy that because it helps me stay sane in the mornings when everything else is going chaotic."
Wicka said he already had a second job previously, as most teachers do because of the low salary and the limited number of works days a year. He said taking on a second job at the school he already teachers at made more sense to him. He is also planning on using his CDL over the summer to drive commercially for a private company.
"My sister is a teacher and she's in another county, so I told her to come to Prince William and start [bus driving], too," Wicka said. "Because teaching can be difficult financially. So, if you have the time and are willing to put in the work, this is a great second means of income—especially when you're going to and from the place you have to be anyway."
Cyndy Mattia, a family and consumer science teacher who started teaching in 1993, has been a teacher/bus driver since April 8. Mattia said it took her five months from start to finish to finally obtain her CDL.
"I am really enjoying it. It does take a lot of work," Mattia said. "There is a lot of pressure on bus drivers, because the traffic in this area, [the way] people drive. Let's just say, you really have to drive defensively."
Training Process
The program was offered to teachers in November, and so far 10 teachers have applied to obtain their CDL. There are currently four teachers that drive out of Parkside Middle School.
The training process was hosted by the transportation department. The program was started with 24 hours of classroom training that was run either after school or on weekends.
The teachers had an option to attend a four-hour class once a week for six weeks, or three eight-hour classes held on Saturdays. The second portion was taking a hands-on CPR training class, and then taking a four-part permit test at the DMV.
Once the teachers received their permits, they had to fulfill about 24 hours of driver training that was scheduled for after-school hours.
"It took me four months, which I felt was longer, Wicka said. "But the problem is for teachers, you don't have that big middle of the day chunk where normally they would teach you. So, it takes a little bit longer. But again, that's the dedication to the training staff. One trainer would stay with us driving till 8 at night during our behind-the-wheel. Another trainer gave up her Saturdays to come talk to us so that we could do this. So really, transportation made this happen; we just showed up."
The last part was completing a road test, and then driving with a behind-the-wheel trainer until it was determined that the applicant was ready to be on their own.
"The hardest part about the bus training was not the driving," Mattia said. "I had the driving down pat, they said oh my gosh, your driving is amazing. It was memorizing all the parts of the bus and what to say about them."
Both Mattia and Wicka agreed that obtaining their license was not easy.
"It's much much harder than you think," Mattia said. "I have 50 lives that I am responsible for, and so I am even more cautious when they are on the bus with me than I am in my own "
Wicka said, "I thought it was going to be easier than it was. I will admit going in, I got my CDL permit before we even finished the classroom sessions. I had grown up around diesel trucks my whole life, [so] I felt [that this] was going to be a breeze for me. But you have to drive the bus every day and be accustomed to the bus, especially your bus, and how it turns and what you have to do and how to drive it before you are 100 percent comfortable on a bus."
Wicka concluded, "It's just one of those skills that take time. And I just thought it was going to be easier, and it was not as easy as I thought it was going to be. So, I learned something there."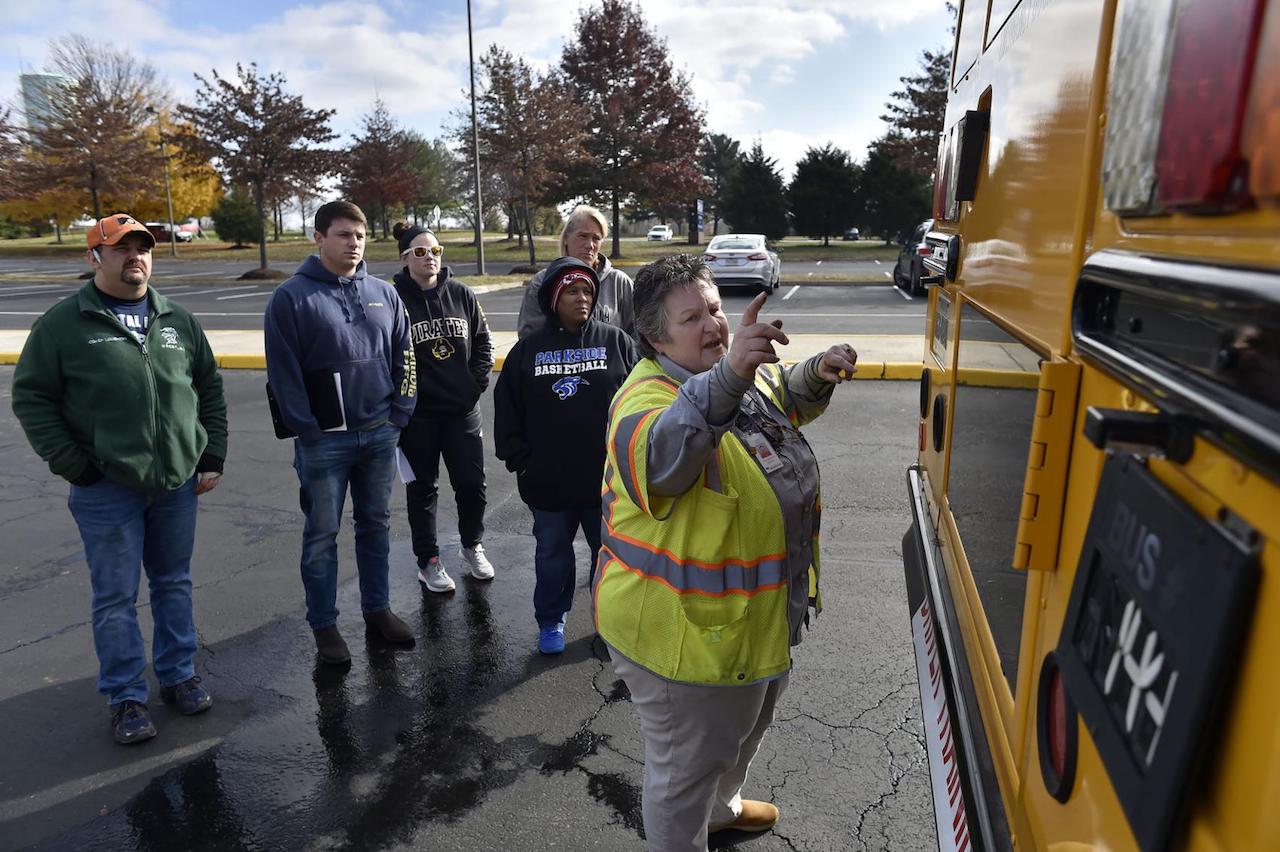 Long Days
Wicka drives a regular route every morning and afternoon, then drives some activity trips or sporting trips as he pleases. His normal bus route is about an hour and a half long, but adding activity trips on top of that can make for a long day. Last week, he was leaving the house at 5 in the morning and not returning home until almost 8 p.m.
"That is a long day, I will admit that. But I just felt the financial benefits were far greater than the time commitment. You can pick up bus driving shifts if you want too, but you don't have too," Wicka said.
"Other than your actual route, there is nothing concrete on how much or little you have to work," Wicka noted. "I really like that. I am buying a new house right now, so I could really use the extra money. I was picking up the extra shifts for the extra money, but that wasn't a permanent thing. It didn't have to be a permeant thing. The long days and early mornings aren't too too bad."
On top of getting paid their teacher salary, they receive an additional starting bus driver salary of $18.21 per hour.
Mattia also added that her days are long, but she makes it work. Mattia said she is a morning person and her uncle was a bus driver for over 35 years. So it just made sense for her to obtain her CDL.
"It's only rough on days when you have students in your regular class that misbehave. Those are the days that [are] long," Mattia said.
Her regular route is only about 20 minutes in total. She has five stops on her route, but buses 53 kids between those five stops. She performs a lot of after-school activity trips and sporting events as well. During the week of this interview, Mattia said she had to take the boy's track team to its regionals during her planning period.
Better School Bus Behavior
However, Mattia and Wicka mentioned that seeing the same students on the bus and throughout the halls makes for better child behavior, overall.
Wicka said that he feels students don't respect bus drivers the same way they respect teachers in a classroom. He noted that teachers have a direct line to punishment because they can pull up a child's name and call their parents when they are misbehaving. However, a bus driver doesn't have access to that information.
"On day one I introduced myself. I made sure they knew where my classroom was, who I was, what grade I taught, what classes I taught, and that if I saw them misbehaving in class, or on the bus, I would discipline them accordingly," Wicka said.
Mattia added that being a student's bus driver as well as their teacher builds a stronger relationship.
"Like oh, well, my teacher knows where I live. I just think it strengthens that bond, I think that—not that the bus drivers don't have good control over their students—I don't mean that," Mattia said. "But it's different when they know that, oh, when I get in the building, I am still going to see my teacher. It's a totally different thing."
Both Wicka and Mattia asked for their same bus route for next year, because of how much they love this program and the benefits it has for both the students and the teachers.
"I haven't heard any complaints from [the teachers]. It seems to be working," Vance said. "The students are getting to school safely and we have more drivers to help us accomplish the mission."
---
Related: EPA Awards Clean School Bus Grants in Several States
Related: EPA Accepting Applications for DERA School Bus Rebates Program
Related: EPA Extends Clean Diesel Tribal Grant Applications Timeline
Related: STN EXPO: Discover School Bus Alt-Fuel Benefits of Clean Cities Programs
Related: EPA Announces DERA Funding Recipients
Related: California Lower-Emission School Bus Program Issues Revisions
Related: Atlanta-Area School District Receives EPA Grant for Propane Buses
Related: EPA to Propose New Standard on NOx Emissions
Related: EPA Grant Brings 4 Blue Bird Electric School Buses to New York District
Related: EPA Announces Latest School Bus Rebate Awards
---