Back in 2008, British Columbia was the first jurisdiction in Canada to plug in a school bus.
Those early buses were hybrid diesel-electric, and Frank Marasco, the then transportation manager for the Shuswap School District in southern BC, admitted there were teething pains. The stop and start of school bus routes weren't ideal for hybrid technology, and the small diesel motor couldn't handle hills.
"It was quite interesting," Marasco chuckled.
But times have changed. Today, a new breed of fully electric school buses is rolling out across North America, and Marasco, now the manager of the Association for School Transportation Services of BC (ASTSBC), is a firm advocate.
BC's public school districts run approximately 1,750 buses: two-thirds are district owned and operated with the remainder contracted through private companies. The first 18 battery-electric school buses hit the road in 2020. Today there are nearly 70 ESBs, and with new federal funding kicking in, more are on the way.
Making the Switch Early On
An early catalyst for the shift, Marasco said, was BC legislation setting greenhouse gas emission reduction targets for all public institutions, including school districts. As they scrambled to find places to make improvements, diesel school buses stood out. In BC, 95 percent of the electric grid runs off renewable energy, so switching out a diesel bus for an electric one cuts emissions by 17 tonnes (nearly 18.75 U.S. tons) per year.
From a climate perspective, shifting was a no-brainer. But with an electric bus priced at three times the cost of a standard diesel, it was going to take more than good intentions for districts to afford to make the change. Provincial funding for electric buses was available, but there was still a shortfall of approximately $100,000 per bus.
That initial extra outlay could be daunting, but according to a report on school bus electrification by the Pembina Institute, operators in BC can expect to see savings of $166,000 in energy costs (over $123,000 USD) and $36,000 (nearly $27,000 USD) in maintenance costs over the 12-year lifetime of an average bus. With the funding opportunities available at the time, the bus would pay for itself in six and a half years. After that, the savings went straight back into the district budgets.
Marasco said he knew he needed to find electric school bus champions who'd be willing to invest in the technology, knowing that they'd recoup the money in the long term, "willing to take on something new and make it work," he explained.
One of those was the Sooke School District on Vancouver Island, just outside of the provincial capital Victoria. Sooke was one of the first 15 districts to order electric school buses in 2020 and the first to get the bus on the road.
Ravi Palmar, chairperson of the Sooke District School Board since 2017, said that the board embraced the option to buy electric school buses because it aligned with community values and the strategic plan to reduce emissions.
"We know that with climate change, we can't wait. We need to take action today," he said. "The decision [to purchase electric school buses] aligns with our values of ensuring that we are strong community partners and doing our part to fight climate change."
They also knew it was financially feasible.
"In the long term, you're not spending money on diesel or gas," said Parmar. "So what's that saying? Short-term pain for long-term gain."
Of course, the technology also has to work, get kids from home to school and back on time, in all kinds of weather. Some of BC's school districts are primarily urban. Others are rural, involving long routes in mountainous terrain. Districts on Vancouver Island and Lower Mainland are largely snow-free year round, but for much of the province–and particularly the northern areas–winter is long and hard.
"Although everybody in North America runs yellow and black school buses to and from school, the way that transportation is done in each individual district even in BC is slightly different," Marasco explained.
He said the various bus manufacturers the ASTSBC contacted had different approaches, but IC Bus stood out. The Navistar brand sent its head of development from the electrification program and a couple of engineers, and met multiple times with transportation managers, government and other stakeholders, to get a feel for the climate, the terrain, and what the needs were.
The result was 18 standard buses pulled off the production line, stripped down and rebuilt by hand, said Marasco, who said the company designed electric models specifically for BC.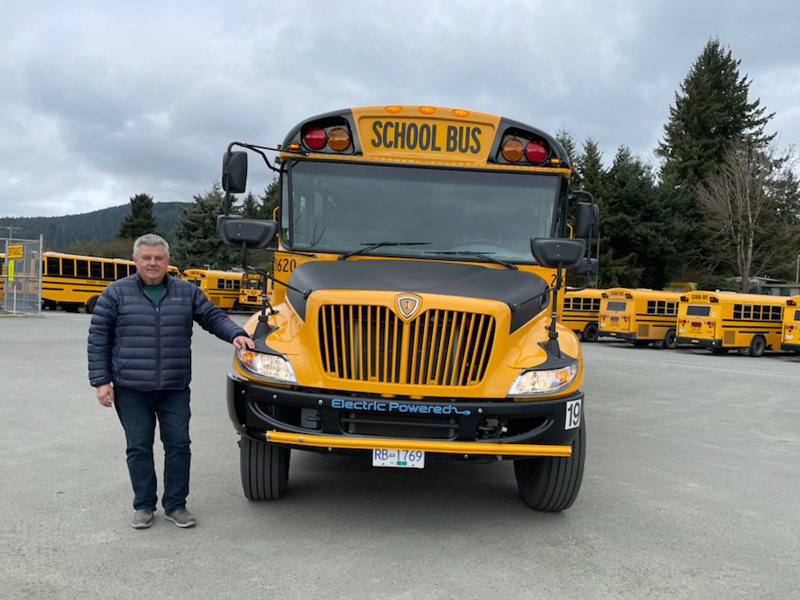 First-Hand Experience
Al Kowalko has been driving one of Sooke District's electric school buses since day one, and he's impressed. The benefits start first thing in the morning, with the pre-trip check.
"Normally you're given a 15-minute period, and [with the electric bus] ours would probably be less than that by at least five minutes," he explained, adding that with electric buses, there's less to check under the hood, no oil or transmission fluids. "Basically, you just check your lights, tires and your air brake system."
Performance-wise, Kowalko noticed the acceleration. "When you put your foot on the accelerator it is very much instant power," he said. "It's like a light switch where you can go from dim to bright in a few seconds."
Driver training can help with figuring out how to control that acceleration so that the added torque doesn't wear down tires or drain the battery, he added.
Kowalko said he also likes the regenerative braking system, which he can adjust for different driving situations. That system puts power back into the battery, helps with braking, and extends the life of brake pads, which, Kowalko pointed out, "is another operational cost savings."
Kowalko said the bus has more than enough range to cover his morning and afternoon runs. He figures that with all the hills around Sooke, and the frequent stops he makes to pick up students, the bus can go about 160 km (about 99.5 miles) on a single charge. Colder winter temperatures have an impact, too. For some extra juice, Kowalko can plug in during the day. For now, the district is using AC Level 2 chargers but plans to put in fast DC chargers this summer, so that midday charge will be more effective if needed.
One surprise, at least for school board member Parmar, and a growing number of student transporters across North America, was just how quiet the buses are.
"I took the bus all through middle and high school, and I remember that when I heard the bus coming around the corner, that was the sign to start running out the door," laughed Parmar. Unlike the diesel school buses Parmar rode in his childhood, with the new electric buses it's just the sound of the tires. "So we had to actually put in some technology to add a little bit of noise, so kids could hear the buses coming, which I thought was hilarious."
Quiet rides mean a more pleasant ride for kids and drivers. Kowalko said the kids have been enjoying listening to his music, but that's not the only benefit for riders and drivers.
Children are more sensitive to air pollution (including diesel exhaust) than adults, and numerous studies have linked exposure to diesel and other traffic pollutants to asthma, cancer and more. Students can be exposed to diesel exhaust during the ride to school, and in schoolyards when diesel buses are arriving or leaving. Studies have also shown that air pollution from school buses can impact students' ability to think: A Georgia State University study found that retrofitting school buses with pollution control devices led to significant improvements in test scores in Math and English. As U.S. Vice President Kamala Harris said, supporting the switch to electric school buses is "about our investment in our children, in their health, and in their education."
So what's next for electric school buses, in BC and elsewhere?
With federal funding in Canada now available through the Zero Emission Transit Fund, and the $5 billion in funding in the U.S. through the EPA Clean School Bus Program, coupled with growing awareness of the climate and health benefits of electric buses, districts across North America are racing to add electric models to their fleets.
Marasco said that for districts in BC, especially those in rural areas, to go 100 percent electric and still offer the kind of field trips students are accustomed to, more technological development are needed in terms of faster charging times as well as cheaper, larger and more efficient batteries.
Still, with compelling climate, health, and financial reasons, he's confident that interest in electric buses in BC will continue to grow.
"School districts can't afford to just be throwing money out for these old [diesel] gas or propane-powered vehicles when they're going to be able to save on operating cost [with an electric bus]," he opined. "We're seeing in these first few years that every bus is saving somewhere in the neighborhood of $10,000 in operating costs. They can put that into education, and that's why everybody's here. It's the success of the classroom right?"
---
Ruth Kamnitzer is a freelance writer and environmentalist based in Kimberley, British Columbia as well as an organizer for the parent-led Canadian climate action group For Our Kids, which raises awareness about electric school buses in the province. "Our parents are primarily excited about the health and climate benefits of zero-emission electric buses. But I also wanted to find out what school districts and transportation managers thought of the new technology and what's motivating them to start the switch," she said.
---
Related:Webinar Discusses Ways to Fund Electric School Buses
Related: White House Recognizes First Student for Electric School Bus Pledge
Related: Cummins Electrification Rebrand Promises Acceleration of Electric School Bus Production
Related: Familiar Face Named British Columbia School Bus Driver of the Year