Awards are nothing new for Samantha Fuhrey, who heads up Newton County Schools in Covington, Georgia.
Her nomination for National Superintendent of the Year, which is being awarded on Thursday at the National Conference on Education in San Diego, follows other distinctions, such as the Georgia School Superintendents Association president's award, and a distinguished alumni award from her alma mater, Marywood University.
Now in her seventh year as superintendent, Fuhrey has been a trendsetter as the first female to fill that role in county history. She has provided leadership for initiatives ranging from academics to transportation at the north-central Georgia district, which serves 19,000 students in 24 schools.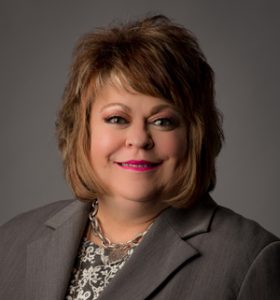 Not unlike many other educational leaders, Fuhrey started out in the classroom, teaching English after earning a bachelor's degree from Marywood in Secondary English. Later she added a master's degree in educational leadership from State University of West Georgia, and an education specialist's degree in educational leadership from Georgia College and State University.
Her first administrative experience came as an assistant principal, followed by time as a middle school principal before moving on to district administration. Her roles there included executive director for secondary education, director of secondary education, and director of professional learning. She then became deputy superintendent for curriculum and instruction prior to becoming superintendent.
Fuhrey's wide-ranging service has included positions on the boards of a local community and technical college, art association, chamber of commerce and board of health. Her work on various committees and task forces has addressed issues such as domestic violence, rural concerns and economic development.
In addition, she has taken a special interest in fighting poverty and is a certified poverty coach. Increasing the use of cameras in the classroom to foster student learning has also been a priority.
As superintendent, she has proven herself to be a strong advocate for the transportation function. During her tenure, the district has seen many developments in the transportation arena and an enhanced profile in the community. Last year, the system inaugurated its School Bus Road-e-o, where drivers competed against each other while using their skills in precision driving and demonstrating their knowledge of state laws.
The district has also implemented a tracking app that allows parents to track their children's school buses via smartphone. Another innovation has been the NCSS (Newton County School System) Book Bus. This mobile library travels around the county to provide free books to students and their families. At last count, more than 15,000 books had been distributed, and the program received a $7,000 state grant to supplement offerings.
Along with a focus on outstanding service, Fuhrey places a high priority on maintaining efficient transportation operations. The department employs 177 school bus drivers and 17 monitors that operate 212 buses to transport 12,000 students from home to school daily.
"The transportation system in a school system must be highly reliable, as students depend on the system to get them to and from school. This requires specialized skills and knowledge," she said.
She noted that the processes and procedures happening behind-the-scenes ensure the maintenance of school buses, and prepare them to arrive safely and on time. Those behind-the-scenes efforts include the MyStop app that is made available to parents so they can track the location of their children's bus. McCaskill said Fuhrey was "instrumental" in making the technology a reality.
"It takes a highly competent, effective team to make it appear 'easy' for a bus to arrive to transport students," Fuhrey shared. "Our team is focused on providing exemplary service, which is integral to the success of our students."
Like many of her peers, the Georgia superintendent finds funding for transportation a challenge. Due largely to the size of the system and the needs of the county's families, system transportation expenses tend to run higher than the state average. Bus routes cover 3,532 miles day and 3 million miles a year across a county that has more than 750 miles of roads in a 279 square-mile area.
"That is over 120 trips around the earth at the equator," said Director of Pupil Transportation Chad McCaskill.
---
Related: Finalists Named for AASA's 2020 National Superintendent of the Year
Related: New York Superintendent Appreciates Bus Drivers and They Return the Favor
Related: Virginia Superintendent Relies on Transportation to Achieve District Education, Outreach Goals
---
Despite regularly reviewing transportation efficiency to determine opportunities to improve, Fuhrey said the district needs an increase in its state funding allocation. Presently, the state funding formula covers only a portion of the funding that is needed to operate. As a result, her district relies heavily on local funds to ensure its transportation system is high-quality.
Of course, money is only part of the equation. Fuhrey is quick to give credit to those who make things happen every day.
"I am fortunate to work closely with an outstanding, responsive, committed transportation team," she stressed. "Their hard work, dedication and focus have led to the high-quality service our students enjoy as they are transported to school or to extra-curricular or co-curricular events."
McCaskill added that Fuhrey supports the transportation department, drivers and staff by regularly recognizing them for their hard work and dedication. She also regularly participates in department functions, such as the school bus skills roadeo and driver appreciation events.
He said she also promotes student safety by ensuring that the district's school bus drivers understand the vital role they play in the educational process of students.
"Superintendent Fuhrey believes that regardless of your role in the school system, every employee has the opportunity to make a positive impact on a student's day," he concluded.
Editor's Note: The National Superintendent of the Year Award is co-sponsored by the American Association of School Administrators, First Student and AIG Retirement Services.