The clock is ticking as school districts nationwide brace for an intimidating set of Federal Motor Carrier Safety Administration regulations that will set new training standards for school bus driver applicants and establish new reporting requirements for transportation directors.
The Final Rule, with a compliance date of Feb. 7, 2020, is a result of the Moving Ahead for Progress in the 21st Century Act (MAP-21) passed by Congress in 2012. MAP-21 focuses on the knowledge and skills that are needed for the safe operation of commercial trucks and buses. It also establishes minimum qualifications for individuals and entities that provide entry-level driver training, or ELDT.
The regulation applies to first-time applicants for Class A and Class B CDLs, and current CDL holders who are looking to upgrade to an additional endorsement that is necessary for operating a motorcoach or school bus.
Applicants will be required to demonstrate their driving proficiency via knowledge and behind-the-wheel training on a driving range and on a public road, as well as obtain instruction from a federally standardized program.
STN previously reported that the FMCSA said it anticipates many certified individuals and entities currently providing entry-level driver training, including school districts, will be eligible to provide training that complies with the additional requirements.
Already beset by chronic bus driver shortages attributed in part to testing delays, low pay and too many responsibilities that are unrelated to driving—including mastering ever-advancing technology—school districts are afraid the new requirements will exacerbate the problem of placing qualified drivers behind the wheel in a timely fashion.
FINAL RULE LACKS SPECIFICS
A major concern expressed by transportation directors is that the Final Rule is vague, because it lacks the details they need to ensure their training programs and facilities comply. For example, the Final Rule sets no minimum standards for the number of hours that are required for the knowledge or behind-the-wheel portions of the training.
"I don't think we'll have a problem getting this done, but I'm not sure how we are going to do it," said Cynthia Jurewicz, transportation director for the Bethlehem Central School District in New York. "The federal government tells us what to do, but not how to do it. They say here is the end product we want, but they're not telling us any specifics. At least, I have not found them. They've put the cart before the horse."
Jurewicz cited the requirement that trainers and training facilities be newly certified by FMCSA, but no criteria for qualifications or certification are provided. "I don't know the criteria of what the trainer has to do or have, or the square footage required for the training facility," she said. The state of New York already goes "above and beyond" what most states require for their driver trainers, Jurewicz pointed out, as they must by certified by the state as examiners.
"School bus drivers must be road-tested annually on defensive driving and we have a form that tells you what to look for," added Jurewicz, herself a certified examiner. "The examiner conducts behind-the-wheel road tests for every driver every other year. The examiner also conducts oral and written exams on everything a CDL driver must know that's in the manual."
Jurewicz said the New York DMV audits the examiner's files to make sure all of the exams and physicals are up to date. Jurewicz employs a full-time trainer. "I'm confident that we will fall well within whatever guidelines they come up with for examiners," she said.
Lynn Hower, executive director of the School Transportation Association of Indiana, said some of her colleagues are taking a wait-and-see attitude on the rule's language. "They are waiting until we get closer to 2020 to see if the language gets more specific," Hower said. "Most people want to know exactly what it is they should be doing, because it's easier for them to do their jobs. Without specifics, everyone will go their own way. We see that now."
Michael LaRocco, transportation director for the Indiana Department of Education and NASDPTS president-elect, said he inquired about specifics and was told by the FMCSA that it wanted to give school districts as much flexibility as possible.
"They've given us a broad scope of things to be covered, but not a lot of specifics," said LaRocco. "My job is to get to a point where we can give school districts an outline of what to expect, to make sure they cover topics based on federal regulations."
Jeff Cassell, president of the School Bus Safety Company, said the new regulations are deliberately vague. "(The feds) never want to do your job for you," Cassell said. "They give you an outline of which subjects to address, but they don't tell you how to address them."
Cassell, whose company develops bus driver training programs, said he welcomes the Final Rule, because it establishes a national set of minimum standards for bus driver training. "Each state has its own set of minimum requirements for school bus driver training and they're all over the map," Cassell said. "The new rules put in a standard minimum requirement across all states."
He noted that while the regulation does not set a minimum classroom hourly requirement, it does identify the areas that need to be addressed, such as the general knowledge, passenger and school bus endorsements. He adds that most school districts already do most of what the new rules require.
"Some districts only train their state's requirements and those requirements are usually the minimum," Cassell said. "Most districts exceed the state minimums. It's not the length of the training that matters, it's the quality of that training and the outcomes."
Cassell is working with the NAPT to "create the materials, practices and processes, to help all locations gain compliance with the new rules." Cassell said he and an NAPT representative spent four hours at FMCSA headquarters in Washington, D.C., making sure their understanding of the new rules was correct. A news release announcing the collaboration was scheduled to be issued last month after press deadline.
NASDPTS Executive Director Charlie Hood said some of the concerns are legitimate, adding that anytime there are new rules, people get concerned. "Understandably, they want a step-by-step roadmap on how to implement them, but a lot of school districts and states are already doing what the training rule requires," Hood said. "It's a matter of registering as training providers to be included in the federal database. That process should not be that difficult."
Hood said the new rule is not prescriptive, even though school districts must include some content they do not currently have in their training, such as night driving. He called it an outline of areas that should be covered during training. "During the negotiated rule-making process, a lot of different agencies were in the room," Hood said. "There was a lot of input to make sure the bill was not onerous."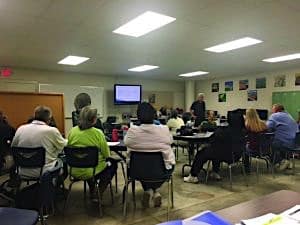 A LONG PROCESS WITH NO GUARANTEES
School districts are also concerned that fulfilling the requirements of the new rule will lengthen the training and licensing of new bus drivers, which could exacerbate the nationwide driver shortage. The rule already adds several steps in the process, by requiring school districts to electronically transmit a driver's information to the FMCSA, which will relay that information to the state licensing agencies, which only then will administer the skills test.
According to the regulation summary, ELDT applicants, "…must complete a prescribed program of instruction provided by an entity that is listed on FMCSA's trainer provider registry (TPR). FMCSA will submit training certification information to the state driver licensing agencies that may only administer CDL skills tests for the Class A and Class B CDL…after verifying the certification information is present in the driver's record."
For this to happen, Cassel said school districts and contractors that train their drivers must contact the FMCSA and obtain a number to be included in the FMCSA TPR. Otherwise, they cannot continue training. He said transportation departments must also develop safety management systems that require school districts to identify and document the hazards involved in what they do, analyze those hazards and take action to mitigate them.
"In transportation, we've sort of done this, but now it is a requirement," he added.
School districts are already encountering logjams when scheduling road tests with their DMVs. Jurewicz, for example, said it takes two to three months to take a skills test in New York. This requires districts to schedule a skills test with the DMV as soon as the applicant receives a temporary permit and begins behind-the-wheel training.
In Indiana, where third-party test sites are located around the state, LaRocco said it can take six to eight weeks to take a skills test. Budget constraints closed six of the testing sites in recent months, forcing long drives to the nearest site for some and long lines when they arrive.
"The state's third-largest school district in the third-largest city does not have a testing site," he said. "Their closest testing site is 90 minutes away in Mitchell, Indiana. It's a small town, but they have a testing site."
LaRocco said that training is a two- to four-month process. "Part of it is the paperwork on background checks and driving records, or the trainer's schedule may conflict with the driver's schedule," he explained. "Districts here normally do not have full-time trainers, and some trainers are drivers first and they do training between their routes."
The wait involved with the skills test and the length of the training has some transportation directors wondering if they should schedule the skills test as soon as the driver obtains a temporary permit, LaRocco said. Jurewicz in New York told STN the same thing.
A CREATIVE APPROACH TO KEEPING TRAINEES
The collateral damage of the training process taking too long is applicants dropping out of the hiring pool and looking for other work, because they're not getting paid.
"That's such a key piece," Hower said. "I know school districts who pay drivers during training, but it's minimal. Drivers can't handle the financial pressure and drop out half way through the process. Then the district has to start over with the next person."
Jurewicz said Bethlehem CSD solved that issue by training applicants as bus attendants. "Two to three months is a long time to go without a paycheck, so we incorporate state education department training for bus attendants into their classroom time," she said. "If they agree, we can use them as bus attendants until they become qualified as drivers."
As a result, the district has kept seven out of 10 applicants. When they become substitute drivers, they're already familiar with the routes, students and staff.
"It's a win for the district and the drivers," she added.
MORE WORK FOR THE DRIVER?
Some critics of the new rule argue that it adds to the already overloaded list of driver responsibilities that are unrelated to actually driving the bus. Last month in Connecticut, a bill to allow bus drivers to administer epinephrine to children with severe allergic reactions was passed in the House and was headed for the Senate. Similar laws are on the books in Massachusetts, New York, Pennsylvania and Rhode Island.
The federal rule adds to those responsibilities by requiring new applicants to identify engine parts and their function.
"Some districts don't let their drivers go under the hood, they let the mechanics handle that," Jurewicz said. "This will be a big difference for them. They will have to learn it for the road test, even if they don't go under the hood afterward."
Indiana's Hower said drivers who struggle with the mechanicals should not be rejected. "Maybe their strengths are they are safety conscious; good drivers instinctively know how to handle students well," she said, adding that it only hurts district retention efforts. "This additional mechanical training they will be required to have doesn't mean they will be a safer driver or a better driver. Those two things don't necessarily go together."l
John Gibbons, transportation director for the Carthage Central School District in New York said he has had good drivers fail the mechanical portion of the test. One did not know the thickness of a brake shoe, while another did not know an alternator's components, even though she correctly identified the alternator and accurately described its purpose.
"The mechanical knowledge (the tests) require will never be used by a driver," Gibbons said. "My drivers do not need to repair a bus on the side of the road. I don't know why some of this stuff is in there."
FMCSA AUDITS: INSTRUCTIVE OR PUNITIVE?
Still another concern driving the calls for more information are the compliance audits by the FMCSA. What will happen, for example, when a school district is found to be noncompliant—and what triggers an audit? LaRocco said the process will be a learning experience for the feds, as well as school districts. "If the audits are for guidance it will be better for everyone," he said. "Initially, that is what it should be."
The FMCSA avoided providing specifics, once again, because it wanted to give districts flexibility. "I don't have a problem with that, as long as they take it into consideration during the audit," he added. "I'd like to know what they will look for during an audit."
LaRocco said audits would likely be performed at random, but could be triggered by a high level of complaints, or the fail rate of a district. "This could be a way of collecting data, so they can evaluate the whole CDL system and make the roads safer," he said.
Hood said compliance enforcement will be developed later, and could differ by state, because of the various levels of educational support. "The reality is the resources are not there to do a lot of auditing," he said. He recommended that representatives from the FMCSA, states and professional associations need to come together and offer a series of informational webinars for all of the parties that are involved.
"We need to talk about this thing and we need to deploy it more locally," he added. "People are understandably reluctant, because they don't know how it is going to come down. But barring any unforeseen circumstances, it will come down. The rule is pretty much set in stone. Congress drives the bus when it comes to telling federal agencies where they need to go with the regulations."