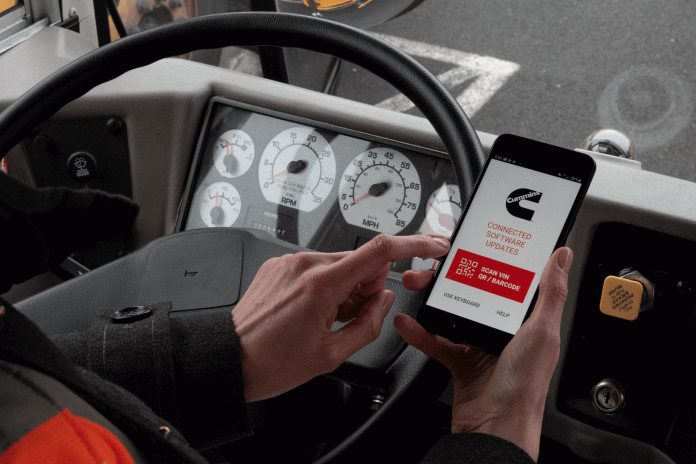 Cummins, Inc. and Zonar Systems announced in December that they concluded developing over-the-air or remote engine updates and a related mobile app that delivers Cummins Connected Software Updates. These are specific performance improvements for the engine control unit (ECU) that help ensure fleet vehicles sustain peak performance.
The new solution, named Zonar OTAir, uses a smartphone or tablet to initiate programming updates to maximize uptime for Cummins-powered vehicles, regardless if they use Zonar telematics or not. [See the related article: Zonar Announces New Cummins Connected Software Updates and Mobile App Provisioning.]
Executives from both companies explained to School Transportation News that fleets that adopt the OTAir update system should, in turn, see reduced downtime, realize increased cost savings over the long-term and experienced overall improved vehicle health. All without the need for any additional hardware or the need to remove a vehicle from service and send it to a dealer.
The companies also announced plans to begin rolling out the service to existing customers before expanding its reach.
Earlier in 2019, Cummins made its over-the-air updates available to the trucking segment. It's betting that school districts nationwide will be eager to receive details on the system's capabilities for increasing vehicle uptime. "Overall, the quality of school bus manufacturing continues to improve across the board with each succeeding model year," commented industry fleet maintenance and technology consultant Robert Pudlewski. "The potential for widespread use of and familiarity with reliable onboard or hand-held diagnostic equipment will increase the instances of repair resolution prior to component breakdown. That should eliminate trial and error, which will minimize labor time and mean using fewer unnecessary parts to repair a vehicle."
According to Cummins, the updates empower fleet managers and drivers with flexibility and an additional level of control over their vehicles. "Cummins designed Connected Software Updates to keep vehicles running at peak performance while minimizing disruption to bus customers," explained Robert Samuel, EBU digital commercial director at Cummins.
Zonar's Gary Schmidt, vice president of business solutions, explained that the intent behind OTAir is to "make engine updates simple enough for anyone to do, and incorporate the updates into the maintenance workflow, to ensure that buses are always up to date."
Schmidt said the best practice for incorporating these updates into the daily workflow of bus operations "would be for drivers to incorporate them into his or her pre- and post-trip inspections."
Shop Operations & Updates
Schmidt commented that most school buses are scheduled to receive about four engine updates per year. Traditionally, he added, fleet managers must schedule this maintenance to be performed at a dealer, which requires the bus to be removed from service.
"Taking buses off-line can be a particular challenge during the school year when the downtime that is associated with updating an engine ranges from one to three hours," he said.
Schmidt relayed that up until now, over-the-air programming for school buses has been considered to be just a concept. No longer. "Through our ongoing collaboration with Cummins, we're bringing a smartphone-accessible solution to market that helps fleets eliminate the need to schedule shop visits for calibrations," he added. "We believe this will help spur the creation of broader industry innovations [that will be] focused on reducing the time spent by fleets waiting for updates."
The Zonar OTAir notifies fleet or shop managers via their Cummins Connect Portal that new engine updates are available. Technicians can then select all of the engine updates they want to push out to the buses. Next, the updates download automatically to the vehicle's ECU.
Any transportation staff that is approved to initiate the updates can do so at the touch of the mobile device screen. That process can take as little as five minutes and can be performed prior to the start of a route, or immediately after.
Schmidt said the ease of the updates makes scheduling exponentially easier and less time-consuming. "A fleet or shop manager can shrink bus downtime into break time, by turning hours into minutes," he observed. "While useful to large fleets, where scheduling updates can be challenging, small fleets that are without a maintenance shop or appropriate service tool often have to take their buses into the dealership for ECU updates."
Plus, the updates are free during the Cummins engine warranty period, he noted.
Historically, for all aspects of the update procedure, Samuel pointed out that the process has usually resulted in an average of one to two days of downtime. This has led to additional labor costs and possibly a service fee (depending on who performs the work) to update the calibration.
"If there are multiple buses that require updates, this process becomes more costly and time-consuming, naturally," Samuels added. "The dollar savings [from over-the-air updates] can add up fast."
Schmidt explained that the typical cost of an engine update at the dealer is about $120 per bus. For a fleet of 100 buses, that translates to a cost of about $12,000 that is incurred four times a year.
OTAir, said Cummins, can save that fleet around $48,000 annually, just on the programmatic updates.
"That is savings we think most fleets can get behind," Schmidt asserted.
Perhaps the biggest long-term savings of OTAir is time. "Better uptime can be calculated, based on the time it takes for a driver to bring in a bus, the time that the bus is offline, as well as the cost that is associated with allocating another bus for the route of that bus for that duration of the update," Zonar's Schmidt shared. "This adds up quickly across a fleet."
Schmidt noted that it can take more time to simply plug-in to the service tool at the maintenance shop. "With OTAir, all updates are pre-loaded," he countered. "By simply using the OTAir app on a phone, the updates are made to a bus' firmware."
The genuine savings are generated by the improvements in time and convenience. "These savings occur by leveraging technology that is already in everyone's pocket, to carry out all of the heavy lifting behind an engine update," Schmidt acknowledged.
Schmidt is therefore pleased that "Fleets can touch a larger amount of their buses with a larger portion of the workforce in a shorter amount of time."
Samuel at Cummins described how the company examines the amount of time a bus can remain in service and how much the associated costs are.
"Our primary goal is safety," he stressed. "We strive to ensure that buses stay on the road for as long as possible, without sacrificing reliability, which can result in additional risk when transporting students. We also apply technology to help optimize processes for fleet managers, such as maintenance, service events and so on."
He added that Cummins has determined that leveraging open, mobile platforms can increase the speed of necessary updates, which "significantly" decreases service interruptions.
"That ensures that children get to school and back home safely—and on time," he stressed.
Not to be overlooked is that dispatchers receive notifications on what vehicles have been updated. "This allows managing of updates to happen from PCs instead of waiting until the next service or maintenance of a bus, where it might run for months with then-outdated firmware," Schmidt commented.
As a result, Schmidt said that adding the latest engine firmware updates allow shops to ensure buses run more efficiently, which limits the possibility of catastrophic breakdowns.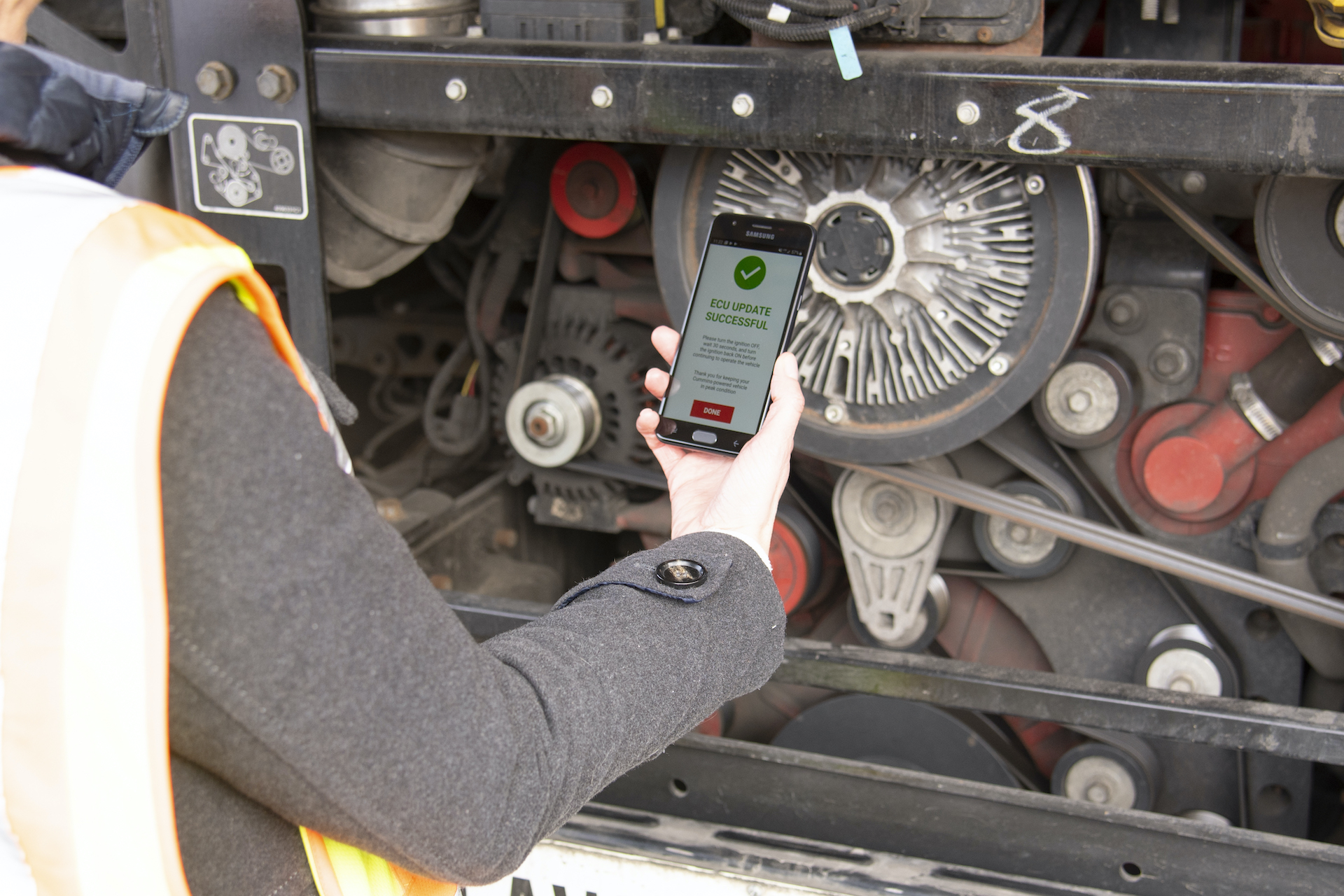 With Better Quality Comes More Complexity
"Vehicles that are manufactured today have all of the equipment that is necessary to implement and manage a reliability-based maintenance program, which is the delivery focus of OEM and aftermarket technology suppliers," observed Pudlewski.
He noted that although quality is "at a historic high, new vehicles are also becoming more complex, especially with the proliferation of alternative fueled engines, sophisticated exhaust emission controls and exciting new onboard telematics. Those devices include component data recorders, GPS, a multitude of sensors, safety equipment, and increasingly sophisticated OEM power train management systems."
When these systems are compared to older buses, Pudlewski said they will prove to be very reliable. "But when things do go wrong, they tend to cause more complex maintenance problems, which may have the potential to drive up labor costs."
For 2020, Pudlewski acknowledged that school bus technology will continue to evolve. "School bus manufacturers are continually incorporating technology adopted by their engine, truck, component engineering counterparts, as well as after-market diagnostic technology suppliers."
Pudlewski said that "As a result, they will ultimately update specific school bus component maintenance interval standards, which may influence fleet maintenance repair costs."
Editor's Note: As reprinted from the January 2020 issue of School Transportation News.