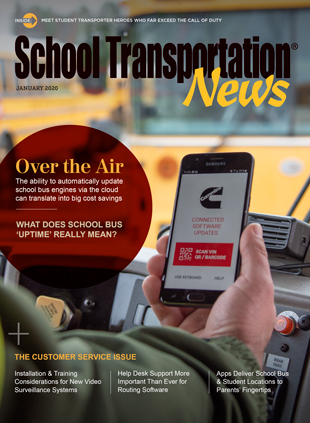 Our first issue of 2020 commences with articles about customer service, training, and installation for new technology, as well as recognizing some of the industry's unsung heroes.
Cover Story
School Bus Engine Updates Made Easier
Cummins, Inc. and Zonar Systems recently announced an engine update app that promises to save customers time as well as money.
Features
Not All Heroes Wear Capes
Student transporters nationwide are recognized this month as the industry's unsung heroes. Many school bus drivers go above and beyond for the students they transport, yet they receive little to no recognition for their actions.
Tracking Apps Take Aim at Solving Transportation Challenges
Parents demand to know the real-time location of the school buses their children are riding, especially during inclement weather.
DIY?
Suppliers of video camera systems say customers are not on their own when it comes to installing the equipment.
Special Report
The Importance of Client Interaction
Vendors are easing the transition to new routing software by providing education to school bus customers.
Sections
Feedback
Online
Trends
Ad Index
Product Info
Marketplace
Columns
Editor's Take by Ryan Gray
Customer Service Extends to Recruiting New Employees
Thought Leader by Robert Pudlewski
Defining & Tracking 'Uptime' in the School Bus Industry
Publisher's Corner by Tony Corpin
Above & Beyond