Belle Tromp knows just how impactful school bus drivers can be on students.
Tromp, who now serves as the director of transportation for Snoqualmie Valley School District in Washington, started in the industry because of her son's love of school buses and the difference his school bus driver made in their lives.
Tromp moved to Europe in 2002 with her sons to perform charity work. She had recently taken the job as managing director for an international charity that raises money for research and awareness of underlying diseases, some of which affect children. She noted that many of the children the organization tries to help were becoming ill because of a non-testable recessive gene. By the time doctors could detect the gene, it was too late, she explained.
During this time, Tromp's son Kristopher, who has special needs, became terminally ill. The family moved back to the U.S., and by 2007, Kristopher was placed in hospice care.
"But he's a fighter, and he was fighting," she said, adding that Kristopher would get out of his hospice bed just to ride the school bus. "His bus driver, Ms. Ester, made it so fabulous. He was going to do whatever he could just to go to school. And at a time that I needed hope, it gave me hope."
Tromp added that school buses make her son smile, no matter how he is feeling physically. She added that every school bus driver is his hero, and now hers, too.
She said Kristopher has since been taken off hospice.
"About a year after he had stabilized, I was still retired and caring for him," she recalled. "And we drove by a school bus that said, on a banner, 'We need drivers.' And in his own way — because mentally he's about four — he said, Mom, you need to do that. And I said, absolutely."
She said she felt that she had found her calling that day, to help others and make a difference in each student's life.
"I'm going to enable other drivers to make that same difference that the driver made on my son's life," she continued. "I signed up from the ground up and wanted to learn everything I could so I could be the best director possible or best cheerleader and serve our team."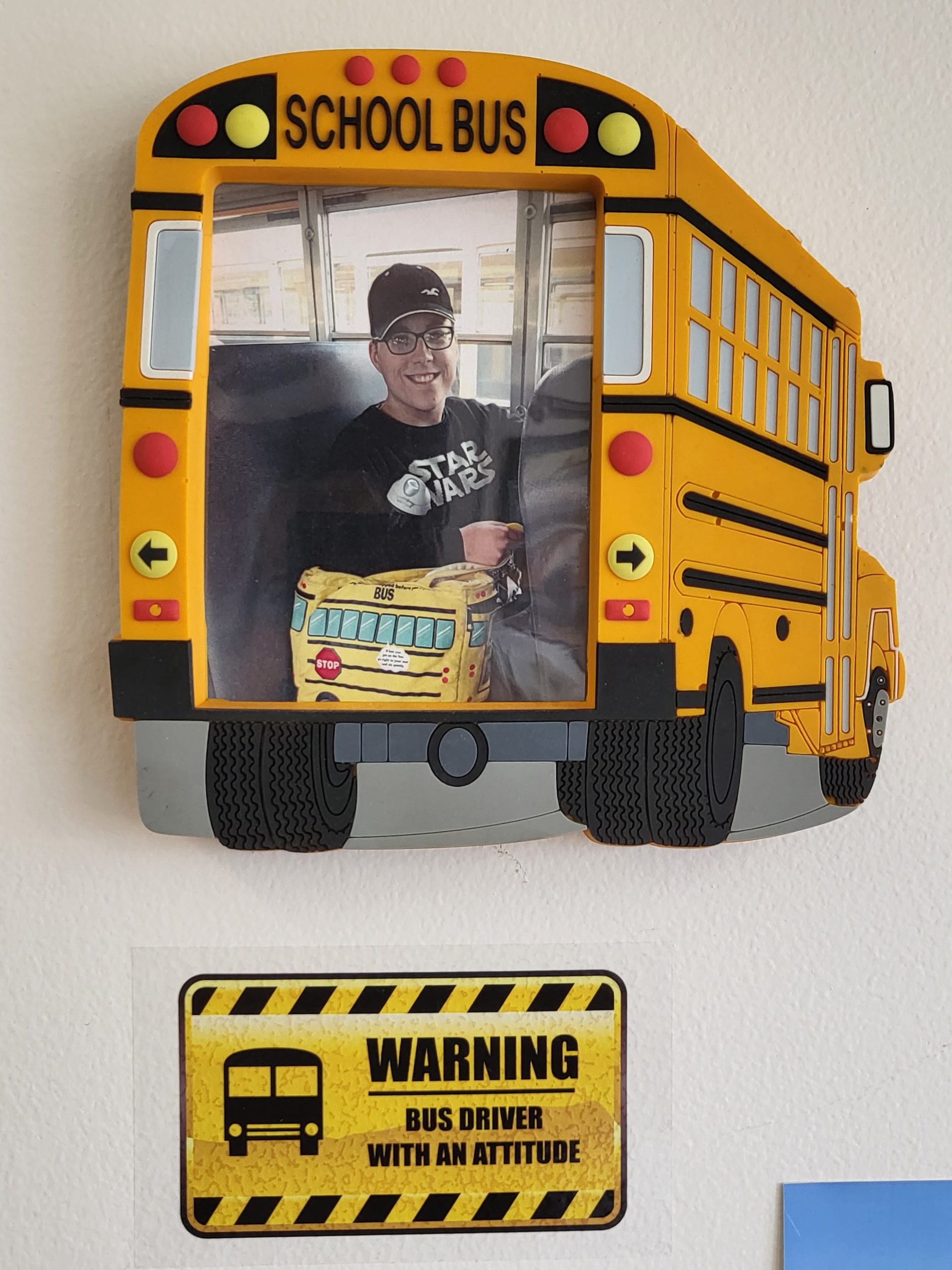 Tromp said she took every course offered in Washington state to become a commercial driver and then a driver-trainer in 2015. She noted that she also completed a four-year program on pupil transportation management at Central Washington University that is offered by the state's Office of the Superintendent of Public Instruction.
She became a transportation manager at one of the largest districts in the Tri-Cities, Pasco School District, and commuted seven and half hours one way every weekend so that she could take the opportunity. She then remained in Pasco for the work week before driving home to Whatcom County the following weekend.
During the second half of her tenure there, her family came out and stayed with her Pasco in the family's fifth-wheel RV, and they commuted back and forth as needed for Kristopher's medical appointments.
"And then the opportunity to come where I'm at now, which is central Washington, and is probably one of the most beautiful districts to be a director at," she said of Snoqualmie, where she's ending her third full year. "It's just been an amazing opportunity to serve the heroes behind the wheel. I call them behind the wheel educators because they are teaching life skills, social skills, math and world topics."
She noted that she recently heard a story that exemplifies why school bus drivers do what they do. Tromp said a nonverbal student wrote a profile on her bus driver and described the kindness he shows to his student passengers.
Tomp said she was reminded of her own son, who gleams any time he sees a school bus driver. "He's still terminally ill and every day is a blessing," she said. "The drivers continue to make that difference in his life because he just loves to come and see the school buses."
She added that she is fortunate to do what she does while also having the full support of her family at home — husband Gordie, sons Kristopher and Jake, stepdaughter Robyn, and stepson Alex — and at work.
"My husband and I both know the difference that the drivers made in our life," she said. "Being around everyone and transportation is unique, but what brought people here, those are the amazing stories," she said. "Everyone comes with different reasons to this [industry], but it's what we do and who we do it for — our students — that keep us all here. The term bleeding yellow basically encompasses everything."
Kristopher's Diagnosis

Tromp said when she was 15 weeks pregnant, doctors told her Kristopher had a 10 percent chance to make it to a live birth and advised she could terminate the pregnancy. "I said no, this kid is going to make it, I just have a feeling," she recalled.

Tromp said she was ordered on bedrest for the remainder of her pregnancy.

Doctors began inducing labor eight weeks before Tromp reached term, and Kristopher was born six weeks premature via C-section. She said she hadn't fully awakened from the anesthesia when nursed wheeled out of the operating room.

Kristopher had a blockage at the base of his bladder and could not urinate. His right kidney was engorged and he did not have any bowels on his right side.

"In surgery they put holes on his back and tied his kidneys to these holes on his backside or the middle of his back, where he would urinate on his back to bypass that blockage," she said, adding that he had 10 surgeries before he was 10 months old.

By then, the doctors reportedly said he would live a normal life on one kidney. "But that's when we started seeing the developmental delays," Tromp said. "He has autism. He has nocturnal epilepsy. He has leg strictures (that limit range of motion – one of his knees cannot bend 90 degrees.) He has fine motor challenges. He has sight impairment, speech impairment. He continued to suffer from chronic urinary tract infections, which damaged his one remaining kidney and now he's in renal failure. Due to his multiple issues, he is not a candidate for dialysis or transplant as he would not survive the process. Which is why he was terminally ill."

She added that Kristopher's remaining kidney was creating stones, which ultimately forced him into hospice care. He requires special diets and around-the-clock care.

"And then three years ago, because the amazing man hasn't had enough challenges in his life, he was diagnosed with cancer," she said.

In 2007, Kristopher was given six months to live. Today, he is 34 years old and has defied all odds.

"He has taught me far more by being his mom than I've probably ever taught him, and I am a far better person because I'm his mom," she said. "He's just amazing."
The Pasco Way
Tromp added that she learned the "Pasco Way," which the district uses to foster a family-based atmosphere. "I really enjoyed being part of the honor to be part of that team," she said.
The Pasco Way is how the district responded to the murder of Pasco school bus driver Richard Lenhart on Sept. 27, 2021. Lenhart was stabbed to death on his bus in front of 35 elementary school students. The suspect was ordered by a judge in October to undergo another psychiatric evaluation before going on trial.
Tromp knew Lenhart, a six-year veteran driver, from when she worked at the district and said she remembered his kindness. Snoqualmie allowed her to take off work and drive to Pasco to participate in a school bus parade to honor Lenhart.
---
Related: Washington School Bus Driver Stabbed to Death with Students on Board
Related: Students Remember Washington State Driver Killed on Duty
---
"I was very honored to pay tribute to a man who — like I said, they're heroes," she said. "I didn't directly supervise him when I was there, but he would always see me and we'd smile and talk and say hi. When he found out I was leaving to come to Snoqualmie, he came in my office and he just gave me a big old bear hug because he was that kind of that guy."
She also recalled Lenhart telling her, "I'm going to miss you."
Snoqualmie Valley
Tromp became the director of transportation at Snoqualmie in January 2020 prior to COVID-19 taking its toll on the world. She recalled showing up for her first day to do a road check, and conditions were icy. She learned the district's routes for the first time in the dark of predawn and made the decision on whether students would go to school that day. She returned to the garage and was chaining the bus tires with the other school bus drivers that she hadn't met yet. She smiled when one driver asked her if she was a new school bus driver for the district.
"It's been an honor to navigate these unchartered waters with these heroes that are here, and it's not always been easy," she said of the COVID-19 pandemic. "But the right thing is not always easy to do, even though It's still the right thing to do."
Understanding the Special Needs Community
Tromp added her son Kristopher has taught her many life lessons, the first being to reject the word, "normal." She said she was often asked by others, "Aren't you glad you have a normal son?" — referring to Kristopher's brother, Jake — or, "Aren't you glad that you had his brother so that you wouldn't feel like such as failure?"
Tromp said that Kristopher has also taught her patience and grace. She has learned that students with special needs, or as she calls them differently abled students, are capable of more things than most people realize.
"He's taught me that even though, say, a student can't speak or they can't see or they can't hear, they know what's going on. They are amazing," she said, adding the importance of conveying this to new school bus drivers.
She said she reminds drivers to treat the students with respect and to communicate with them the same as they would any other student.
"Give them that dignity. Give them that recognition," she added. "I think at this point we need to train everyone regardless of what we think they can or cannot do because you will be amazed when you pause and you take that moment to get to know them. You will be amazed at just how able they are and how they will touch your life. And that's what my son has taught me.
"There is a mourning process that parents go through when they have a special needs child because when you're first pregnant, you're thinking the world is their oyster, [that] they can be anything they want to be," she continued. "Then when you realize that's a different future … all those hopes and dreams are gone. What I've learned from my son is, I wouldn't trade a moment of all that because I've seen the world in a different way through his interactions, through his honesty, through his sheer determination."
She added that Kristopher has taught her to always look on the bright side of life and to count her blessings.
"And that's probably the biggest lesson I've learned from my son. If you change the way you look at things, you'll change the way things look," she said. "And whatever you see, is what you're going to find."
---
Related: TSD Conference Rewind: Including Evacuation Plans in IEPs
Related: IEP Meetings: TSD Conference Panel Discusses the Who, When & What
Related: Legalities of Transporting Students with Special Needs Discussed at TSD Conference
Related: Florida School Bus Drivers Transport Special Olympics Athletes, Families to Opening Ceremonies
Related: California School Transportation Officials Participate in Annual Giving Program
---
Tromp said she now often understands why parents make certain requests. But she also knows the importance of explaining to them procedures and policies, and why things must be done a certain way. In the end, she said parents might apologize. But she corrects them.
"Don't ever apologize for being an advocate for your child," she said. "I've been doing it for 35 years because I did it before he was ever born. It has made me very sensitive to the advocacy that parents have for their kids, and I am very understanding of it."
She added that she's able to bridge what people think student transportation is with the realities of how challenging it is to be a school bus driver. No longer are bus drivers simply given keys with no standardized training. She relayed that Washington state now has a quarter-inch-thick book on what it takes to a be a school bus driver.
"I used to think I knew what it took to be a school bus driver, and then I became one. It's given me far more respect for our school bus drivers than I ever would have had, if I would have never taken that time," Tromp said, adding that she thinks having a school bus driver background has made her a better director. "Until you walk in your team's shoes, I don't think you ever fully understand, which is why my first day was spent throwing chains on a bus. I get in there and I work and turn wrenches with my mechanics."
She added that there's nothing that she's going to ask her team to do that she won't first try to do herself. She also attributes this trait to Kristopher. She learned that life will throw at you challenges that you must adapt to.
"You embrace and you overcome and even the scariest moments when you're facing the death of your child. I don't think there's anything scarier than that in the world," she said. "But if you learn to embrace whatever opportunities come from that, you count those blessings."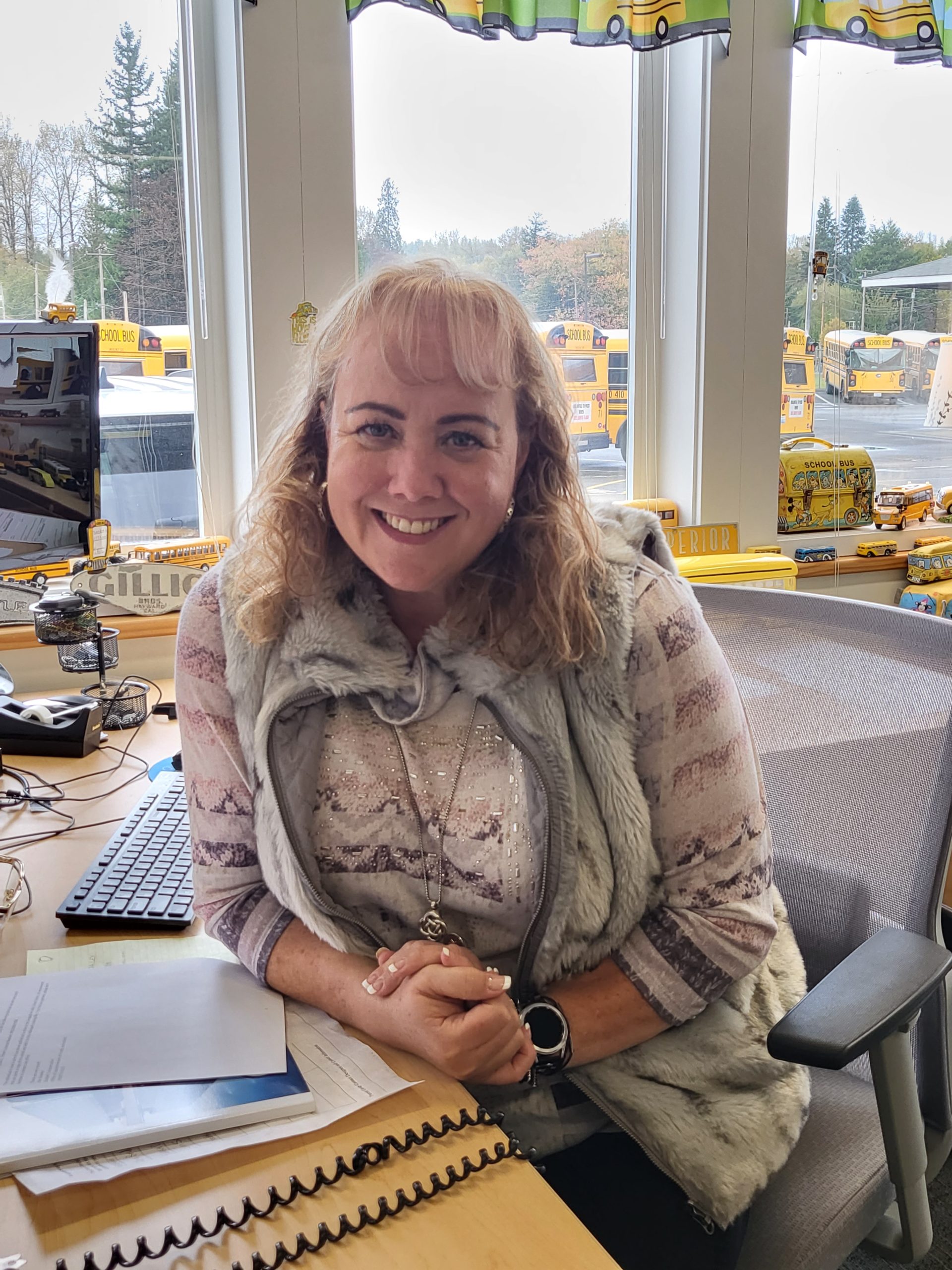 For those school bus drivers who are simply looking for a paycheck, from day one Tromp said she has deeper conversations about her experiences and why she got into transportation in the first place. "I think that it opens their mind from the very first minute of, 'Wow, this isn't just a job. We're making a difference,'" she added.
Tromp shared that she personally performs much of Snoqualmie's driver recruitment and explains to potential applicants the differences they could make in a child's life. She said she shares her story because it needs to be told, especially for the benefit of those in the community.
"It's for the public out there to understand, hey, next time you see a school bus driver, go shake that hero's hand because they're doing a job that makes a difference," she noted, adding that she hopes her story raises awareness and attention to the yellow school bus so it's not simply looked upon as "holding up traffic."
"I would say I've had three lives, and this is the one that I've been most proud of," Tromp concluded. "Because I know I'm making my son proud and I'm helping others. I never say I'm directing people; I'm serving our team. I'm here to serve to help others make that difference."