Maintaining a safe—and efficient—operation are the primary goals of any school bus fleet. To attain these goals, top-level transportation operators focus on maximizing vehicle uptime and minimizing operational costs.
A recent survey by School Transportation News that focused on vehicle life, mileage, technician training, tire purchases, tire cost, parts cost and vehicle power train choice, provided some interesting data on what happened in 2018 and what trends are developing this year. There were 240 respondents with fleets ranging in size from 10 buses to 5,000, who submitted data to help identify developing trends that most influence their fleet operating costs.
(Editor's note: Look for more survey statistics in the February magazine edition.)
With the uncertainty of what impact the trade wars with key foreign suppliers and the NAFTA replacement agreement (called: United States—Mexico—Canada Agreement, or US MCA) will have on school bus product prices in 2019, I focused this column on three areas that school bus operators should pay the most attention to in 2019.
Related: NAFTA Replacement Expected to Ease Tariff Concerns
Powertrain Alternatives
The survey results confirm that the growth in alternative fueled vehicles is accelerating. But significant market share for anything other than petroleum-powered school buses will take longer to develop.
Despite the continued dominance of petroleum-powered (diesel or gasoline) vehicles, alternatives are gaining traction. Government programs that support the development of all-electric vehicles will inspire school bus operator gravitation to these vehicles.
However, infrastructure and vehicle limitations remain, which will constrain the overall market share to less than 1 percent for 2019. This percentage, though, could be impacted by regional mandates for zero-emission vehicles, and the potential introduction of petroleum-based power trains with electric motor assist.
The survey shows that the market is changing, albeit slowly. School bus operators seem to be more open to alternatives than ever before for many reasons, including economics and the environment.
Certain hurdles must be overcome for any of the competing alternatives to successfully gain market share over petroleum-powered buses. These include:
• Reduction of the vehicle cost
• Conveniently available refueling infrastructure
• Expanded vehicle range
• Overall consumer familiarity with and confidence in the new technology
Propane is the current hot topic throughout the school bus industry, and investments in vehicles and refueling infrastructure are increasing. Growth is strongest in the Type C sector, with CNG showing the greatest potential for growth in the Type D sector over the next 10 years.
Role of the Consumer
Ultimately the consumer will determine what fuels and vehicle types will dominate the school bus market of the future. What is clear today is that their choices are more varied, and manufacturers are better at communicating the benefits of one versus another.
From the alternative fuel vehicles to better performing vehicles, school buses have more options than ever. Where operators choose to invest their money will determine the future return on that investment.
Tires
Over 50 percent of the STN survey respondents were hit with tire price increases in 2018 that ranged from 0 to 5 percent.
In just the last three months, we have seen multiple tire price increases. Effective last Nov. 9, 2018, Bridgestone Americas Tire Operations, LLC. and Bridgestone Canada, Inc. increased national account, national fleet and national fleet preferred account prices by up to 10 percent. That's for all Bridgestone and Firestone truck and bus radial tires, Bandag retreads and tire-related services in the U.S. and Canada.
---
Related: Districts Deal with Higher School Bus Tire Prices
---
Recently, according to an announcement made on January 2, 2019, they cited increased business costs among other "market dynamics," to increase prices 4 percent on Firestone brand truck and bus radial tires sold in the U.S. and Canada. All Firestone truck and bus tires shipped on or after Feb. 1, 2019, will reflect the increase. Members of the Bridgestone Commercial sales teams are contacting customers to provide more detailed information about the changes, the company said.
Unfortunately, stable tire prices are not forecast for 2019, as raw materials for tire production and many of the tires used on school buses are made in foreign countries. As a result, fleet managers should be contacting their tire suppliers to receive price forecasts, prior to factoring in an increase for their tire expense.
An important question will be, should they hurry and order now, or should they wait some months, in order to place a larger order that may provide for a substantially better quantity discount?
PARTS
Over 75 percent of the survey respondents reported parts price increases of 0 percent to 10 percent, while 20 percent of respondents reported up to a 25 percent cost increase over 2017. This is consistent with previous annual pricing trends in the school bus replacement parts business, which is somewhat reflective of an aging fleet.
As mentioned above, the impact of tariffs on foreign-made products or raw materials, and how the pass-through of those costs down to actual parts and components, is unknown at this time. It is especially incumbent on school bus operators to be overly attentive to what your suppliers are saying about future pricing trends.
PARTS INVENTORY
Of the 237 respondents who commented on inventory management, 45 percent said they have maintained the same level as last year with, 22 percent reporting an increase.
I have always believed in trying to keep parts inventory (cash on the shelf) at the lowest possible level, and let the supplier keep the proper level of product on hand to service your needs. A good measure of inventory management is the number of times your inventory is replaced during the year, a term called "inventory turnover."
In other words, how many days will it take to use your inventory, divided into 365? An example of ideal turnover would be a 30-day supply of parts, for an annual turnover ratio of about 12. (Example: An annual parts budget of $120,000 inventory on the shelf, means $10,000 at the end of the year.)
Maintaining excessive inventories unnecessarily with low turnover ratio numbers indicates poor inventory management. That's because it involves tying up funds that could have been used in other district operations, and that practice can lead to excessive parts obsolescence.
To all of the 240 respondents of the survey, I cannot express how beneficial it is to our fellow operators to see survey results that they can interpret, to help manage the process they use to manage and to benefit their operations. For your effort and the continuing cooperation in responding to these surveys, thank you.
---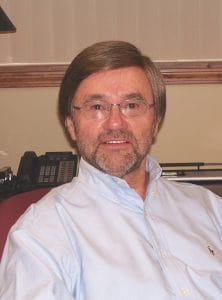 Bob Pudlewski has over four decades of experience in school bus maintenance. He retired as the VP of fleet operations, procurement and maintenance for Laidlaw Educational Services and is a member of the National School Transportation Association Hall of Fame. He is currently an industry consultant and technical editor for School Transportation News.