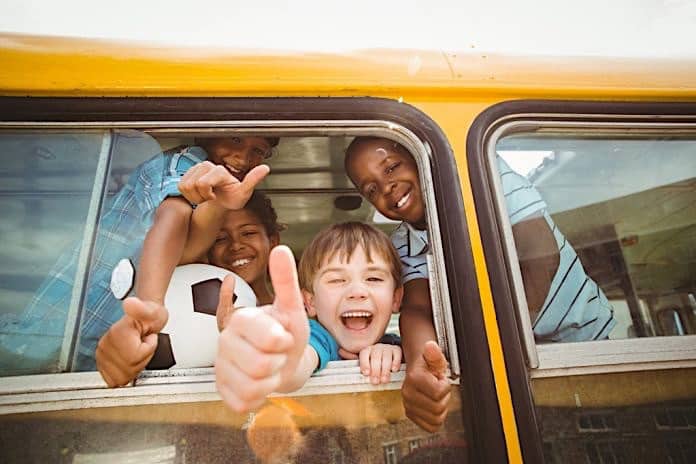 An adored Florida school bus driver who was killed late last year will be honored with having the bus compound lounge she frequented be named after her. Gloria Riley, who drove for Boynton Beach High School in West Palm Beach, was murdered inside her home in November. The students she drove throughout the school year and the fellow staff members she interacted with on a daily basis admired her devotion to her job as a bus driver. The bus compound lounge at the Central Transportation Facility will bear her name after a ceremony this week.
---
Don Sanders, a 15-year veteran driving buses for School Administrative District 75 in Southern Maine, began his Bus Book Bags last year to boost literacy in the students he drove to and from school. This devotion to get kids to read has earned Sanders the Giraffe Award from the Maine Children's Alliance. What started as a 10-book project, spread to 90 books and other buses, as well as expanding from a local effort to a widely praised initiative. The project is now a joint effort between the school district and the local public library. The success is also seen in the developing friendships between the younger, elementary-age students and the older ones who read to them. "So I try to think of some way to keep them engaged in something," said Sanders. "I've been contacted by people from Wisconsin and Kansas and Colorado, and just all over."
---
A 44-year-old Arkansas man was walking partially in the southbound lane on Arkansas 7 near Arkansas 298 when the mirror on a school bus driving by in the same direction struck and killed him. Authorities pronounced the victim dead at the scene. The school bus involved in the incident belongs to the Jessieville School District in central Arkansas. "This morning there was a tragic accident involving one of our school buses. The incident is still under investigation, and therefore we cannot comment on it at this time. We have lost a member of our community, and our thoughts and prayers are with the family and all of those involved in this tragic situation," said the superintendent in a statement.
---
A school bus out of Gilmer, Texas, was involved in a two-vehicle wreck that crashed into a house. Police responded to the early morning collision to find that the bus hit a corner of the house, knocking over furniture in the living room and damaging a spare room. Two women were home at the time with one was in a bedroom and another in the living room. Neither was injured in the crash. Roughly 20 Gilmer Independent School District students were on board at the time of the incident. Neither the students nor the bus driver were reported injured in the collision, but EMS responded to the scene. The students were transferred to another bus for transportation to school.