Over $2.7 billion have been distributed across states, tribes, and U.S. territories as the result of the Volkswagen (VW) emissions scandal settlement. For the most part, states have now finalized their Beneficiary Mitigation Plans (BMPs) and are beginning to solicit applications for projects. In May 2018 I wrote about the benefits of using VW funds for advancing the electric bus deployment.
Investing these dollars into school transportation will yield long term benefits for children's health and provide a catalyst for the electric school bus market. This is why VEIC has joined advocates around the country to urge state VW beneficiaries to include electric school bus projects in their plans.
The most significant barrier to electric school bus adoption is the upfront cost of the vehicles, which is currently two to three times higher than diesel buses. Resource-constrained school districts are hard-pressed to invest in this technology with so many other expenses and needs to consider.
School districts are also constrained by the administrative capacity to conduct research, build community support, apply for funding, and adopt alternative fuel technology. Technical assistance is particularly needed for electric school bus adoption, which requires new fueling practices, installation of charging infrastructure, and a strategy for planning routes that can be served by electric vehicles.
Dedicating a small portion of VW administrative funds to the implementation and evaluation of electric school bus pilot projects is a logical and viable option for addressing these barriers.
The VW Environmental Mitigation Trust offers a rare opportunity to fund electric school buses at a significant scale. However, BMPs must be structured to overcome barriers to adoption if this opportunity is to be realized. Without specific requirements in BMPs, states may miss the opportunity in front of them to advance this technology.
Analyzing BMPs
Despite advocacy efforts and prioritization for school bus projects among state beneficiaries, the jury is out on whether BMPs will serve as a catalyst for the electric school bus market. We conducted an analysis of New York and New England to determine how effective they will be at accelerating a transition to electric bus use.
All the States in our analysis have allocated 15 percent of their VW funds to support electric vehicle charging infrastructure projects, however very few have dedicated money specifically to electric bus use. A breakdown by state is listed below.
Vermont
In 2018, the Vermont legislature required that all spending in the first year of funding be used for electric vehicle charging infrastructure (EVSE) and replacement of diesel vehicles with all-electric vehicles. Advocates are seeking to extend this policy through the lifetime of the Settlement.
Rhode Island
Rhode Island's BMP calls for 75 percent of VW Settlement funds to be invested in electric transit buses, 15 percent for EVSE, and the remaining 10 percent for program administration. School buses are not eligible for funding.
New York
According to New York's BMP a broad range of fuel and vehicle types are candidates for replacement. New York, like Vermont, is somewhat prescriptive, allocating a percentage of funds to be invested in school, shuttle, and transit buses. The state has established vehicle electrification as a priority.
Connecticut, Massachusetts, Maine
Similar to New York and Vermont, these three states do make school bus replacements eligible for funding, however, they are less prescriptive in their approach, allowing all fuel types to be eligible.
New Hampshire
New Hampshire has allocated 30 percent of funds for "public" vehicles including municipal, school and transit fleets.
The allowance for all vehicle fuel types to be eligible for VW funding, and the treatment of these fuel types as equal is happening across the country, not solely in the Northeast. Despite this challenge, there are actions that advocates can take to ensure available dollars are used for electric vehicle deployment, and more specifically, for electric school bus adoption.
Advocacy strategies
National, regional and local advocacy groups across the country have been effective in making the argument that electric school buses can benefit children's health, reduce harmful particulates and greenhouse gas emissions, and support market transformation. As the development and implementation of BMPs continue, it is critical to keep making arguments for vehicle electrification.
Awareness of the benefits of electric school buses is a key component of justifying the increased investment in the vehicles. It is also important to understand how BMPs can be structured and revised to encourage and elevate electric school bus projects. We've put together a set of strategies to do just that.
Cost-share structure
The BMP cost-share structure is one of the most important tools available to states to prioritize electrification. The VW Environmental Mitigation Settlement allows for up to 100 percent funding for public school bus replacements, regardless of fuel types.
However, to stretch VW funds, and have applicants demonstrate a commitment to projects most states currently require some cost-share. These requirements can be articulated in BMPs or in project solicitations.
When cost-share requirements are equal across fuel types, they significantly disadvantage electric school bus projects, because of the higher up-front cost of the vehicles. For example, a 20 percent cost-share requirement for a school bus replacement project, regardless of fuel type, would result in the school district paying $18,000 for a diesel bus, $19,600 for a propane bus, or $68,000 for an electric bus. This dramatic price difference is a clear disincentive to focus funding on the cleanest fuel type available.
To effectively incentivize electric school bus projects, states can limit or eliminate cost-share for electric replacements. Another option is to not require cost-share for any of the fuel types, which reduces the risk associated with adopting new technology.
Either way, at least in the short term, states that want to support electrification will face a trade-off of fewer overall school bus replacements. It is therefore imperative that advocates make a strong argument for the societal benefits of electric school buses, and the unique nature of VW Settlement funds to serve as a market catalyst.
Electric school bus set-asides
Another option for states is to set aside funds for electric school bus projects. This could include demonstration projects or a carve-out for a portion of funding to support electric vehicles.
So far, Vermont is the only state in the region we analyzed that has set aside funds specifically for electric school bus projects. Advocates can learn from and leverage examples of funding being allocated exclusively to electric transit buses in the region when arguing for set-asides for electric school bus projects:
Massachusetts: $11 million of year-one funding is allocated to Pioneer Valley and Martha's Vineyard Transit Authority for transit electrification.
New York: $52.4 million allocated for approximately 100 all-electric transit buses and 400 electric or diesel power school and paratransit buses.
Rhode Island: 75 percent of Settlement funds are allocated to the electrification of transit buses.
Electric school bus demonstrations
If a full-scale commitment to electric buses is not possible for political, financial, or other reasons, demonstration projects can be a good strategy to build awareness and acceptance of the technology, while helping to catalyze the market and allow time for upfront costs to drop.
Understanding that electric school buses are relatively new technology, advocates have been able to make a case for pilot programs to test their deployment, which can then justify greater investments in the future.
In Ohio for instance, advocates successfully secured a $3 million electric school bus pilot program in the BMP. And in Vermont, the state beneficiary of first-year funding plans to focus initial investments on pilot programs.
Allowable administrative expenses
Most schools need technical support to plan for and deploy electric school buses. Many schools lack fleet management capacity and staff resources are not sufficient to engage in planning for and deploying electric buses. If states want to see electric school bus projects funded through the Settlement they need to address this barrier.
The VW Settlement allows for up to 15 percent of funds to be used for administrative costs. However, most states have set administrative cost targets under 15 percent and these funds will be used by beneficiaries to administer state VW programs.
Settlement funds can be used to support projects, but the state must either build this capacity into their program or allow school districts to utilize consultants who can provide technical assistance. Vermont is the only state in the region that is currently accepting third-party program administration as an allowable expense.
Knowing that school districts, particularly small, less affluent school districts, are challenged by the capacity to adopt new technology, advocates can make a case to allow some administrative funds to support the development and/or implementation of electric school bus projects.
Ongoing advocacy
Each of these strategies can help to keep electric school buses in the narrative. If advocates stay diligent, and the community-wide benefits of vehicle electrification are widely understood, then we may have a chance at seizing this unique opportunity.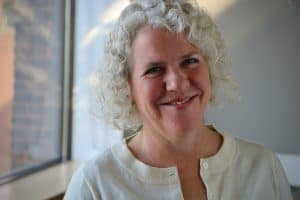 Editor's Note: Jennifer Wallace-Brodeur leads VEIC's Transportation Efficiency practice, focusing on transit and school bus electrification projects and programs to accelerate EV adoption. She also leads clean transportation policy work at VEIC, and represents VEIC on state and regional climate and clean transportation stakeholder groups. For over 20 years she has successfully led teams to advance program and policy solutions on a range of issues at the national, state and local levels. VEIC is a sustainable energy company with a mission to enhance the economic, environmental, and societal benefits of clean and efficient energy use for all people.