In this day and age, you just can't get enough training on the new systems integrated in new school buses. New school buses, literally, have more computing power than the Apollo spacecraft that went to the moon in 1969.
The engine has its own operating software. The transmission has its own software. The brakes have their own software. DPF systems have their own software. Camera systems have their own software. Some retarders have their own software. The list goes on. New buses and on-highway trucks are coming with a "Stabilitrack" system that connects the brakes to the suspension to the engine controls. I've talked to people that say that this can lead to a wild ride.
Did I forget to mention that much of the onboard software changes frequently and has to be updated on a regular basis?
This being said, school district bus technicians depend on school bus component manufacturers to provide instruction and training for these complicated systems as was again provided at the STN EXPO in Reno in July, this year by Blue Bird. These classes not only provided the shop tech people with great systems information but they were also a great networking resource. They were able to meet people dealing with the same issues on similar buses and systems and trade information (and horror stories). The mechanics got hands-on time at the trade show with bus manufacturers at their respective booths.
The future of student transportation, at least in our shop world, depends on our ability to diagnose and repair school buses. They are not going to fix themselves.
The following scenario or something similar has happened to everyone-at least everyone that has been in school transportation for more than a week:
All your school buses are out on afternoon routes except for the half a dozen or so spares that you have. These spares are in varying stages of decay but still roadworthy in descending order of trustworthiness. The radio is quiet. You're alone in the shop because one of the other mechanics has called in sick. No big deal. Quiet is good.
The radio squawks to life. Someone is having issues — a check engine light is flashing and warning buzzer is going off. Before you can answer the radio, someone else calls in with an ABS light flashing. About this time, someone calls in saying their bus is overheating and a warning light and buzzer are making themselves known.
No amount of tech training can prepare you for the kind of pressure you're now feeling, but with proper knowledge you can determine what needs to be dealt with right now and what can wait. Hint: The overheating issue needs to be addressed right now. The engine warning light, with a few well-timed questions, could possibly be shuffled off for the moment. The ABS light could probably be ignored till the bus comes home.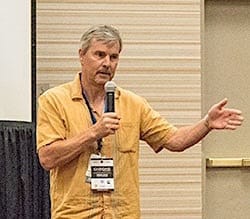 From the rawest rookie to the most seasoned veteran, everyone needs knowledge all the knowledge they can possibly get. They need the knowledge of experience and the kind of knowledge learned in tech classes.
No exceptions.
Don Harder is the fleet manager for Tahoe-Truckee Unified School District in Northern California and was also a presenter at this year's STN EXPO. He was also profiled in the August 2016 issue of School Transportation News magazine.