Before day two of the Transportation Director Summit at STN EXPO Indy began in earnest, school district transportation employees and vendor partners enjoyed a show in the Dolphin Pavilion of the Indianapolis Zoo.

Trainers led the animals through routines that included spins and jumps, while attendees looked on from a clear underwater room. The trainers informed the audience that some dolphins readily followed directions, while others performed when they decided to.
"Employees are like dolphins," declared Don Harkey, CEO of People Centric Consulting Group, during his subsequent opening session on creating an engaged team. He mentioned that every operation has employees who are happily engaged with the company, others who do their job but are more disengaged, and a few who are contrary and stubborn.
Next, he facilitated the Box Game with all of the attendees, in which the solution required literally thinking outside the box. During each round, Harkey pushed the group to improve its time in figuring out how to create a box out of string, and as a group, move through it as quickly as possible.
When he gave them a grade of F and they realized they couldn't do any worse, it spurred them to action and they conquered the challenge. Similarly, talking to peers can help transportation directors determine how they can improve their operations. Many of the rules we operate under, we make for ourselves, Harkey commented.
The game also demonstrated that it is problematic if the whole group wants to do it their way and isn't open to suggestions. For instance, top-level executives performed the worst on the Box Game, while administrative assistants were able to work collaboratively and perform the best.
Even if you don't have the title of director, supervisor or manager, you are still a leader, Harkey reminded the room—and so is everyone on your team.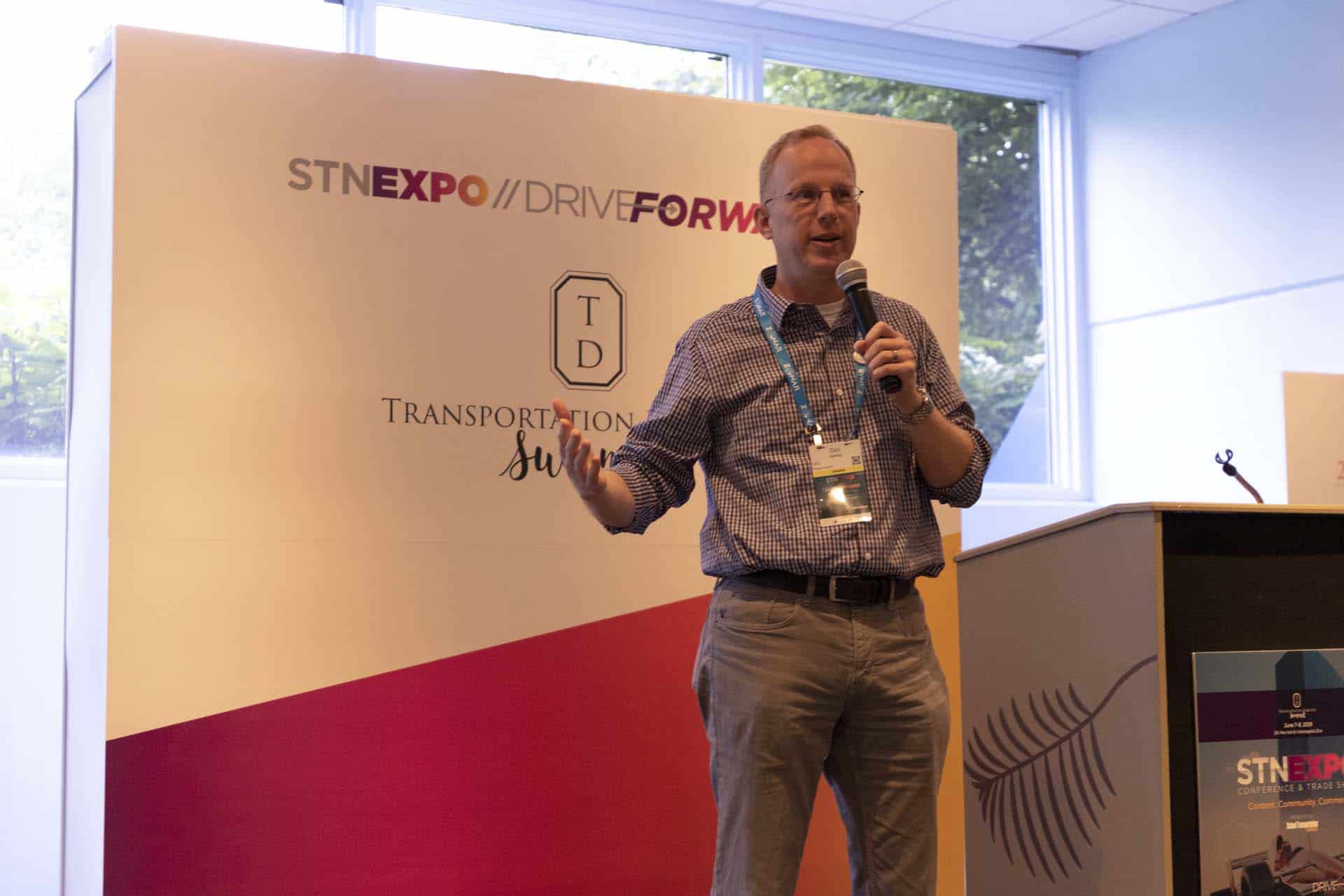 All employees are either engaged, disengaged or toxic, Harkey said. The first hour, day and week is the best time to cement an employee in the "engaged" group. Everyone is hardwired to be an engaged employee, but most everyone can at one time be disengaged or toxic.
"How do you get engaged employees? You engage them," Harkey said. That could result in confronting a toxic employee who improved after a candid conversation with his boss, one of the transportation directors in the room.
"You've got to be careful who you let into your organization," cautioned another attendee, relating a story that described a new employee who was let go a month into her new job after the transportation director realized she was wreaking havoc among different departments.
Supervisors may be the problem in some cases, resulting in "active disengagement" born from the desire for self-preservation.
During the dolphin demonstration, the zoo trainers mentioned that one dolphin wasn't trained by them but learned behaviors from other dolphins. The same is true in businesses, said Harkey. When people in the job market are considering a company, they reach out to current employees.
"Who are they most likely to contact? A disengaged employee," he explained.
"Seventy percent of disengagement is caused by management. It's your fault," Harkey told the room. Management and leadership are different, and a good manager uses both authority and coaching.
"When you don't know your people and they don't know you, you'll never get the vision," summarized one attendee.