While attending the STN EXPO Conference and Trade Show in Indianapolis, you are probably going to want to try some local cuisine. Because we love good food, too, we pulled together some delicious and attractive dining options for breakfast, lunch, dinner, hole-in-the-wall and after-hours spots.
These are not fast-food joints, so don't expect your food to be served in five minutes or less, and little wait at the door. Really good food requires more time to properly prepare. These are restaurants that you will want to take some time to enjoy, soak in the atmosphere, savor the food, absorb the ambiance and remember the delectable aromas.
The comments we included here were primarily drawn from Yelp postings, along with excerpts from various online resources that list consensus favorite eating establishments. We included those restaurants that looked super-worth visiting and sounded special. The restaurants were placed here in no particular order.
We also tried to avoid including the usual cookie-cutter chain places. So enjoy! And don't forget to tell Dave about any good gelato shops you find (and better yet, bring me a large sample!)!
---
Steakhouse, Contemporary & Traditional American, Seafood • 
$$$ • Cross Streets: Near the intersection of S. Illinois St. and W. Georgia St., Downtown Indianapolis; 
153 S. Illinois St.

, Indianapolis, IN 46225; 
317-635-9594; www.harryandizzys.com
Breakfast, lunch and dinner; sandwiches, pizzas, salads, steaks, pasta, appetizers and desserts. "Everyone raves about the shrimp cocktail, because of the extra punch of horseradish in the cocktail sauce." 708 reviews on Yelp.
---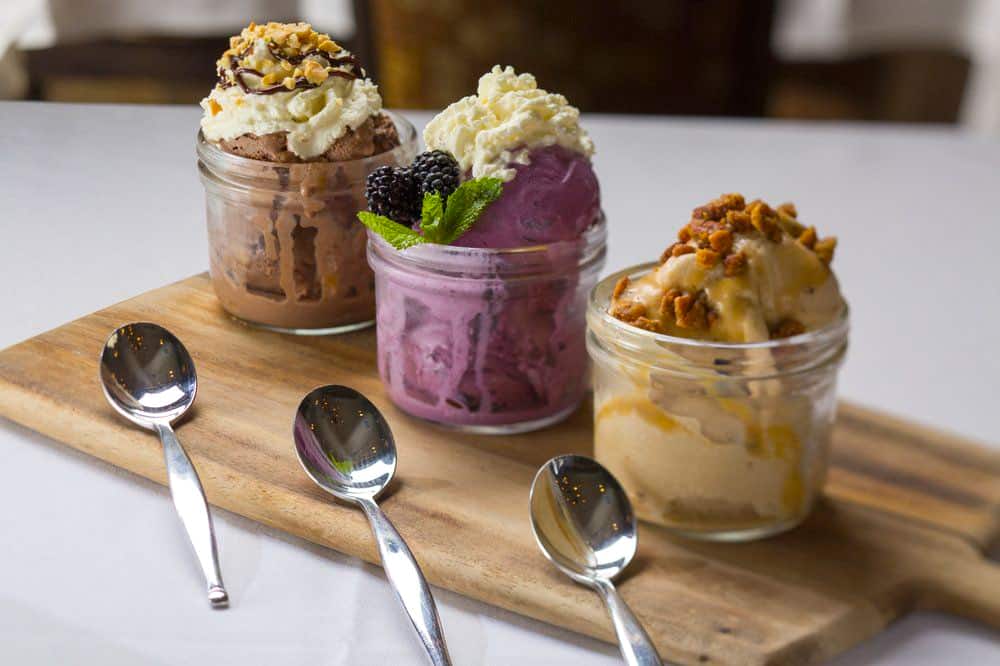 Innovative, high-quality cuisine to Mass Ave. Brunch, lunch and dinner menus. There's something good to eat any time of the day with a variety of luxurious dishes from the land and sea, like steaks or sturgeon. The bar offers high-end cocktails, beers, wines and its own menu for small dishes to enjoy with a drink. The unique, modern decor makes it the perfect place for anything from a romantic night out to a casual business dinner. "We got the crab cake hash brown, ahi tuna with quinoa and radishes, mesh salad, beet salad, apple pie and pot de creme." 650 reviews on Yelp.
---
3. Rathskeller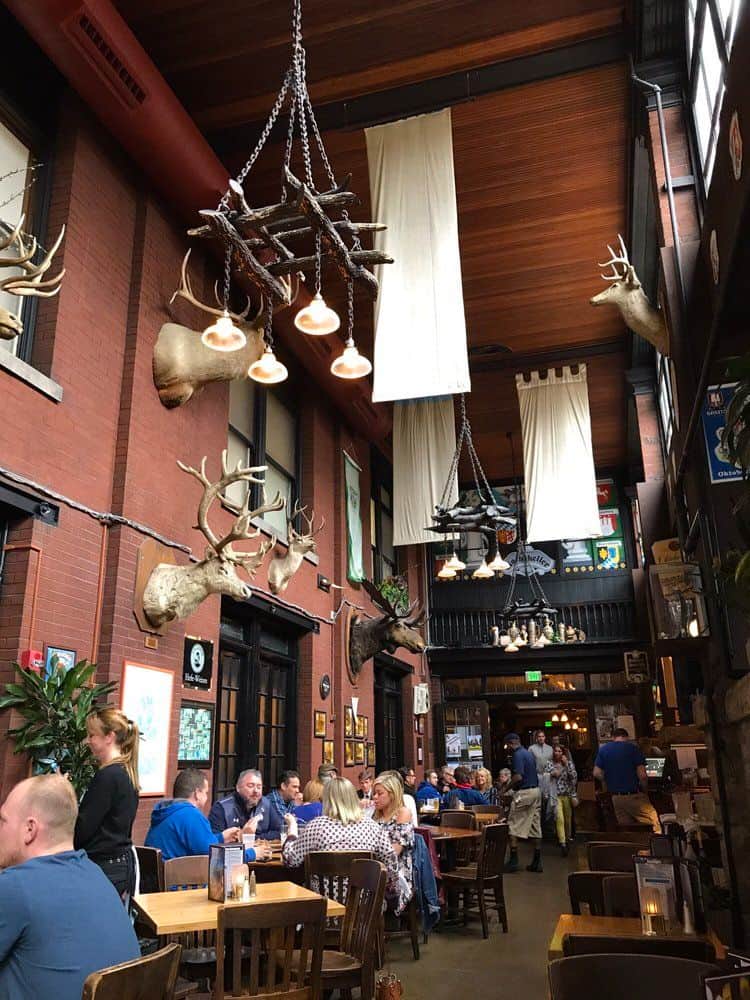 German Restaurant • $ $ • 401 E Michigan St., Indianapolis, IN 46204; 317-636-0396; www.rathskeller.com
Bavarian Flair in Downtown Indy! Set in the historic, 19th-century Athenaeum Building downtown, The Rathskeller is reminiscent of both a quaint inn tucked in the Bavarian hills and a lively beer hall in Munich. Features traditional German entrees and a full range of salads, pasta, seafood, beef, pork and chicken entrees. 523 reviews on Yelp.
---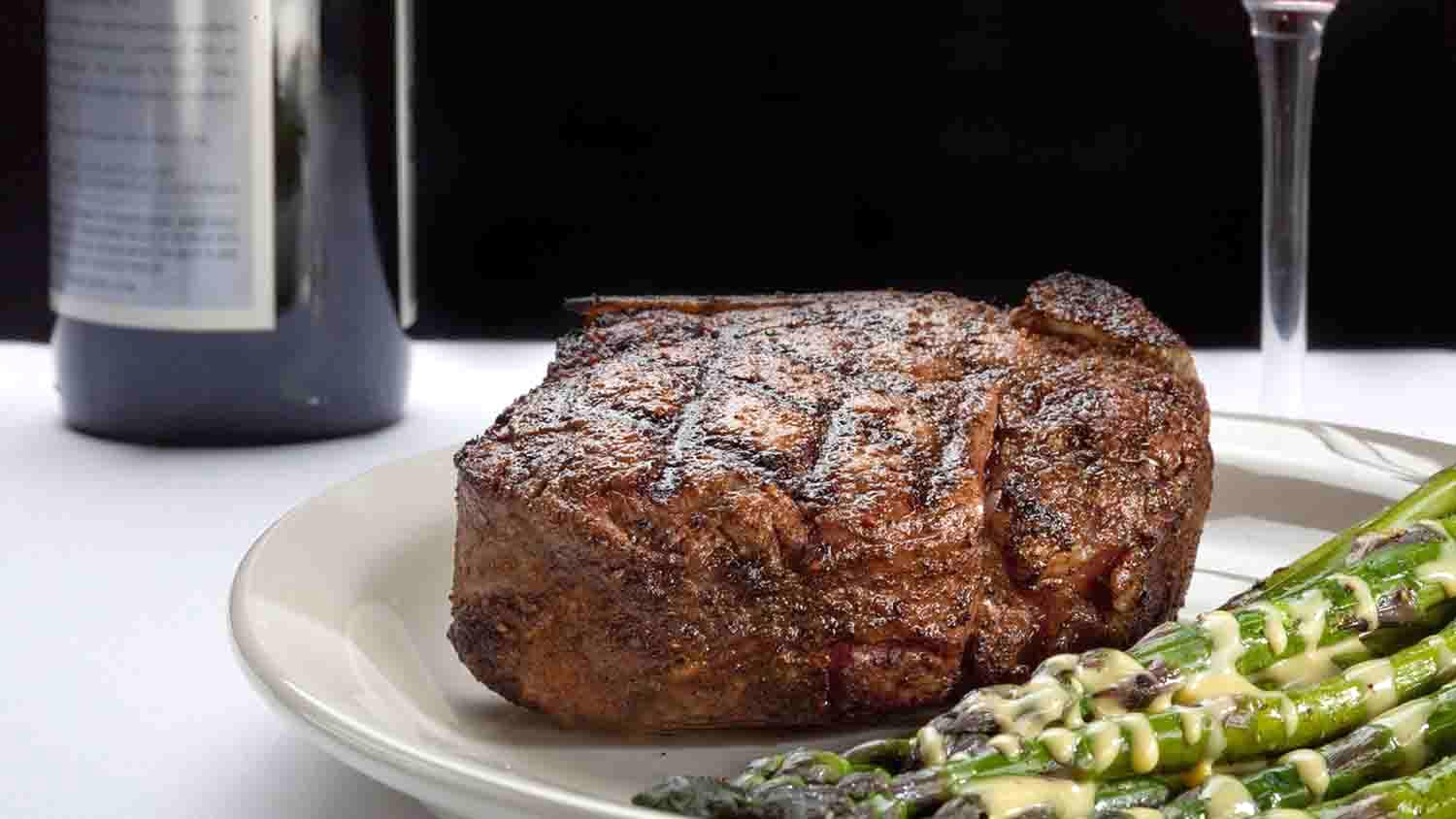 Steaks, seafood, chicken and chops • 127 S. Illinois St., Indianapolis, IN 46225; 317-635-0636, 800-637-1811; bjones@stelmos.com; www.stelmos.com
In 1902, founder Joe Stahr named his new restaurant after the patron saint of sailors. St. Elmo has steered a true course ever since, earning a national reputation for its exceptional food, drink and service (as evidenced by the many photos of celebrity diners that grace the establishment's walls). St. Elmo offers an award-winning, 20,000-bottle wine cellar. Reservations are highly recommended, as is the restaurant's signature shrimp cocktail—a diabolic concoction ranked by the Travel Channel as the "world's spiciest food." St. Elmo was honored in 2012 by the James Beard Foundation when it was recognized as one of America's Classics and by Forbes as one of the world's "10 Great Classic Restaurants Well Worth Visiting." St. Elmo 1933 Lounge on the second floor is an intimate nightspot—a natural extension of the warmth and historic charm of the restaurant below. The exposed brick walls display the exciting images of our society shortly after prohibition was repealed in 1933. Enjoy a signature cherry and vanilla-infused bourbon cocktail while relaxing at the circa 1870s bar, or share an appetizer next to a fireplace that will take you back in time. 1,702 reviews Yelp.
---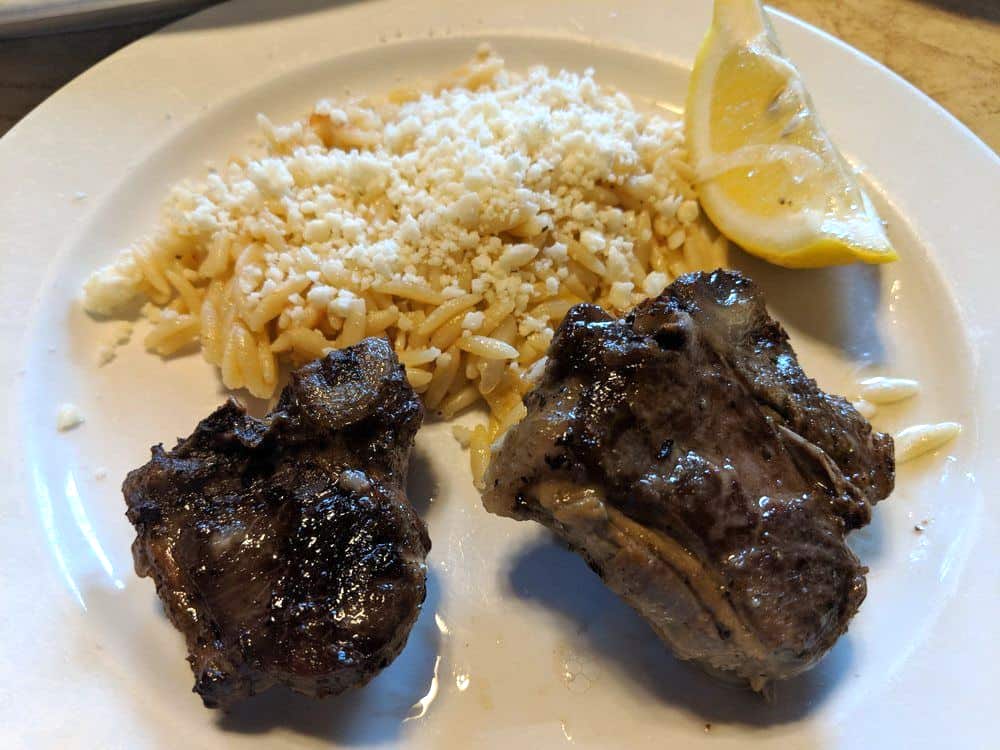 Greek cuisine, shish kabob, chops • $ $ • 906 S Meridian St., Indianapolis, IN; 317-636-0700; www.greekislandsrestaurant.com
The ebullient and larger-than-life Stergiopoulos family dishes up traditional Greek food to a hungry and enthusiastic clientele. There's seldom a dull moment here. A meal at the Greek Islands is often more cabaret than dinner, especially if George is around to personally greet everyone like a long-lost friend. You might get lucky and catch a belly dancing performance hourly on select nights. Established in 1987 and family-owned and operated by the Stergiopoulos family. Authentic Greek food made on-premises with the house specialties including flaming tasty cheese appetizer (saganaki) and souvlaki pork, shish kabob, lamb chops and many more delicious Greek foods. 234 reviews on Yelp.
---
6. Eagle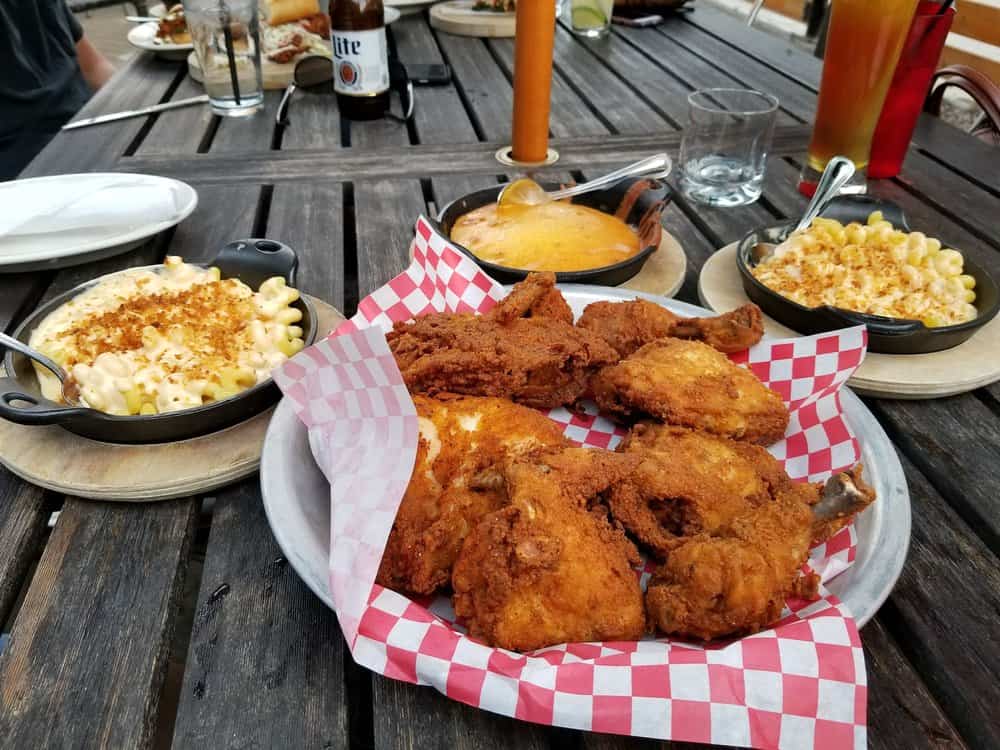 American (Traditional), Southern cuisine • $$ • 310 Massachusetts Ave., Indianapolis, IN 46204; 317-929-1799; www.eaglerestaurant.com
Southern comfort food—huge portions mean that two people should easily be able to split an entree. If you don't like fried chicken, there are several other options on the menu to choose from, like the popular spoonbread and mac & cheese. And get there early, there is always a wait on weekends. 1519 reviews on Yelp.
---
7. Bluebeard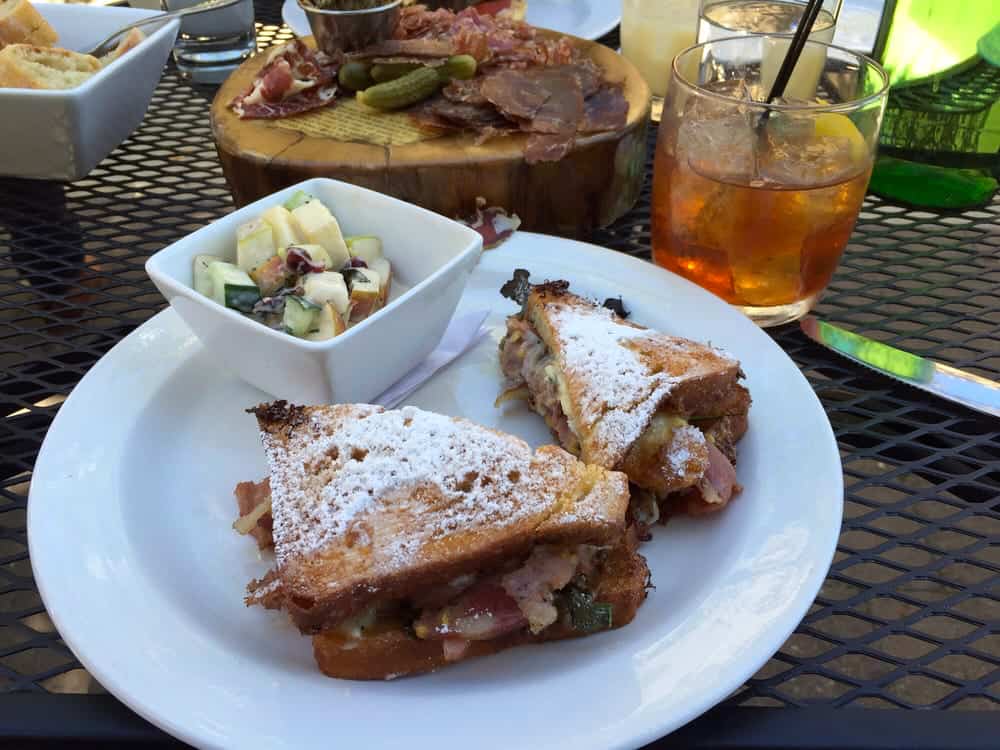 American, sandwiches, drinks • $$ • 653 Virginia Ave., Indianapolis, IN 46203; 317-686-1580; www.bluebeardindy.com
For Charcuterie board lovers. If you love good bread, tasty meat and cheese combos, then you found your spot. Bluebird opens at 5:00 p.m.; by 5:15 it is packed if that gives you an idea of how popular the place is. "This place is for the foodies in Indy and those who can appreciate the art of a phenomenal chef." "Great atmosphere, wonderful artisan cocktails, excellent charcuterie, complex entrees, friendly server (Peter)." 823 reviews on Yelp.
---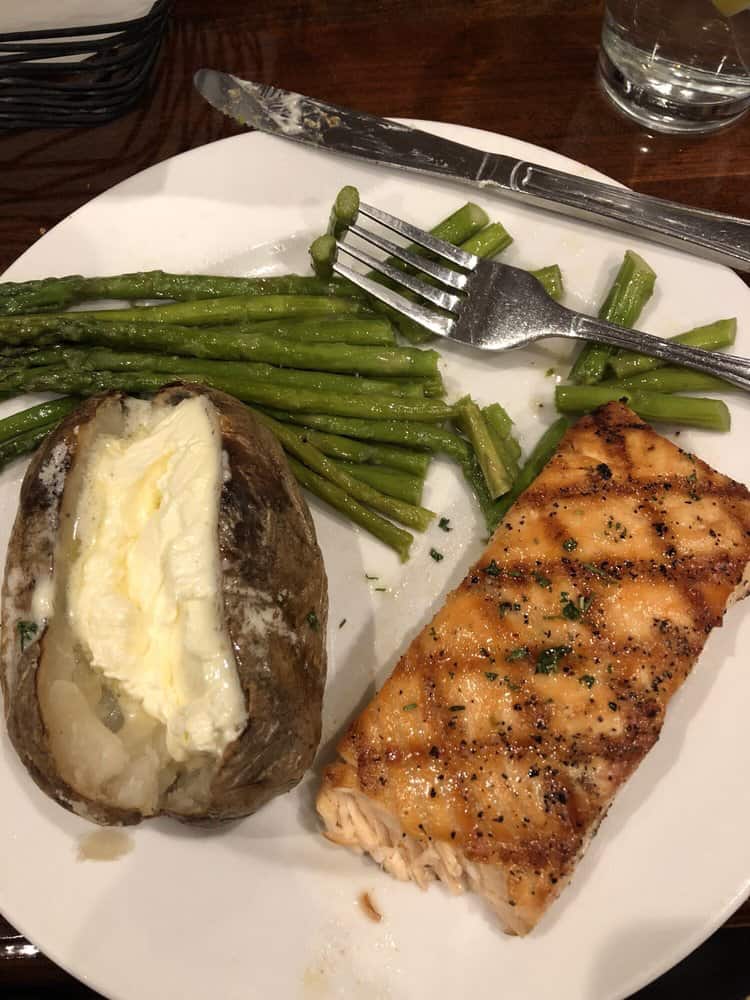 Steakhouse. American • $$ • 2610 S Lynhurst Dr., Indianapolis, IN 46241; 317-983-0973; www.thelibrary-indy.com
The posted comments from patrons were unfortunately mixed, especially when discussing the service and staff attitudes. But the many photos of the delicious-looking food, interesting menu and house specialties, convinced us to cut them some slack and include them here. Basically, the restaurant has remained popular, and in business, for many years. The establishment must be doing enough things right, in order to keep its doors open. Here is a typical review that didn't look manufactured by the restaurant manager. "I had a salad with some steak on it for lunch and it was very good. The steak was delicious and tender. I went back tonight for the prime rib and it was excellent. I had smashed potatoes and green beans as my sides and everything was delicious." Another Yelp comment stated that "the food was wonderful. Wife ordered the mango pork chop and I had the baked walleye. Both were out of this world. Loved it. The French onion soup was pretty delicious as well. Drinks were a little pricey, but had a large list of cocktails, liquors and wines. Def a full bar. Service was average. Service was slow at times, but in all, it didn't waiver our experience at all." 351 reviews on Yelp.
---
9. Ambrosia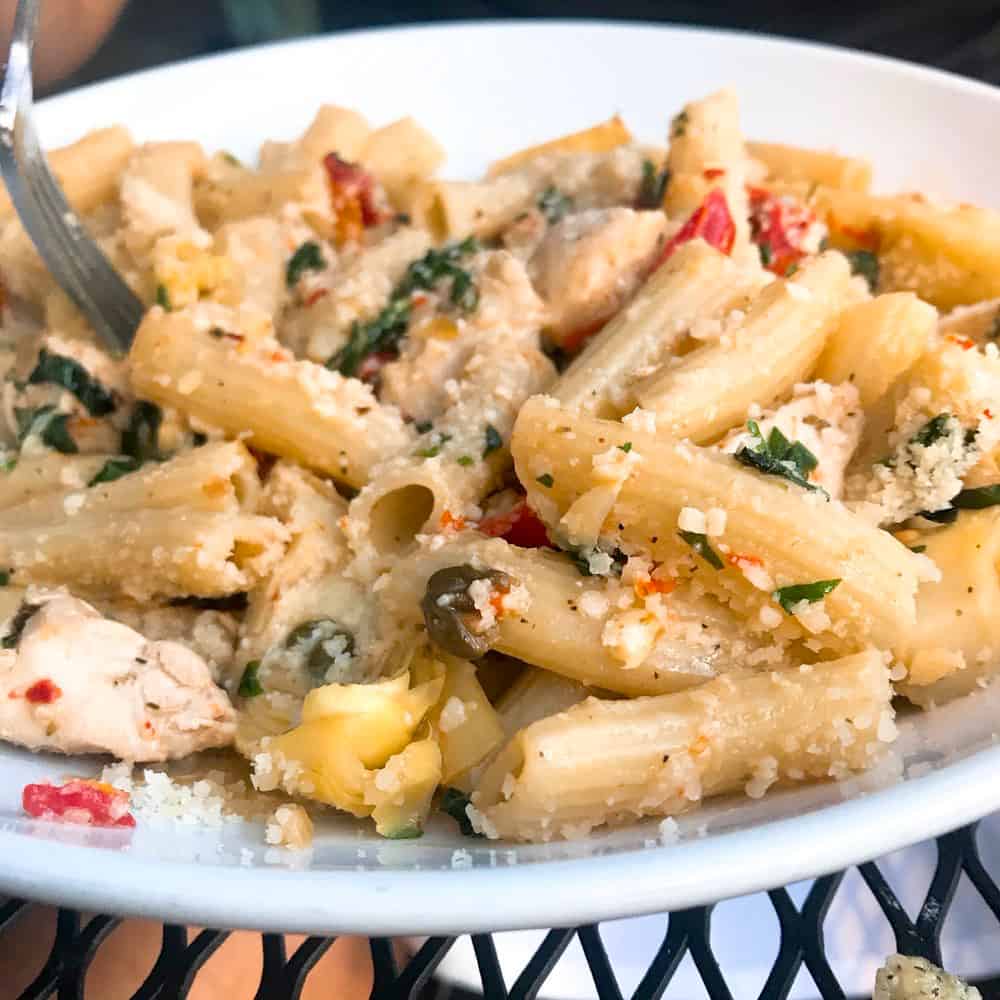 Italian • $$ • 5903 N. College Ave., Indianapolis, IN 46220; 317-255-3096; www.ambrosiaindy.com
A typical Yelp review described Ambrosia's, "Outstanding homemade pasta dishes, which were ample in size. Nice ambiance, though it was a bit loud the night we went. They have a nice wine selection and the service was great. It gives us another Italian restaurant to go to besides Mama Carolla's, which is also tasty." Another helpful review because of the number of diners in their party, praised the pulpo (grilled octopus)."Normally this is my husband's favorite and it's tough to prepare. Ambrosia hit it out of the park with [the] beautiful presentation, great flavor and wonderful texture. For the meal, I ordered the gnocchi with mushrooms. This was exactly what I thought of when I ordered—creamy, well served and deliciously covered in mushrooms. I would order this again and again. The rest of the group was equally pleased with their selections: veal marsala, gambiero (shrimp pasta), and ravioli alla mama (cheese & spinach ravioli with pesto cream sauce). Be sure to ask for a wine and/or cocktail menu as well as the dessert menu. Overall, fantastic service and delicious food. I hope to be there again soon. 142 reviews on Yelp.
---
10. Mama Carolla's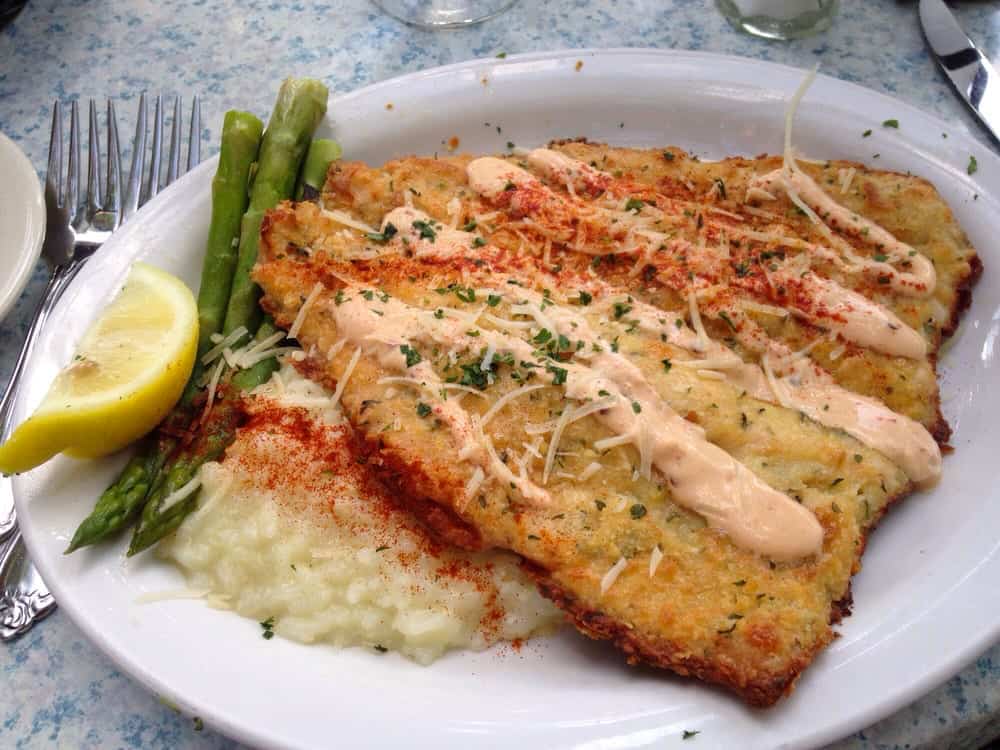 Italian • $$ • 1031 E. 54th St., Indianapolis, IN 46220; 317-259-9412; www.mamacarollas.com
Mama Carolla's was named as the "top romantic restaurant in Indiana" this year by Yelp, despite the complaints on Yelp about having to wait so long to be seated. Maybe that's because everyone in town loves the place, the food, the charming atmosphere, and they always want to eat there? If everyone in town hated the food, there would be no wait, right? Like one Yelper commented, "The candles, twinkle lights, old-Italian-feel is incredibly intimate and special. The food was also super fresh and delicious—clearly handmade." The several hundred posted photos of the food and restaurant clearly show why the establishment is so popular. Another Yelp review noted, "Great Italian food. Excellent service. The atmosphere is fun, and they still have cozie spots to be romantic. The pasta dishes r too die for. Summertime is when the patio opens and it's very quaint." With a local favorite that has been in business for over two decades, this was another typical review: "We started off with the fried ravioli (delicious, fried just enough, and came with a great marinara dipping sauce), the free bread (warm and soft), side salads (the vinaigrette is the way to go) and finally our entrees. I got the clam pasta dish with butter sauce and was thrilled to see a steaming plate with the perfect amount of sauce (the butter was super subtle). The clams were fresh and there were chopped up mushrooms evenly throughout the pasta. It was honestly one of my favorite pasta dishes I've had in years." Need I say more? 486 reviews on Yelp.
---
11. 1933 Lounge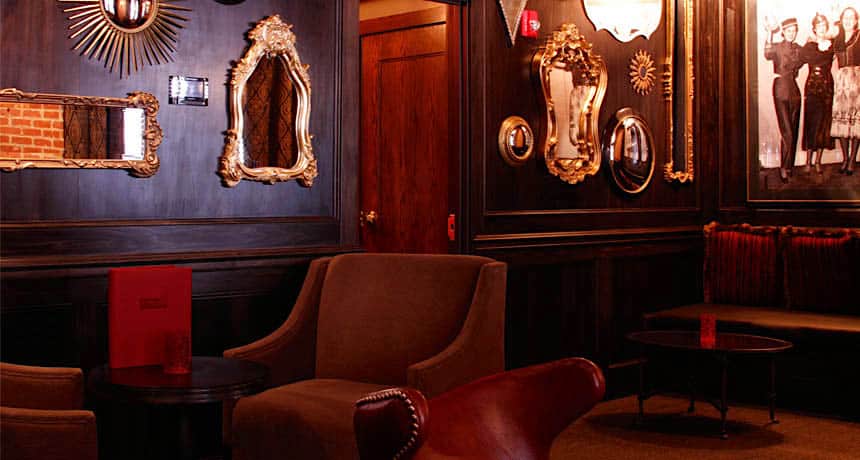 American, dinner & adult libations • $$ • 127 S. Illinois St., Indianapolis, IN 46225; 317-635-0636; http://www.stelmos.com/1933-lounge/
The renovated second floor above the St. Elmo Steak House is called the 1933 Lounge. Serving favorite choices from St. Elmo's menu and classic cocktails like the Signature "Elmo Cola," Russian Mule, French 75, and Dead Man's Boots, the relaxed space is a reminder of the speakeasy. For example, the classic French 75 cocktail that was first made famous in Paris' "Harry's Bar," means the bartender shakes the fruity/floral Nolet's Gin with St. Germain and hand-squeezed lemon juice. Topped with a splash of champagne. Or try a Summer Solstice, made with Hendricks limited edition Midsummer Solstice. "Infused with floral essences and flavors that capture the aromatic intensity of a mid-summer day, it's enhanced with St. Germain, lemon, orange and soda." Sounds like a crowd-pleaser, now that summer has begun. But don't forget to order the World Famous St. Elmo Shrimp Cocktail, made with four juicy jumbo shrimp that are accompanied by their spicy signature cocktail sauce, guaranteed to open your arteries and nostrils with its blast of horseradish. Sounds like it not only works better than Afrin or Nasonex, but it tastes better as well. 120 reviews on Yelp.
---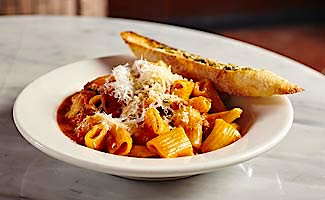 Restaurant & bar, with Italian, Spanish & Mediterranean cuisine influences • $$$ • 49 W. Maryland St., Indianapolis, IN 46204; 317-974-0400; https://palomino.com
Located in downtown Indianapolis, the Palomino is your local, European-inspired restaurant and bar, with Italian, Spanish and Mediterranean cuisine influences. If you are craving artisan pizza, rustic locally-sourced pasta with homemade sauces, upscale seafood and thick steaks, this should fill the bill. They locally source many ingredients for their fresh made-to-order fare with convenient ways to dine. And if you love good soups, the Portabella Mushroom Soup has received excellent reviews. 364 reviews on Yelp.
---
13. Eagle's Nest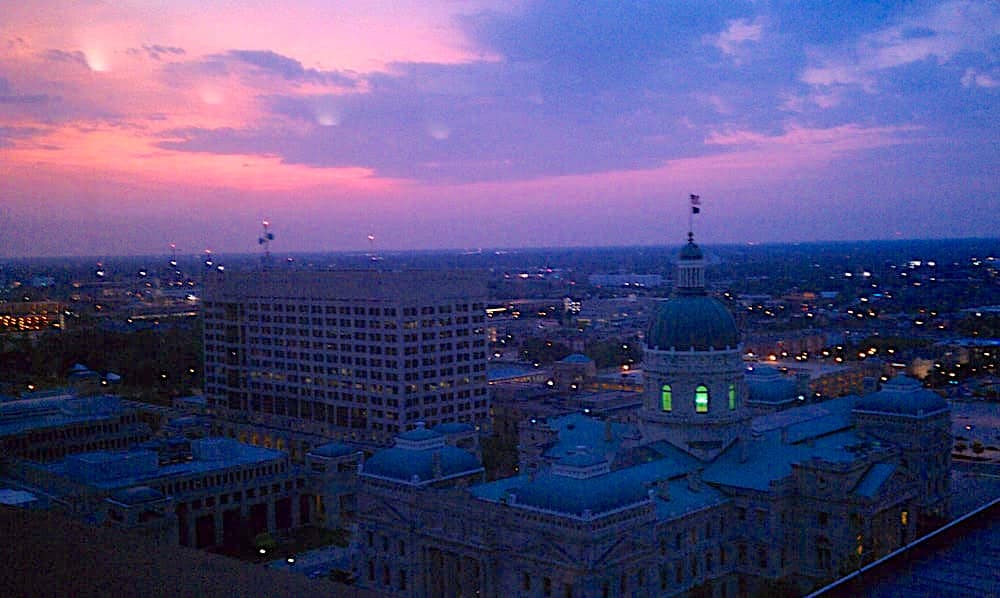 American (Traditional) • $$$ • 1 S. Capitol Ave. (atop the Hyatt Regency), Indianapolis, IN 46204; 317-616-6170; www.indianapolis.regency.hyatt.com
It's the revolving restaurant atop the Hyatt Regency Hotel, which many reviewers claimed had the best dining views in town. Although it did receive many mixed reviews, to be honest, it deserved to be included here since it did receive many good reviews, and because of its one-of-a-kind impressive location. A typical good review noted: "Lots of great views. Service was excellent and food very good. My pork chop was tasty and enormous. My wife had a fine lobster tail. Great seafood chowder. Our server was accommodating with our requests. Pricey, but worth it." There were a number of other good reviews, such as this one: "Was hesitant of coming for dinner based on a number of reviews, but I have to say the food was delicious. The lemon chicken had a cilantro sauce that has a special flavor and their prime rib was very flavorful. Definitely recommend it! Plus the view was spectacular. On the other hand, this was a typical poor review: "The food was not worth the price either. The steak was dry and unseasoned before cooking and the prime rib was dry and tough. The best part of the dinner was the appetizer shrimp." Another point of view was from this dad: "The service was horrible, we waited 75 minutes before we were served our dinner only after I approached the maitre de about our wait time. My food was cold, my wife's steak was cold, my kid's noodles had sat so long they became cold and gummy. Overall, for the money we spent, this has to be one of the worst dining experiences ever. If I could rate in the negative I would." Ouch. 206 reviews on Yelp.
---
14. Beholder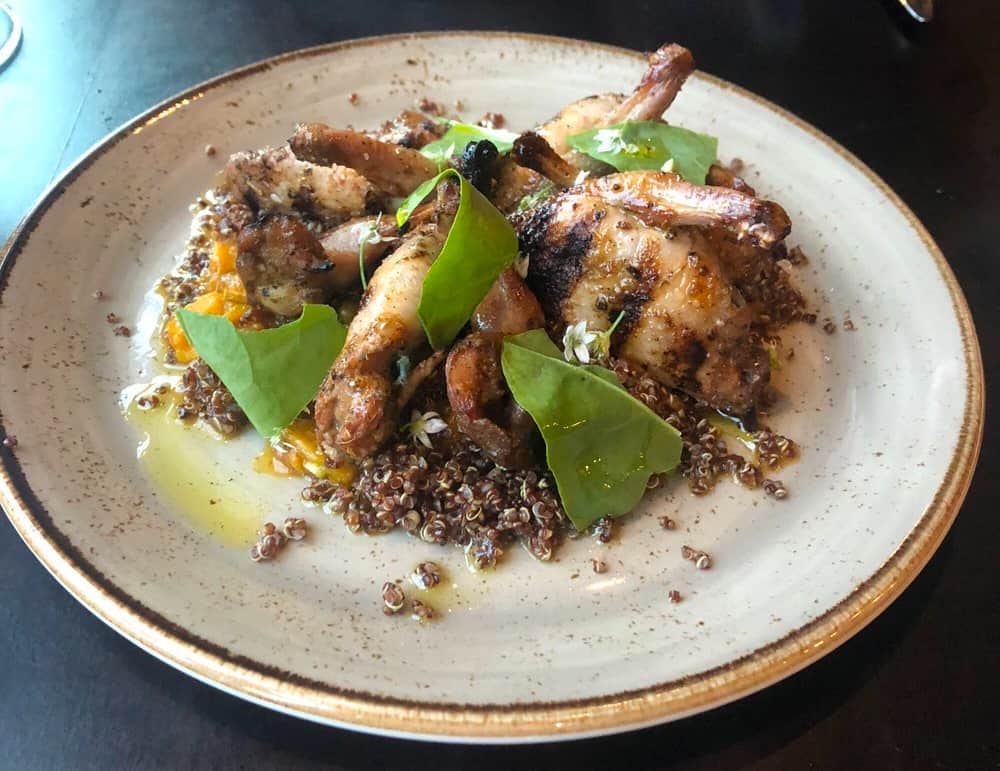 Experimental American (New) • $$$ • 1844 E 10th St, Indianapolis, IN 46201; 317-419-3471; www.beholderindy.com
Although Beholder hasn't accumulated nearly as many Yelp reviews as the other places we reviewed, they were uniformly solid and very detailed. A typical review was this one: "The food is where our visit really shined. Beholder is in the top tier of what Indianapolis' food scene has to offer. Dishes were artfully executed, unique, and very flavorful. A couple of the stand-out options for me were the pork belly rillons and the Behold our Burger. The rillons are like thick bacon, with all the richness and flavor you'd expect with pork belly. The sweet sauce that accompanied them was what really made it pop. I support what our waitress said when she recommended it. It tastes like breakfast. Usually, at an upscale restaurant like Beholder, I would steer away from the burger option if that is even an option. I'd counsel you differently here. The chef has really put in some effort to offer you a truly wonderful spin on the flavor of his signature burger. Everything is there that you'd expect from a burger, but also so much more. The combination of the spice blend in the patty, mahon cheese, and garlic mayo made for a very special burger that I won't forget soon. 107 reviews on Yelp.
---
15. Geraldine's Supper Club & Lounge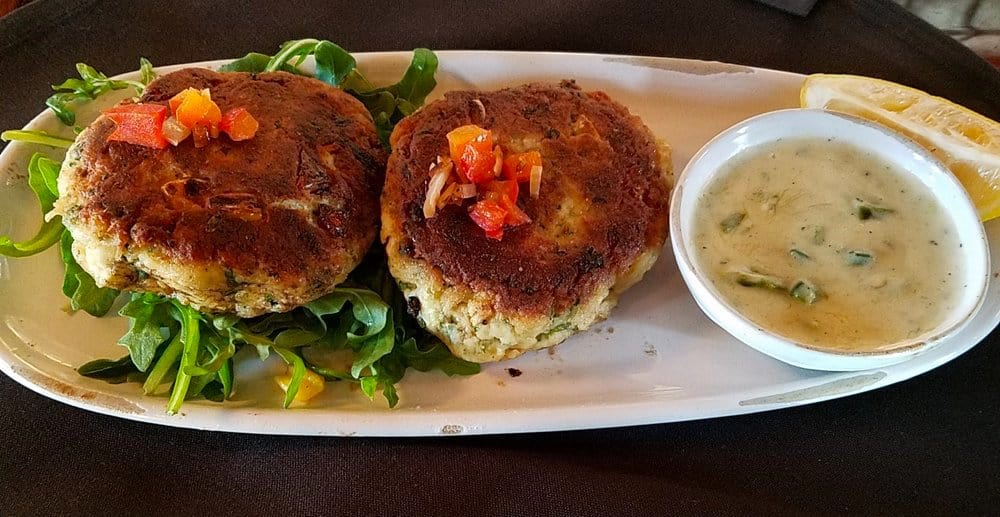 Steakhouse, Cocktail Bar, Seafood • $$$ • 1101 English Ave., Indianapolis, IN 46203; 317-600-3336; www.geraldinesindy.com
Uniformly solid reviews were posted on Yelp, with this one being typical: "Fantastic dining. The food is excellent. My husband & I shared the Chateaubriand and it melted in our mouths. One of our friends had the scallops and said it was superb. Service from Holly & Johnny and all of the staff was wonderful. Johnny suggested the chocolate martini for dessert and we were glad we listened to him. Meal was topped off with a Creme Brûlée that was the very, very best I've ever had the pleasure to savor. It's a delightful supper club and yes I'll return. If you have the opportunity to, do it. Truly a fine dining experience. 80 reviews on Yelp.
---
Alice Sabedra
Events Manager
310-802-7811
alice@stnmedia.com