FAIRBANKS, Ark. – Durham School Service (DSS), a leader in student transportation, is proud to share that its team member Ed Simon, technician, has become the Company's very first Automotive Service Excellence (ASE) Master Technician in Alaska. ASE Master Technicians are experts in their field and are described by ASE as the "best of the best"— the gold standard for technicians across the United States. To become an ASE Certified Technician, a technician must complete one or more individual certifications. Upon achieving the first level of certification, a technician can then achieve ASE Master Certification by earning all certifications in their vehicle class and passing a series of rigorous testing.
Ed has worked for Durham School Services as a technician since July of 2021 and has over five years of school bus maintenance experience under his belt.
"Achieving Master Technician status is one of the proudest moments in my career because it is indicative of the hard work and effort I put into my craft as a school bus technician," said Ed Simon, Technician at Durham School Services' Fairbanks location. "Being recognized for that by ASE and the Company is a huge career milestone. I hope to inspire, mentor, and share my knowledge and experience with my fellow peers so that we can continue to deliver on our promise of getting students to school safely and reliably."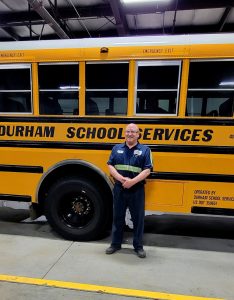 "Ed's achievement as our first ASE Master Technician in the state of Alaska is momentous and inspirational for our team," said Will Leach, Maintenance Supervisor. "Becoming a Master Technician is no easy feat and a highly coveted title because it indicates that you are at the forefront of industry standards and the expert in your field. Ed has achieved this in one of the most challenging geographies and environments in which to work. Having Ed on our team, while the rest of our technician team also works toward achieving that same prestigious recognition, illustrates just how ambitious and keen the Durham team is in wanting to hone and elevate their expertise and skills."
About Durham School Services: As an industry-leading student transportation provider, Durham School Services is dedicated to the safety of our students and People, transporting more than *one million students daily and employing approximately 20,000 drivers across North America (*Pre-COVID Figures). For more than 100 years, we have been committed to Excellence and upholding our mission of getting students to school safely, on time, and ready to learn. Through this mission and a grassroots approach to our operations, Durham School Services has earned recognition as a trusted transportation provider among our Customers and the Communities we serve.