SOUTHGATE, Mich. – National Express LLC (NELLC), is proud to share that eight of its team members from its Durham School Services (DSS) and Trinity Transportation operations have received the 2023 Wayne County Excellence in Transportation Award. This annual community award is peer nomination based and is awarded to individuals who have demonstrated service excellence and dedication to their students and community. Over 90 nominations were submitted, and a total of 33 individuals were awarded.
NELLC winners are as follows:
Durham School Services: Pece Dimoviski – Northville, Melissa Nelson-Burke – Redford Union (not pictured), Lee Tabb – Northville, Steve Williams – Plymouth-Canton.
Trinity Transportation: Patrick Green – Detroit West (not pictured), Tracey Hoepfner Grosse Ile, Lynn Sheehan – Grosse Ile, Theda Steele – Detroit East.
Award winners were honored and presented with their awards at a banquet where family, friends, and fellow team members were in attendance.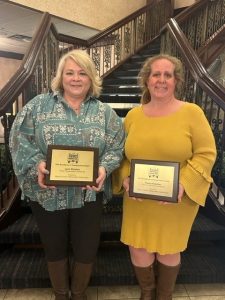 Pictured: Award winners Lynn Sheehan and Tracey Hoepfner (Trinity Transportation)
"When I heard the news of how many of our team members were selected as award winners, I was not surprised at all," said Sho Kalache, Regional Manager of Trinity Transportation. "I've heard time and time again from our general managers about how they have the best team members. Their work ethic, sense of responsibility, and dedication to their students are unbeatable, and I am grateful that Wayne County recognizes these efforts. Award aside, every bus driver deserves to be recognized and appreciated. They are truly the unsung heroes in our communities."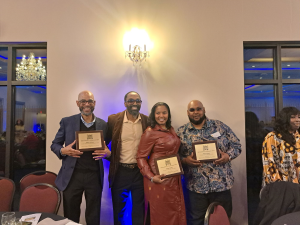 Pictured: Award winner Steve Williams (DSS), fellow team member Dennis McKinney, Theda Steele (DSS), and Patrick Green (Trinity Transportation)
"We have some of the best team members here in Michigan, and the recognition from Wayne County is proof of that," said Sheldon Stewart, Regional Manager of DSS' Michigan area. "Like Sho, I was not surprised to hear that eight of our team members were named award winners. They take full pride in their work and understand the vital role they play in providing their students an opportunity to receive a well-deserved education. Their dedication is truly laudable, and I commend them."
About National Express:
National Express LLC (NELLC) is the North American subsidiary of National Express Group, PLC, one of the premier transportation firms in the United Kingdom. We operate across 34 states and three provinces. All organizations share a strong commitment to provide the highest level of transportation safety, quality transportation, outstanding customer service and positive employee relations. National Express School (NEXS) operates more than 21,000 school buses, serves more than 550 school districts in 34 states and three provinces, and transports more than 1.3 million students (*pre-Covid) on a daily basis. National Express Transit (NEXT) operations transport more than 22 million passengers annually with more than 2,800 vehicles. National Express Shuttle (WeDriveU) serves more than nine million corporate and university passengers annually. NELLC's corporate headquarters, located in Lisle, Illinois, houses the administrative and corporate support functions for the organization. Our 290+ local customer service centers (CSCs) are supported by regional operations teams located throughout North America.