ATLANTA — The Georgia Department of Transportation (GDOT) has installed new system from Applied Information to improve road safety in school zones across Georgia, with the company's smart beacon product, powered by AT&T connectivity. Georgia is the first state to deploy Applied Information's IoT technology for school districts statewide.
The unique program connects school zone beacons—those flashing signs that are intended to slow drivers down as they pass by a school—to the Internet of Things (IoT). That will make them more reliable and more responsive in the event of a change of schedule caused by inclement weather, biannual time changes, holidays or other disruptions.
The Glance School Zone Beacon System was developed by Applied Information, in collaboration with AT&T for secure wireless connectivity and Temple, Inc., for installation and maintenance. The technology is being installed at more than 300 schools in 118 Georgia counties in time for the first bell of the 2018 school year.
Each smart beacon has its own cellular modem to handle all communication, which enables traffic engineers using their smart phone or tablet to determine if the beacons are operating correctly. If not, it will instantly alert the appropriate resources in the event of lamp or battery failures. AT&T's 4G/LTE mobile network will power the smart beacons, while AT&T's IoT platform, AT&T Control Center, will be used to manage the solution on the back-end.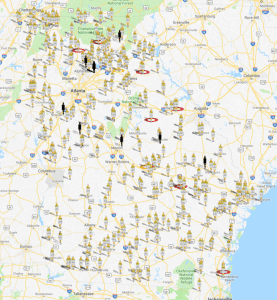 "Making school zone beacons smarter is a perfect example of how we can use connected technology to improve safety on our roadways," said Bryan Mulligan, president of Applied Information, Inc. "GDOT is to be commended for taking the lead to improve safety around school zones on such a large-scale and in such a short amount of time, to be prepared for the new school year.
"Mobile technology is becoming more integrated into existing traffic equipment, to help make school zones safer for school children and drivers," said Mike Zeto, VP of AT&T IoT Solutions and General Manager of Smart Cities. "Our initiative with Applied Information is a great example of our growing effort in public safety to help cities become safer and more connected to their citizens."
The Applied Information and AT&T collaboration provides a complete suite of Glance Smart Cities connected transportation technologies. Those include: emergency vehicle traffic signal preemption, bus rapid transit signal priority, connected crosswalks, smart school zone beacons, connected traffic calming device and the TravelSafely smart phone app.
About Applied Information
Applied Information is the industry-leading developer of Smart Cities, which are connected intelligent transportation system (ITS) solutions that are designed to save lives, improve traffic, drive commerce and help the environment. Applied Information's Glance Smart City Supervisory platform enables cities to manage all of their traffic and ITS assets on one web-based application. Key product areas are: traffic signals, school flashers, emergency vehicle preemption, transit and freight priority and ITS systems. AI's TravelSafely smart phone app connects drivers, cyclists and pedestrians, plus the transportation infrastructure, for a safer mobility experience. www.appinfoinc.com