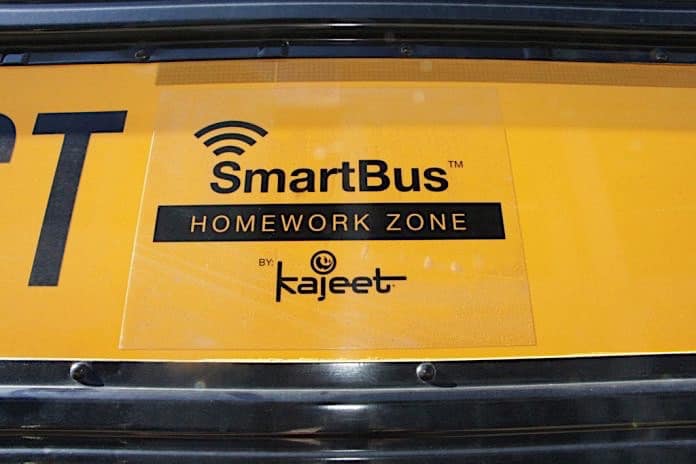 MCLEAN, Va. — Kajeet, the industry leader for safe, affordable K-12 mobile solutions, announces its expanded Kajeet SmartBus offerings, creating a completely Connected Bus for school districts. In addition to filtered school bus Wi-Fi and Global Positioning System (GPS), Kajeet SmartBus solutions now include: Push-to-Talk (PTT), Camera Offload, and Intelligent Sensors.
The new features are sold in conjunction with hard-installed Kajeet SmartBus routers for new and existing customers. These expanded features to help improve bus rider safety include:
PTT: Safe, easy-to-use handsets provide the path for instant communication between Dispatch and bus drivers. With one push-to-talk button, drivers stay focused on the road, but can remain in communication with their K-12 transportation departments.
Camera Offload: Automatically download video camera data from DVRs on the bus to school district servers, saving time from physically collecting this information on school buses to easily view and address any incident that occurs on the school bus.
Intelligent Sensors: Sensors and switches provide transportation administrators real-time notifications of events taking place on school buses in their fleet via a system of automated alerts (i.e. Silent Alarm).
Today's school buses are more than just vehicles to transport students. The existing Kajeet SmartBus solution turns buses into mobile classrooms where students can continue to learn, work on homework, and collaborate with peers by connecting to CIPA-compliant, educationally-filtered 4G LTE Internet on any of the six North American wireless carriers. The Kajeet Connected SmartBus™ takes that Wi-Fi for students and expands it to connect more technology to ensure a safe bus ride.
"Kajeet is thrilled to announce the expansion of our current Kajeet SmartBus offering to provide additional technology helping keep students and drivers safe, by connecting the bus to their transportation teams," said Kajeet CEO and founder Daniel Neal. "The Connected Bus is the idea of a completely connected school bus, bringing these vehicles into the future to ensure Dispatch is in the loop even when they're not on the bus."
The Kajeet SmartBus solution is used in over 150 school districts across the U.S. and Canada, providing access to six 4G LTE North American wireless carriers. To learn more about the Kajeet SmartBus, please visit www.kajeet.net/smartbus.
About Kajeet
Kajeet, the industry leader for safe, mobile student Internet connectivity, powers the K-12 connected environment. Paving the way for student and teacher success, our secure Kajeet Sentinel platform centrally manages and enables safe, online connectivity and visibility into learning. Manage student mobile devices anywhere to create an ideal learning environment. Extend the school day with Wi-Fi on the bus and Internet access outside the classroom. From school to home, Kajeet has mobile covered. Kajeet products and services, which operate on six North American wireless carriers, are protected by the following issued U.S. patents: 10,057,300; 10,009,480; 9,237,433; 9,137,389; 9,137,386; 9,125,057; 8,995,952; 8,929,857; 8,918,080; 8,774,755; 8,774,754; 8,755,768; 8,731,517; 8,725,109; 8,712,371; 8,706,079; 8,667,559; 8,644,796; 8,639,216; 8,634,803; 8,634,802; 8,634,801; 8,630,612; 8,611,885; 8,600,348; 8,594,619; 8,588,735; 8,285,249; 8,078,140; 7,945,238; 7,899,438; 7,881,697. Other patents are pending. kajeet.com