MADISON, Ind. – Rotary, North America's largest lift manufacturer, will feature industry-leading mobile column, platform and inground lifts for the transit industry at next month's APTA Expo. Rotary will also introduce its heavy-duty wheel service equipment in booth #3469. APTA Expo will be held Oct. 9 – 11 at the Georgia World Congress Center in Atlanta.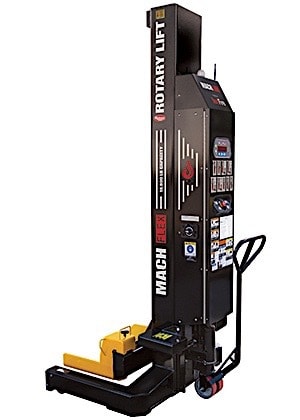 "APTA Expo is an exciting opportunity for Rotary to demonstrate our Buy America-compliant and game-changing products to the transit market," says Doug Spiller, Rotary heavy-duty product manager. "Agencies have unique issues with low-floor and hybrid buses, and our cutting-edge vehicle lifts can solve problems, improve productivity and efficiency in their facilities. The addition of wheel service equipment to our line-up means agencies can get what they need from a single supplier."
Expo attendees can check out these new products in the Rotary booth:
The industry's only wireless remote-controlled mobile column lifts, the Mach™ Flex powered by RedFire™, provides unprecedented visibility when lifting long vehicles.
The V-REX vertical rise, drive-on platform lift designed to take on the biggest, heaviest vehicles without a whimper
A patent-pending precast concrete vault system that makes it possible to install inground hydraulic lifts faster and in difficult soil conditions
The MOD35 environmentally friendly inground lift, the world's best-selling heavy-duty inground lift family, is the workhorse for the transit industry
The compact R501N Speed Changer HD tire changer that enables a technician to dismount and mount a truck tire in just 30 seconds.
The versatile R544 Pro Truck 2D wheel balancer, with self-calibration and self-diagnostic features to handle any wheel in a bus garage.
To learn more about Rotary's full line of heavy-duty vehicle lifts and wheel service products, stop by Rotary booth #3469 at APTA Expo, visit www.rotarylift.com, contact your local Rotary distributor or call (800) 640-5438. You can also find Rotary on Facebook, facebook.com/RotaryLift and Twitter, twitter.com/RotaryLift. Videos are available at rotarylift.com/videos.
About Rotary
Rotary is the leading brand of vehicle lifts and wheel service equipment in North America. Rotary was founded in 1925 by the inventor of the first automotive hydraulic lift and now offers the broadest line of lifts and wheel service equipment for use in professional automotive service, commercial truck and transit applications. Its products include two-post, four-post, inground, scissor, mobile column, parallelogram, and platform lifts, as well as alignment lifts and instrumentation, tire changers, and wheel balancers.
Rotary is a Vehicle Service Group (VSG) brand. VSG is a strong, diverse and dynamic global leader in the vehicle service industry. It comprises 13 major vehicle lifting and collision repair brands: Rotary, Chief®, Forward®, Direct-Lift®, Revolution®, Hanmecson®, Ravaglioli, Elektron, Blitz, Nogra, Butler, Space and Sirio. With its American headquarters in Madison, Indiana, VSG has operations worldwide, including ISO 9001-certified manufacturing centers in the U.S., Europe and Asia. Rotary products are available through GSA contract #GS-07F-8953D and several other government procurement programs, including NASPO ValuePoint (formerly WSCA-NASPO), NJPA, HGACBuy, CMAS, TXMAS, KCRPC and OGS.