As the school year starts up, school districts and law enforcement are reminding drivers and students of back-to-school safety.
While school districts are creating safety school bus videos (see the related link below), law enforcement and law officials are taking a different approach by posting on social media and campaigning at school zones.
The Champaign County Sheriff's Office located in Urbana, Illinois posted on its Facebook Page some School Bus Safety Tips that it said everyone needs to be aware of.
While driving, the page stresses stopping for school buses that are loading or unloading children and obey all traffic laws while in a school zone. While at school or school events, the page recommends being aware of your environment—if you see something suspicious, say something. And, know the laws regarding weapons, electronic devices and social media at your district.
In Seminole County, Florida north of Orlando, the Sheriff's Office held a Shop with the Sheriff's Office Day. The 14th annual event was held at a local Walmart, where 280 children were able to shop for back-to-school clothes while building positive relationships with law enforcement officers, the Sheriff's Office Facebook page reported.
The Sheriff's Office also held in conjunction with Safe Kids Seminole County Coalition, a Safe Kids Day at the Sanford Mall. The free event featured activities, vendors and informational booths for families about back-to-school child safety.
The Evansville (Ind.) Police are reminding motorists via Twitter to stop for school buses, and for motorists to be aware and slow down.

Also in Indiana, the Indiana Criminal Justice System is offering the Stop Arm Violation Enforcement (SAVE) grant, which is a coordinated effort to improve compliance with school bus stop arms. The program is designed to encourage collaboration between law enforcement, school corporations and school bus operators.
Applications may be submitted through Sept. 15, 2109. The goal, organizers said, is to support and provide safe transportation routes to and from school for students of all ages in Indiana. The program aims to prevent violations, by assigning officers to follow school bus routes and ticket motorists who illegally pass while students are loading or unloading.
---
Related: Research Shows Potential Scope of 2018-2019 School Bus injuries & Fatalities
Related: Back to School Preparation
Related: Watch: Back to School Prompts Wave of School Bus Safety Videos
Related: School Bus Driver Killed on Way to First Day of School
Related: New Federal Bill Adds Fire Suppression Systems to Call for Seatbelts
---
Michigan state Sen. Roger Victory also highlighted the importance of school bus safety on his social media account. Victory stated that as school begins, more school buses will be on the roads, and he wants to ensure school bus safety.
#BackToSchool – that means the school buses will be on the roads. Be aware, follow the safety rules & let's ensure Michigan has less school bus accidents. #schoolbussafety #OttawaCountyMI pic.twitter.com/NYNhaQU6UQ

— Sen. Roger Victory (@SenRogerVictory) August 21, 2019
Meanwhile, the Michigan Office of Highway Safety Planning posted a picture on Twitter that said school buses are like traffic signals.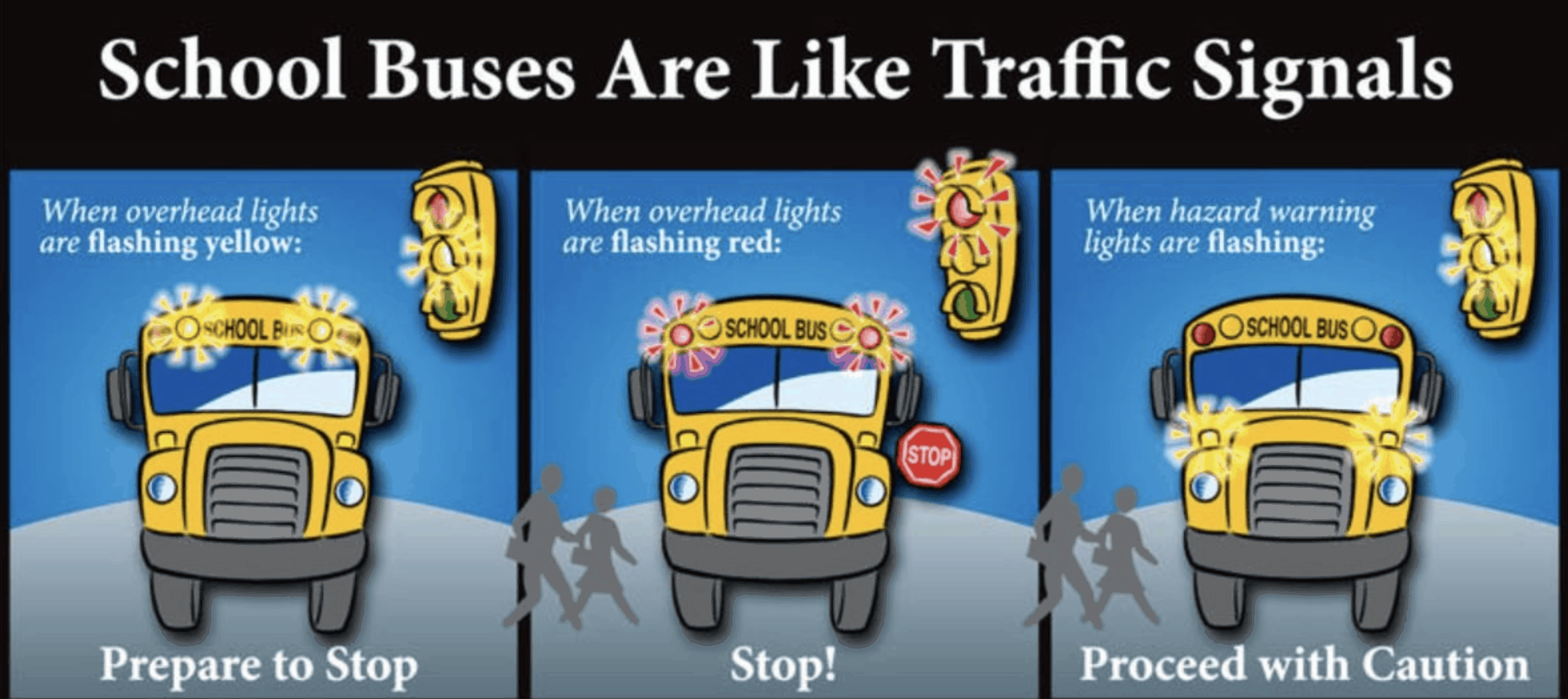 The method of broadcasting this message varies, and these are only a few of the Public Service Announcements that School Transportation News found online, but the reminders remain similar. Be extra cautious in the school zone, around school buses and know the rules when driving, they recommend.
With the spike in fatalities and injuries in school bus loading and unloading zones, more states are signing into law additional fines and penalties for drivers who illegally pass a school bus.
Editor's Note: The featured video states that "seatbelts are not needed due to compartmentalization," according to the Kentucky Department of Education. However, STN has published several articles on the impact of seatbelts and their increased implementation at school districts nationwide. Recent National Transportation Safety Board crash investigations and industry crash tests have concluded that compartmentalization is not completely effective in all types of crashes, especially side-impact and rollover crashes. Read more on the implications of seatbelts at stnonline.com/tag/seatbelts.