Research indicates that only a fraction of 1 percent of all students who ride the school bus to and from school were injured in crashes that occurred during the 2018-2019 school year.
School Transportation News collected school bus crash data from Aug. 1 to June 30 from various local online media outlets, to confirm the number of children who are injured in a given school year. This data reported here is not the result of a scientific study.
Of the 1,365 crashes that were reported to have occurred this past school year, there were at least 2,551 injuries to both school bus student passengers and passengers in other vehicles that were involved in the crash. According to data that STN collected, 1,726 of these injuries occurred to children who were riding on the school bus. However, most injuries were reported to be minor.
According to the American School Bus Council, 26 million students ride a school bus each school day to and from class in the U.S. STN then extrapolated that 600-thousandths of 1 percent of all students who ride the school bus were injured last school year.
That conclusion again confirms various federal government and industry assertions that yellow school bus transportation has the safest record of any form of ground transportation for students. However, that doesn't mean the record can't be made even safer.
Based on National Highway Traffic Safety Administration data, the National Safety Council (NSC) reported there were 3,000 injuries to school bus passengers and 1,000 injuries to school bus drivers in 2017.
STN found that more than half of the school bus-related crashes it located via Google News searches were either the fault of the other driver, or there was no blame assigned. Out of the 1,365 reported crashes, 226 (16.5 percent) were found to be the fault of the school bus driver, school district or private bus company. The reasons cited included mechanical or medical issues that happened while the bus was in operation.
STN also found that weather and road conditions were a factor in many crashes, especially during the winter months. Jeff Cassell, founder and senior advisor to the School Bus Safety Company, told STN that he believes the fault of a crash should never be attributed to weather. Instead, these crashes are due in part to driver error and not knowing how to drive in various weather conditions.
School Bus-Related Deaths Detailed
A total of five students, plus one adult volunteer and five bus drivers, were killed while riding a school bus the last school year, the wire reports show. That figure is similar to NHTSA data that indicates an average of four to six children are killed each school year while riding the school bus.
In August 2018, 11-year-old Terry Bryant was struck and killed in Florida after stepping off the school bus and walking up the street. The boy was waiting for the traffic to clear-up before crossing and waiting, plus, no sidewalk was present.
In September 2018, an 8-year-old girl in Missouri was waiting to board a school bus when she was struck by a vehicle, which then left the scene of the accident. Destiny P. Chambers was crossing the roadway to her bus, which was waiting with lights flashing and its door open.
Also in September 2018, a three-vehicle accident in Pennsylvania killed 35-year-old bus driver Sarah Katherine Slovinksy.
Elsewhere, a 12-year old student, Jazmine Villareal, was killed in October 2018, after her school bus rolled into a ditch and caught fire in Texas.
The month of October 2018 alarmed many industry professionals, as three Indiana siblings were killed in one day by an illegally passing motorist. In that case, 6-year-old twins Xzavier and Mason Ingle, plus their older step-sister, Alivia Stahl, 9, were killed while attempting to board their school bus. The stop-arm was activated when a driver sped past the school bus, hit and killed the children.
A day prior to the Indiana deaths, a 10-year-old boy in Georgia died after being hit by an illegally passing vehicle while crossing the road to board his school bus. Noah Palmer and his brother were both struck, but his brother survived.
In Mississippi, another student, 9-year-old Dalen Thomas, was hit by a truck while trying to board his school bus. The stop-arm was activated at the time.
Also in October 2018, a school bus driver in New York suffered an unspecified medical episode and lost control of the school bus, causing it to hit parked cars. The 63-year-old bus driver, Kam Po Lau, died, but students were not riding on the bus at the time of that crash.
And again in October, a district mechanic for Pulaski County Special School District in Arkansas was killed after being run over by the school bus he was driving. Read more on Jason Johnson in the Garage Stars 2019 feature in the August issue.
In November 2018, a 7-year-old boy in Pennsylvania was found dead at his bus stop by a reported hit and run. The name of the child has not been released.
In December 2018, a five-year-old boy Silus Hunsinger was hit by a pick-up truck while crossing the road to his school bus stop in front of his home. The school bus had not yet arrived on the scene.
Then four deaths on a school bus took place in December. Those began in Arkansas, where a charter school bus left the road and flipped over, killing 9-year-old Kameron Johnson. And in Indiana, 13-year-old John Grolich was killed after his school bus was rear-ended by a tractor-trailer while it was stopped at a railroad crossing.
Also in the midwest, a school bus was hit head-on by a semi-truck in Illinois, killing 72-year-old volunteer Charles Crabtree.
Additionally, in North Carolina, a school bus driver suffered a medical event and crashed the school bus into a building. No students were on board at the time. However, the driver, whose name and age were not released, died as a result of the medical emergency and not the ensuing crash.
Then in January 2019, a school bus in Texas was struck by a train while crossing some railroad tracks. In that violent incident, Christopher Bonilla, 13, was ejected and declared dead at the scene.
Also in January, 75-year-old bus driver Thomas Leed died of a heart attack while driving and crashed into parked cars. No students were on the bus.
And again in January, 4-year-old Gabriella Curry was walking on the sidewalk outside of a nearby high school when she was struck and killed by an SRO officer who was attempting to park on the roadway. Curry was the daughter of one of the bus drivers. That same month, 12-year-old Alana Tamplin was hit as she walked home from taking her younger sister to a school bus stop in Florida.
Then in Pennsylvania in January, 11-year-old Mark Fick was killed after being hit by a car while he was sitting on the edge of the road and waiting with siblings for his school bus. The driver reported that glare from the sun obstructed his view of the students.
In March 2019, 12-year-old Rhindi Isaacs was killed when an SUV crashed into her Oklahoma school bus and ignited a fire.
Also in March, Layla Aieken, 8, was struck by a motorist while she was sitting on the edge of the roadway awaiting her school bus in Florida. The motorist reportedly fled the scene.
Then 15-year-old Crystal Garcia was walking home from her bus stop in Texas when she was struck and killed. Also in April 2019, a New York student, 7-year-old Cameron Brown, was killed when he walked behind the school bus and was struck by a van, which pinned him against the school bus.
In May 2019, a North Carolina Student, 8-year-old Ayanna Ja'Nae Jiminez Crump was standing on the side of the road, waiting for her school bus. For an unknown reason, Crump darted into the road and into the path of a Jeep, killing her.
In June 2019, school bus driver Verlean Douglas, 67, was killed after the school bus she was driving was rear-ended by a tractor-trailer in Connecticut. Both vehicles burst into flames, and the driver of the tractor-trailer was also killed.
Fatalities/Injuries While Crossing Roads
While 2018-2109 school bus deaths onboard the bus appear to align with recent figures, the noteworthy abnormality was the number of students who were injured or killed while crossing the street to their school bus or school bus stop, students hit by illegally passing vehicles, and students who were struck while walking on the side of the road to or from their school bus stop.
The School Transportation News research found 70 injuries relating to school bus crossings and 17 fatalities. The deaths are the most since the Kansas Department of Education (KSDE) National School Bus Loading and Unloading Survey reported there were 18 fatalities for the 2008-2009 school year, and 20 fatalities during the 2004-2005 school year. The national survey of states for this past school year is expected to be released this fall.
It should also be noted that there is a potential discrepancy between STN and national loading and unloading zone data. KSDE's survey asked states to report fatalities recorded by local and state police crash reports. These reports required the school bus to be "in the vicinity" when a student fatality occurred.
In comparison, STN's data included deaths that occurred when students were walking to or from a school bus stop, plus crossing incidents when a school bus was not in the area.
For example, the national survey reported there were 10 crossing deaths for the 2013-2014 school year. However, the data STN collected from wire reports found that 16 students were killed—a drop from the previous 23 students that STN reported that were found dead at/around school buses and bus stops.
Prior to the 2018-2019 school year, the KSDE report showed record lows for student fatalities for two consecutive years. Nationwide, states reported four deaths for both the 2014-2015 and the 2015-2016 school years.
According to the data that STN collected, the majority of students killed were between the ages of 6 and 10. The national loading and unloading survey mirrors this statistic, reporting that 21 children of the same age range were hit and killed from 2013-2017.
The National School Bus Loading and Unloading Survey report showed that students who are ages 9 and under account for the largest percentage of fatalities, 73.2 percent (906 fatalities), since the early 1970s.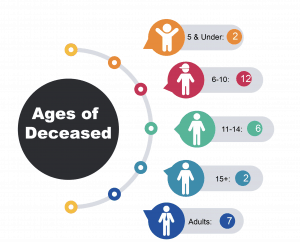 ---
Related: School Bus Industry Addresses Illegal Passing Deaths
Related: Experts Advise Hard Stance to Prevent School Bus Crossing Deaths
Related: School Bus Stop Safety: Why are Children Getting Hurt and Killed?
---

---
Related: KSDE Cites 10 Student Deaths in Bus Zones; More Reported
Related: Six Students Killed at U.S School Bus Stops in 2017-2018
Related: Kansas Draws More Attention to Illegal School Bus Passing
Related: Latest National School Bus Loading and Unloading Survey Available Online
Related: Nine Children Killed Nationally at School Bus Stops, Kansas Report Finds
---
Editor's Note: Look for additional reporting on this issue in the coming weeks and months.