RENO, Nev. – Three school district staff members from different departments spoke on a panel about getting buy-in from key decision-makers to launch a successful transition to propane-autogas school buses.
Steven Whaley, director of autogas business development for the Propane Education & Research Council (PERC), facilitated the Sunday lunchtime panel and acknowledged that diesel is currently still "king of the hill." But he gave statistics showing that propane is cleaner and cheaper than diesel, safe, OEM-supported, widely used in the U.S., and comes with easy-to-implement infrastructure.
Success Stories
Brian Domph, chief mechanic for Columbia Falls Schools in Montana, shared how he went from a skeptic of propane to a believer. Education is key to overcoming objections, with which he said powertrain provider ROUSH CleanTech assisted.
He declared that, in his experience, propane engines are no harder to work on than diesel engines, and they run similarly. Propane even requires less maintenance due to not requiring emissions regulation equipment like DEF, he noted.
"It's reduced the workload in my shop," he confirmed.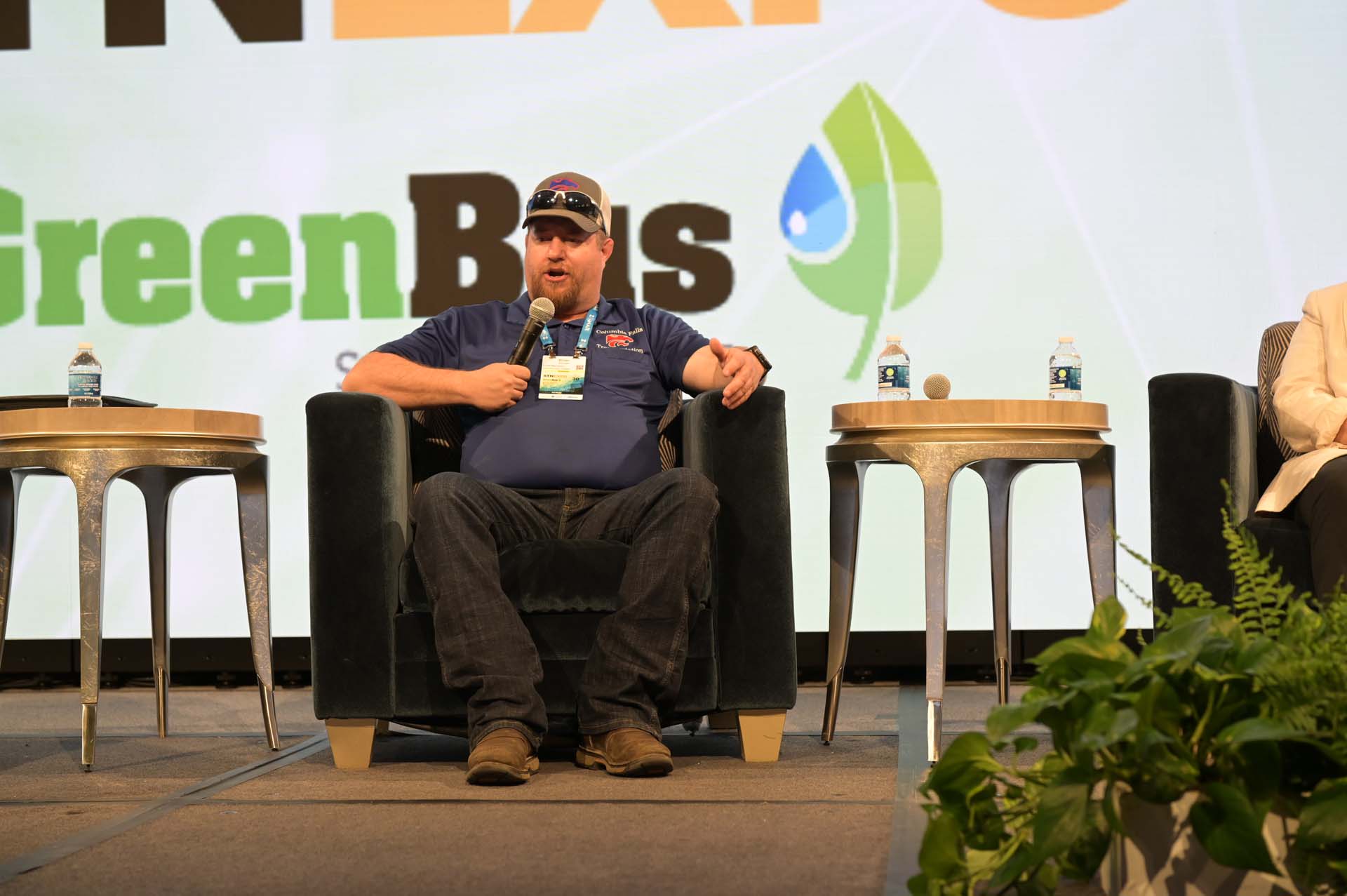 Domph shared that propane school buses startup in temperatures of up to 40 degrees below zero. "It's the right tool for the right job," he added.
Meanwhile, Upper Moreland School District in eastern Pennsylvania chose propane to replace its aging diesel fleet. Transportation Director Kelly Rhodunda said ROUSH CleanTech again helped with education and training for transportation staff and community members.
Bonny Eagle School District MSAD #6 has the largest bus fleet in Maine and recently made headlines for the state-of-the-art infrastructure facility added for its 39 propane buses. Superintendent Clay Gleason said the aim is to continue replacing the remaining 30 or so diesel buses.
Selling Points
"From one mechanic to another, you don't have to worry about this," Domph said. "Don't be afraid of it. Learn about it."
Gleason recalled a driver who was afraid of a "James Bond moment" with an exploding propane tank. One day, her propane school bus was rear-ended but nothing catastrophic happened, underscoring the safety of the vehicle.
An attendee from Elk Grove Unified School District near Sacramento, California, shared a similar incident, in which a cement truck rear-ended one of their propane buses but didn't puncture the fuel tank.
---
Related: STN EXPO Indy Shares Propane School Bus Success Stories
Related: WATCH: Propane Education & Research Council at the ACT Expo
Related: Green Bus Summit Panel Gives Propane Autogas Implementation Tips
Related: WATCH: PERC Interview at STN EXPO Indy
Related: What Clean Energy Option Makes the Most Sense?
Related: (STN Podcast E152) Pluses and Minuses: Honest Considerations for Electric, Clean Fuel Buses
---
Gleason also advised gathering cost-saving data to present propane integration to district administration and community members.
Weighing in on the financial aspect, Rhodunda encouraged districts to do their homework and compare current operations with what could be achieved with propane. The pace of integration and fleet replacement cycle must also be considered.
While propane has been certified to ultra-low NOx level emissions standards, an attendee from Colorado raised the question of what to do as more states adopt zero-emissions regulations.
Domph, located near Glacier National Park, said he was familiar with the push for environmental friendliness. He said he presented to community and stakeholders the numbers on how safe and durable the propane equipment is and how it would serve the students well.
Rhodunda added that the competitive pricing was a huge selling point for propane in her community, when her district may not have been able to afford electric buses. "It was perfect for us," she said.
Gleason questioned whether any energy endeavor is truly zero emissions and underscored that serving the community with regards to student health and safety should be the focus.