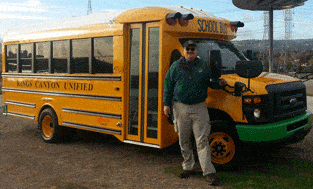 Even in retirement, John Clements keeps plugging away on an electric-school bus project for Kings Canyon Unified School District in California's San Joaquin Valley. The Pacific Southwest Region 9 of the U.S. EPA has honored the former transportation director with a 2013 Environmental Award for his efforts to promote clean school-bus technologies and operational techniques to reduce air pollution.
"In recent years, John has proven to be a true pioneer in the school transportation sector by demonstrating the feasibility of zero-emission, battery-electric school buses and refrigerated lunch delivery trucks in KCUSD fleet operations," stated the EPA. "John's fleet operations expertise and passionate advocacy has helped bolster federal, state and local efforts to accelerate the deployment of cleaner vehicle technologies in some our nation's most polluted air basins."
Additionally, Clements (pictured above) has actively engaged in numerous clean transportation stakeholder groups, including the U.S. EPA West Coast Collaborative Public Fleets Workgroup, and the California Air Resources Board's Hybrid and Zero-Emission Truck and Bus Voucher Incentive Project Workgroup, according to the organization.
Clements told STN he recently earned another designation from Motiv Power Systems, which named him its official corporate "Electric Bus Evangelist" — and he even got business cards (pictured at left below). Motiv has partnered with TransTech Bus to develop the first electric Type A school bus operating with a nickel sodium battery drive system.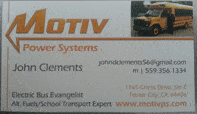 Currently, Clements is road-testing the Motiv/Trans Tech SSTe throughout the San Francisco Bay area with the Motiv engineers and technicians onboard to monitor the electric propulsion performance and battery range.
"I have recently been coming to the Bay area weekly to help Motiv further refine our electric drive system by test-driving our electric school bus," he said earlier this week. "I made a very successful 20-mile doughnut shop test run from Foster City to Redwood City and back. This next week I expect to make longer trips into San Francisco with our eBus."
Clements added that Motiv anticipates delivery early in the first quarter of 2014.
An earlier version of an electric Type D school bus ran successfully in Napa Valley Unified in the mid-1990s for some years, he explained, until the batteries failed. Clements enjoyed driving the eTrans electric school bus when it arrived in Kings Canyon USD in December 2011, but previously told STN that some manufacturing setbacks with the Smith Electric chassis version of the eTrans led to not receiving FMVSS approval. So the first Type A electric school bus never actually transported students.
Yet Clements remains optimistic about the new eBus that rolled out at the NAPT Summit in October.
"Our electric battery technology is the newest available on this OEM school bus. It can easily be changed out or adapted to other battery technologies as they develop," he said.