Editor's Note: This profile is part of the series STN is publishing throughout the year on women who have made an impact in the school transportation industry. To read other profiles, visit stnonline.com/go/women. ________________________________________________________________________
Director for Pupil Transportation at the Nevada Department of Education Diana Hollander said this is not the job she had in mind after spending 10 years in college. But she wouldn't want any other profession, because of how much she loves the industry.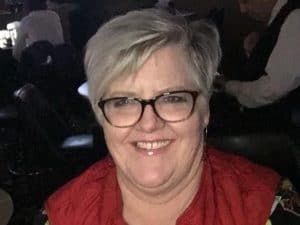 Hollander was originally working at the Community College of Southern Nevada in financial aid when she heard of a job opening as a secretary for the director of teacher licensing at the Department of Education in Nevada. After getting that job, she slowly transitioned to the position she holds now and has held for the past 23 years.
Hollander said accepting the position in student transportation was the best decision she ever made.
"I was eaten for lunch when I was new, eaten for lunch," Hollander said. "Because I didn't know anything. When you are going to districts and telling them what to do, they are not going to listen to you, if you don't know what you're talking about."
---
Related: Q & A with NASDPTS' Hollander on Annual Conference
Related: NASDPTS Executive Board Changes Complete
Related: NASDPTS 50th Anniversary with Look Back, Ahead
Related: NASDPTS Publishes Position Supporting 3-point seat belts on all School Buses
Related: NASDPTS Alters its Support of 3-Point Lap/Shoulder Seat Belts on School Buses
---
Hollander said it took her several years to learn the industry, and that every year you learn more. She said one of her early challenges was learning where to find a federal regulation.
"There's not a one-stop place to place to find everything. School transportation is a mixture of federal, state and local regulations," Hollander said.
She added that not many of her transportation directors in Nevada have school bus experience. So, one of her main jobs is assisting them and making sure everybody gets their questions answered.
"I am a one-woman show. I have all this free range to do my job as I see fit, to not be tied down to timelines and people hovering over me telling me what to do," Hollander said. "I don't have that, so it leaves me free to help districts. Which is what I view my job is, my job is to help."
Hollander added that it is her job to support school transportation services. Whether that is for compliance with federal or state regulations, or providing technical assistance when there are tough questions. Her main goal is to have no children dying and nobody getting sued.
Hollander said she plans to retire within a year, so she is reflecting on her contributions to the industry—not just as the director of pupil transportation in Nevada, but also as one of the past presidents of the National Association of State Directors of Pupil Transportation Services (NASDPTS.)
"I am proud of promoting women. We are finally getting more women that are involved," Hollander said. "Not only at the director level in their states, but at the state level as state directors. Just being a strong positive voice for women who are in transportation. Sitting next to the WIT [Women in Transportation] women, standing tall for the girls. It's really a fun job."
Hollander said she is also proud of carrying on the momentum of lap/shoulder belts in school buses when she became president of NASDPTS. Past-President of NASDPTS Max Christensen wrote a position paper with their statement for lap/shoulder belts and she was very supportive of it. She said when she became president, she wanted to make sure that the board didn't go backward, but instead of that, the paper was carried on and supported.
While her career evolved over the years, it didn't come without hardships. One of the hardest she had to overcome was when she was on the executive team of NASDPTS.
"The fact that some people didn't think a woman should be in a position of power, that is quite frankly one of the hardest things I have had to overcome," Hollander said. "I was only the third female since 1959 to be president of NASDPTS. And that even in this day and age, there were people who didn't think I was appropriate, who really didn't know me. But I am smart, and a hard-worker. I always try to do the right thing that benefits the country and the state."
Hollander said that going forward, the move towards technology-based systems is "amazing," and she is very excited about where the future is going.
While she doesn't view autonomous school buses as something that will be available in the next 20 years, she added it is something the industry will see eventually. Hollander said the use of autonomous school buses could help prevent crashes, especially with the addition of vehicles having the ability to stop when students are detected in the road.
"I absolutely think they're coming," Hollander said. "I mean we have so many things already now. The collision avoidance, rear camera, lane departure notifications, some cars are completely autonomous, but that doesn't mean you wouldn't have somebody behind the wheel. Airplanes are autonomous, but there is still a pilot behind that wheel. For me, I am very excited about some of the great technologies that are coming forward that could save lives."
Hollander added she envisions a day of zero fatalities in and around the outside of the bus. She is also excited for the younger generation and the leaders that will rise.
"I'll be gone in a year and I am excited for the new people coming in," Hollander said. "I am excited to have the younger generation step in and be more involved with the national association. I think some of them are brilliant and I am very excited to see what they come up with."
While Hollander's time to retire is approaching, she is going to miss her job and the people she has met along the way.
"It drags you in and you become hooked, Hollander said. "When they say you 'bleed yellow,' it's amazing how you kind of get to where you love this. I love my job, I have always loved my job, and that's an amazing thing after 23 years at one agency. To be able to say that, I feel so lucky to have it. I think what drew me to it initially was how much everyone was dedicated and how much they cared about the job they were doing."